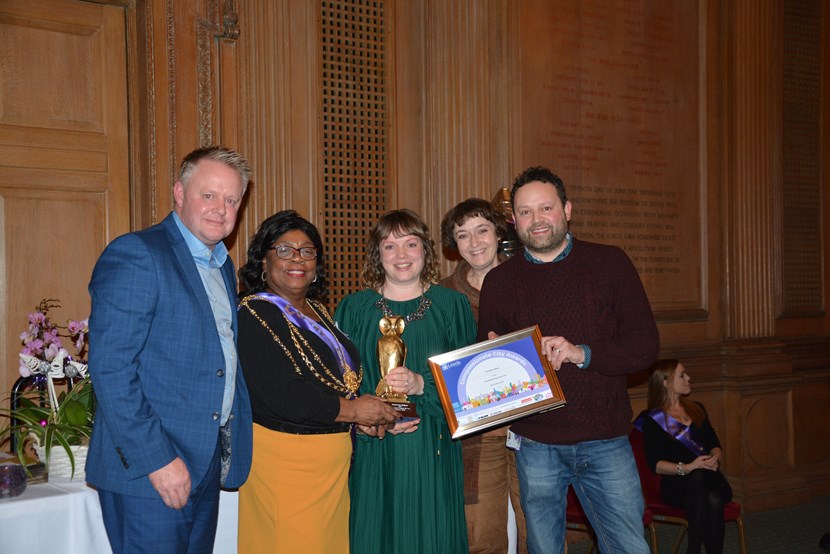 06 Dec 2019
Leeds' unsung heroes celebrated at special awards ceremony
Unsung heroes from across Leeds were celebrated yesterday (5 December) at Leeds City Council's Compassionate City Awards.
Now in their third year, the awards celebrate the positive and compassionate work that individuals, community groups and organisations do every day to make their local communities and wider city a great place to live, work and visit.
Such work significantly helps to improve the lives of many people living in Leeds which enriches the city and supports the council's vision for Leeds to be the best city in the UK.
There were 10 awards in total which were presented by associates from sponsors of each of the awards.
There was also a special guest appearance from Leeds United players Jamie Shackleton and Leif Davis who helped present the Sports Project of the Year Award.
The winners of the 2019 Compassionate City Awards are:
Unsung Hero of the Year
Sponsored by STM 360
Christine Smart – Having overcome many difficulties in her life, Christine rejuvenated a centre which was nearly closing down due to lack of money and use. It is now used all year round for lunch clubs, afterschool clubs, dance classes and more.
Jo Cox Award
Sponsored by Leeds City College
Ian Rodley – Ian has devoted 20 years of his life to being a role model and community mentor to thousands of children and young people across Leeds, helping them with difficulties in their lives.
Cultural or Art Project of the Year
Sponsored by Leeds 2023
Getaway Girls – For over 30 years, this organisation has supported girls and young women aged 11-25 to build confidence and resilience, helping generations of young females from various backgrounds and cultures to fulfil their potential in life.
Health and Wellbeing Award
Sponsored by Tunstall
Charlies-Angel-Centre Foundation – This organisation helps parents and family members who have suffered the bereavement of a baby or child, providing free services such as bereavement counselling and community support meetings.
Community Organisation/Charity of the Year
Sponsored by STM 360
Angels of Freedom – This organisation is made up of a group of volunteers who provide support for the LGBT+ community, and others, of all ages. They take to the streets every Friday night providing support, guidance and advice to help keep people safe.
Community Project of the Year
Sponsored by the Leeds Rhinos Foundation
The Deansway Project – This project is dedicated to improving its local and surrounding areas. It provides opportunities for people of all ages in the community to get involved in various activities designed to increase community spirit, safety and enjoyment of the local community.
Environmental Project of the Year
Sponsored by Dawson Group
Harehills in Bloom – This entirely volunteer led organisation strives to make its local area a cleaner, greener and more welcoming place for all communities to live in and thrive.
Diversity Project of the Year
Sponsored by Leeds Beckett University Carnegie School of Education
Marching Out Together – This organisation works with Leeds United Football Club to make the sport more inclusive for its LGBT+ fans, having encouraged the team to be the first club to sign a best practice charter for LGBT+ inclusion.
Sports Project of the Year
Sponsored by Leeds United Foundation
Mini Mermaids – This club aims to create a safe and fun environment for girls to build their self-esteem, self-confidence and self-compassion through physical activity and mindfulness.
Outstanding Achievement of the Year
Sponsored by FAUN Zoeller (UK) Ltd.
Tommy McLoughin – Tommy has been helping people in his local area for over 45 years from a base at the Leeds Irish Centre. He has a passion for helping the elderly, the lonely and the vulnerable, and also fundraises for many organisations across the city.
Councillor Debra Coupar, Leeds City Council's Executive Member for Communities said:
"The Compassionate City Awards are a great way of recognising and celebrating some of the fantastic community work that takes place in Leeds.
"There are countless individuals and organisations across the city who regularly go above and beyond for their local communities and it's this grass roots work that really helps to make Leeds the best city to live, work and visit.
"Congratulations to all the winners and a big thank you for all your tremendous efforts."
ENDS
Notes to editors:
More information about the Compassionate City Awards can be found at https://www.leeds.gov.uk/your-council/compassionate-city-awards.
For media enquiries please contact:
Leeds City Council communications and marketing
Tel: 0113 378 6007
Email: communicationsteam@leeds.gov.uk
For media enquiries contact: