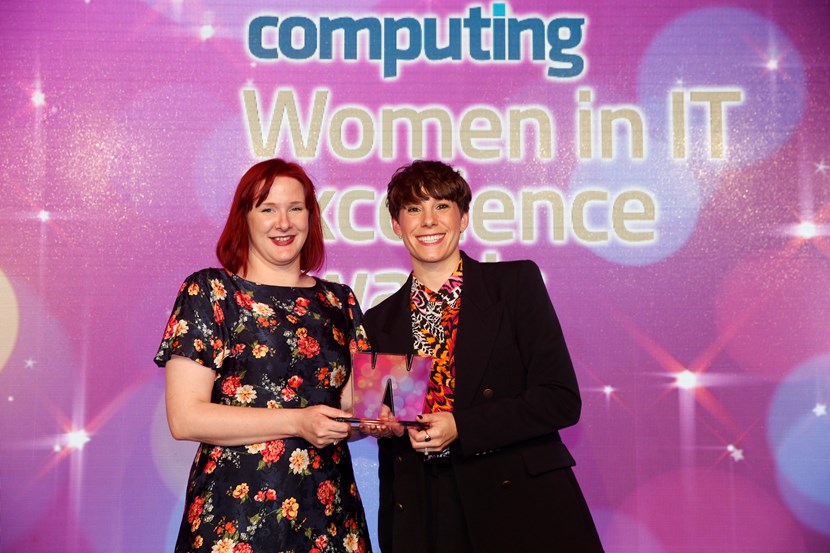 05 Dec 2019
Leeds #techmums club receives national Women in IT Excellence award
Leeds #techmums has been named as the UK's most diverse and inclusive digital initiative in the 2019 Women in IT Excellence awards.
Leeds became one of the first cities outside London to run #techmums clubs, launching the free ten-week courses in January 2019. Through #techmums women outside employment, due to career breaks or ongoing childcare, can learn new digital skills for day-to-day life or go on to retrain and access further education.
Led by Leeds Libraries and Leeds Employment and Skills, the ongoing classes form part of the Leeds City Council 100% Digital Leeds initiative. Learners explore social media, web and app design, coding, online safety and creative design. Through the Leeds Libraries tablet lending scheme, women can also borrow iPads during the course to continue learning at home.
During the first course alone 41 #techmums graduated, with 12 moving straight on to at least one other Leeds Employment and Skills course. Three also secured places on the prestigious TechUP programme, which supports people from underrepresented communities to retrain and work in tech.
Laila, a 2019 #techmums graduate, said: I was confident of where to find further information about each subject, to any level I wanted to reach after each session. Since completing the course I have been lucky enough to continue using the knowledge and ongoing help of Leeds' digital librarians to gain a place on TechUP Women – this may change my life!"
Jenny Meehan, a #techmums graduate, said: "The course was friendly and fun and importantly free because, as a mum, money and time are tight. I learnt about coding, web and app design and keeping my kids safe online. I am now on the TechUP course and retraining to start a new career, thanks to the help from the Leeds Digital Librarians and the #techmums course."
#techmums was created in London by Dr Sue Black OBE, Professor of Computer Science and Technology Evangelist at Durham University. Sue was inspired by her own experience of retraining and establishing a successful academic career in technology, after starting out as a single mum with few qualifications, living in a domestic violence refuge.
Dr Sue Black OBE, founder of #techmums, said: "Massive congratulations to Leeds Libraries on their extremely well deserved award, they are such champions of women in tech. It has been an absolute pleasure working with Leeds Libraries, they are perfect partners for #techmums to achieve our aim of empowering mums, their families and communities through technology."
Councillor Debra Coupar, Leeds City Council's executive member for communities, said: "We are delighted to see the Leeds #techmums clubs recognised by the Women in IT Excellence awards. The city's libraries play a hugely important role in boosting digital skills for all, and the 100% Digital Leeds initiative has opened up fantastic opportunities to learn new skills for work and everyday life. Schemes like #techmums raise career aspirations and contribute towards making Leeds the best city in the UK for digital careers."
Claire Duffield, Digital Engagement Librarian, and the driving force behind bringing #techmums to Leeds, has also been nominated for a 2020 Northern Power Women Award.
The next #techmums clubs begin in January 2020 at several locations across Leeds. For updates, visit https://leedsadultlearning.co.uk, follow Leeds Libraries on social media, or phone 0113 3787002.
ENDS
For media enquiries please contact:
Jen Boyle,
Senior Communications Officer,
Leeds City Council
0113 378 7101 / Jennifer.boyle@leeds.gov.uk
Notes to editors
100% Digital Leeds: Across Leeds, thousands of adults still lack the basic digital skills they need to participate in today's world. People who are offline are missing out on all the benefits the internet can provide – from helping them to find work, to saving money and keeping in touch with friends and family. The 100% Digital Leeds initiative, led by Leeds Libraries, is working with community organisations to build a digital inclusion movement across the city: www.digitalinclusionleeds.com
The Leeds Inclusive Growth Strategy 2018 – 2023 sets out 12 Big Ideas to create the underlying conditions for inclusive growth, including 'Leeds as a Digital City'. Fundamental to this aim is increasing digital inclusion, so that all citizens can access services, education and training. Encouraging more women to work in tech is highlighted in the strategy. Visit leedsgrowthstrategy.co.uk
The Women in IT Excellence Awards have been celebrating and promoting female talent in the industry for three years. Over 500 women have already been recognised. These awards seek to redress the gender imbalance within the IT industry, where just 20% of UK employees are female. Visit events.computing.co.uk/womeninitawards
For media enquiries contact: