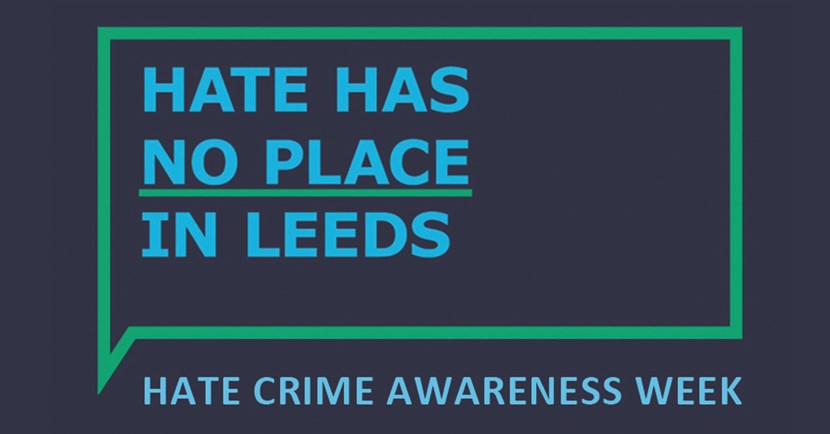 08 Oct 2021
Leeds takes a stand against Hate Crime
Leeds takes a stand against Hate Crime
A range of events and activities are set to be held across Leeds next week as part of National Hate Crime Awareness Week 2021.
From 11 October - 15 October, Leeds City Council will be joining forces with partners from across the city to highlight the importance of tackling hate crime and the array of support that is available to help victims.
Headlining the week's events is a Hate Crime conference, with partners including United Response, West Yorkshire Police and Safer Leeds coming together with stakeholders across the city to discuss how Leeds can take a stand against hate crime.
To support this work over the week, a special exhibition bus will be available at different locations across Leeds, where West Yorkshire Police will work alongside members of the council's Safer Leeds team will offer expert advice and support.
There will also be a series of events across Leeds, showing the cities commitment to supporting victims and tackling hate crime, including a Hate Crime Question Time and various sessions led by partners from across the city.
For a full list of events and exhibition bus locations please see the notes to editors section.
Councilor Debra Coupar, Leeds City Council executive member with responsibility for Safer Leeds, said:
"Hate Crime is something that absolutely will not be tolerated in Leeds, the devastation it causes victims and their families is appalling. Leeds is a diverse and welcoming city and we are determined that victims of hate crime are fully supported, with those who engage in this type of behaviour facing consequences for their actions.
Hate Crime Awareness Week provides us with an opportunity to further engage with the people of Leeds regarding the work that is being undertaken on this issue. Working with partners in the city including the police, we have put together a programme of activities and events in the week where residents can receive advice, support, and information on how to report any incident.
"We would urge anyone who experiences hate crime to please contact the police, council, or Stop Hate UK as soon as possible. There are many ways to report an incident in Leeds and you can be assured that you will be listened to and that your case will be investigated both properly and thoroughly."
Joanne Silkstone from disability charity United Response said:
"Disability hate crime remains a huge problem in our society and for many people we support. Our latest study exposed a nationwide determination among criminals to spread disabled hate even when faced by lockdown and restrictive measures during 2020/21. For the fourth year running, we found that West Yorkshire Police recorded the highest number of disability hate crimes of anywhere in England and Wales.
"We must put our trust in the authorities to deal with and stamp out these crimes, but we all have a role to play in empowering victims to speak out and helping disabled people to report these cowardly incidents."
Leeds has set out a clear no tolerance message regarding all forms of hate crime, and anyone who is experiencing it can be assured that if reported, it will be taken seriously.
To find out the different ways you can report a hate crime or hate incident and where you can get help visit: https://bit.ly/LeedsHateCrime or for more information regarding tackling hate crimes and hate incidents visit: https://bit.ly/WYPHateCrime
Note to Editors:
Our Exhibition Bus will be visiting the following locations between 10am and 4pm, with information and staff who can offer advice and support.
Monday 11 October: Briggate, outside Trinity Leeds Shopping Centre, LS1 5AT
Tuesday 12 October: Tesco Extra, Seacroft, LS14 6JD
Wednesday 13 October: Leslie Silver Building, Leeds Beckett University, Woodhouse Lane, LS1 3HE
Thursday 14 October: White Rose Shopping Centre, LS11 8LU
Friday 15 October: Armley Leisure Centre, Carr Crofts, LS12 3HB
The Hate Crime Awareness Outreach team will in the Freedom Quarter of the city centre on Friday between 6pm and 9pm and will be joined by the Angels of Freedom who will be available to chat and provide information to the LGBT+ community.
Other events:
United Response, WYP and LCC Hate Crime Mini Conference: Monday 11 October, refreshments 9.00 for 9.30 start. St George's Conference Centre, 60 Great George Street, Leeds LS1 3DL
THIS EVENT IS FULLY NOW BOOKED.
The Role of CPS in Hate Crime with Q+A session: Tuesday 12 October – 16.00-17.15
A FREE online session with Yvette Levy (Hate Crime lead for Yorkshire & Humberside CPS)
Please register for this Eventbrite event
Hate Crime Special Question Time with the Migrant Access Project MAP: Wednesday 13 October – 10.00-12:00. A panel of guests will be ready to answer your questions, including:
Councillor Eileen Taylor (former Lord Mayor of Leeds)
Nadeem Siddique (Prevent Co-ordinator)
Stewart Saville (West Yorkshire Police Community Cohesion Sergeant)
Kendi Guantai (former Chair of Leeds African Network)
Chris Jackson (Chief Executive of LS14 Trust)
Abigail Olaleye (Project Worker BME Hub)
Adam Ranson (Projects Co-ordinator at Leeds DEC)
To attend: https://us02web.zoom.us/j/83816900925 the Passcode is MAP2021
If you would like to ask a question, please send it by email to migrantaccessproject@leeds.gov.uk
Reporting a hate crime:
A hate crime is defined as a crime which is committed against someone due to their race, religion, gender, sexual orientation, age or disability.
To report a hate crime, you can telephone West Yorkshire Police on 101 or in an Emergency 999 or the Leeds Anti-Social Behaviour Team on 0113 222 4402 or email at LASBT@leeds.gov.uk. The national organisation Stop Hate UK can be contacted on 800 138 1625, by text to 07717 989025 or via talk@stophateuk.org or downloading the Stop Hate UK APP. For a full list of Leeds City Council Reporting Centre's, please see: https://www.leeds.gov.uk/saferleeds/report-a-hate-incident
By reporting incidents, you will enable the police, local councils, housing associations etc. to build up patterns of behaviour locally and highlight areas of concern within your community. We will help you get the support you need and ensure that offenders are brought to justice. This could also prevent other incidents happening to someone else.
Angels of Freedom:
The Angels of Freedom is a community- based initiative organised by volunteers and supported by Leeds City Council, British Transport Police and West Yorkshire Police. Their aim is to provide visible support for the LGBT+ community based in the Freedom Quarter area of the city every Friday evening.Our volunteers provide conversations on support & social groups, activities, and events in Leeds, along with just being a friendly approachable face on the bar scene for anyone wanting a chat. To find out more, please see: https://www.angelsoffreedom.org.uk/
For media enquiries contact: