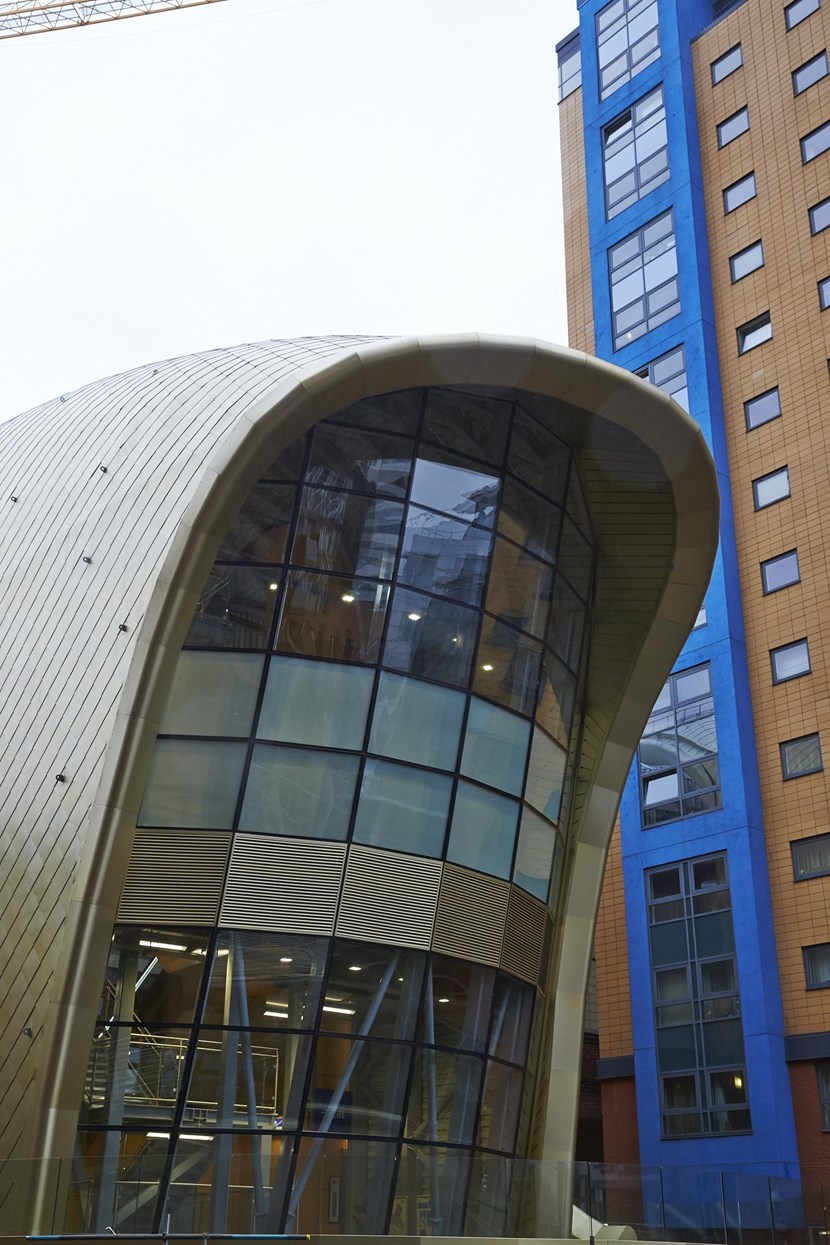 04 Jan 2016
Leeds Station Southern Entrance now open
PRESS RELEASE ISSUED BY WEST YORKSHIRE COMBINED AUTHORITY
Thousands of commuters returning to work in Leeds from today will find their journeys just got easier thanks to the city station's gleaming new southern entrance.
From Monday 4 January, Leeds Station - the UK's second busiest outside London - will boast a new, direct link to the city's growing south bank area that will save passengers at least five minutes on their journeys each day. Up to one fifth of the station's 100,000 daily users are expected to benefit from the new entrance relieving congestion at the existing tickets gates.
With steps, escalators and a lift from its concourse deck over the River Aire, Leeds Station Southern Entrance provides a fully accessible route to the city's Granary Wharf area adjacent to the Leeds Liverpool Canal. Customer information screens, ticket vending machines and automated ticket gates are located at the point where the new entrance meets the existing station footbridge.
Located at the heart of the UK's second largest City Region, Leeds station has seen rising demand for a southern entrance with the development of major new office space such as the 32-floor Bridgewater Place and regeneration across the city's south bank areas. These include South Bank Central, home to ASDA's UK headquarters and the proposed HS2 station, Holbeck Urban Village, which has been transformed into a national centre for the creative and digital industries, and Leeds Dock, home to the Royal Armouries Museum.
Leader of Leeds City Council Councillor Judith Blake said:
"We are delighted to see this new southern entrance open at Leeds Station, offering a striking and distinctive new approach to the station that will be accessed by up to 20,000 people each day and improving commuter flow across the station itself as we start preparing for the arrival of high-speed rail.
"It also provides an ideal pathway to the South Bank opening up access to one of the largest regeneration schemes in Europe, which has already attracted major new investment and with the potential to support over 30,000 jobs and 4,000 new homes as well as significant education and leisure facilities. The station southern entrance is a crucial factor in realising that immense potential, so it is great to see it open."
Cllr Peter Box, Chairman of the West Yorkshire Combined Authority, said:
"A significant proportion of the City Region's 1.4 million workforce use Leeds Station with a growing number of them wanting to head south when they arrive.
"The distinctive new southern entrance, will save one in five of them up to 50 minutes on their weekly commute and will help to encourage development in an area which as well as being home to ASDA's UK headquarters is also the location of Eversheds, Ernst & Young and DWF's regional HQs."
Transport Minister Andrew Jones MP said:
"The stunning entrance will make journeys quicker and more convenient for thousands of passengers every day. This is a further example of the Northern Powerhouse in action, improving lives for people and businesses in Leeds.
"We're determined to provide Leeds and Yorkshire with a transport network to support its ambitions, with new rail franchises, new rail stations and major road upgrades to drive the region's growth."
Rob Warnes, Planning and Programmes Director for Northern Rail said:
"It's fantastic to see this iconic new entrance open and making a real difference for our customers, many of which use Leeds station when it's at its busiest.""
First TransPennine Express Customer Service Director Kathryn O'Brien said:
"We very much welcome this investment which will greatly benefit our customers and our staff. This entrance will help reduce commuter time and congestion at the station which helps to build on the vision of a northern powerhouse."
Maxine Joicey, Virgin Trains' General Manager for its northern region based at Leeds Station, said:
"We've watched with great interest as this stunning new entrance has taken shape. It is a wonderful addition to one of the busiest stations in the country and it will help enormously to relieve pressure for customers at peak times."
Early in 2016, work to pedestrianise Little Neville Street will begin, and cycle storage facilities added. The car parks under the arches closed at the end of 2015 and the area will benefit from additional cycle storage provision, improved lighting, resurfacing and designated walking routes.
Leeds Station Southern Entrance is a joint project between West Yorkshire Combined Authority, Leeds City Council, the Department for Transport and Network Rail. The £20m scheme secured £12.4m from DfT as well as funding from West Yorkshire's Local Transport Plan, Network Rail and Leeds City Council, and will be transferred to and managed by Network Rail as part of Leeds Station.
As well as the new Southern Entrance, West Yorkshire Combined Authority and its partners have built new rail stations at Apperley Bridge (opened December 2015) and Kirkstall Forge (expected to open before Easter 2016) as part of a £15.9m Rail Growth Package. A new £10.8m station at Low Moor will open later in 2016.
Ends
Issued by West Yorkshire Combined Authority: 0113 251 7214
Notes to Editors
West Yorkshire Combined Authority (WYCA) is the driving force for economic growth across the Bradford, Calderdale, Kirklees, Leeds and Wakefield districts and the City of York Council area. It brings together key decision-making powers, including the Leeds City Region Enterprise Partnership (LEP) into a single body, putting West Yorkshire and the wider Leeds City Region, including the City of York, in a much stronger position to tackle its shared economic challenges - including improving transport - by boosting jobs and growth.
The Leeds City Region Strategic Economic Plan aims to deliver £5.2bn of additional economic output and 62,000 extra jobs by 2021, unlocking the Leeds City Region's full economic potential and making it the low-carbon 'growth engine' for the North.
For media enquiries contact: