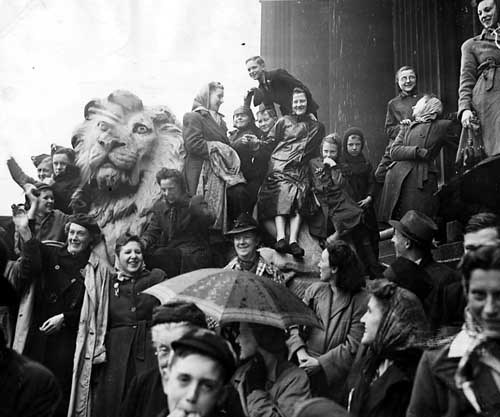 01 May 2020
Leeds residents urged to play their part in 75th anniversary of VE Day from home
Residents across the city are urged to play their part in the 75th anniversary celebrations of VE Day from home.
Next Friday (8 May) marks 75 years since Victory in Europe (VE) Day when the Second World War came to an end in Europe.
On this day in 1945, the Allied forces celebrated victory and a return to peace time in Europe. Across Europe and North America, millions of people took to the streets to celebrate with family, friends and neighbours.
This year, the government moved the May Day bank holiday to VE Day to allow the nation to remember the sacrifices so many made during the Second World War.
Unfortunately due to the current coronavirus pandemic, all VE Day events across the UK have been cancelled in line with government guidance.
Residents across the city are therefore encouraged to mark the 75th anniversary of VE Day in a different way this year, from the comfort of their own homes.
The Department for Digital, Culture, Media and Sport (DCMS) have created a digital toolkit which includes lots of ways you can still get involved in marking the anniversary. It contains educational resources, a guide for planning an at-home tea party, recipes, bunting and fun activities. The full toolkit is available here: www.ve-vjday75.gov.uk/get-involved. Other organisations have also created toolkits and resources for celebrating VE Day at home including The Royal British Legion and English Heritage.
In Leeds, using resources from these toolkits, the council have been linking up with care homes, schools and nurseries to encourage people to celebrate VE Day wherever they may be.
The council's libraries team have also been digging deep into the Leodis photo archive to create a short film using photographic material of end of war celebrations in Leeds. This will be shared on VE Day on Leeds Libraries' Facebook and Twitter pages. They would also love to see how you are celebrating VE Day at home this year. Please email any photographs to localandfamilyhistory@leeds.gov.uk.
You can also submit any photos, videos, artwork, recipes and games you have planned for VE Day as part of Child Friendly Leeds' fortnightly challenges for children during lockdown. The latest challenge, which focuses specifically on VE Day, encourages children and families to share how they are having fun at home 'VE Day style' on social media using the hashtag #OurChildFriendlyLeeds. Check out the Child Friendly Leeds blog for more information.
To mark the occasion next Friday, Leeds Civic Hall, Town Hall and City Museum will all be lighting up red, white and blue to pay tribute to all those who served and made so many sacrifices during the Second World War, both at home and abroad.
The Lord Mayor of Leeds, Councillor Eileen Taylor, said:
"Victory in Europe Day is such a defining part of our history and it is extremely important that in marking this significant moment 75 years on, we also take the time to remember the sacrifice of all those who gave their lives for us during the Second World War.
"It is of course a great shame that we are unable to attend events and community activities regarding the anniversary of VE Day as we continue as a city and a nation to take the steps that are necessary to tackle coronavirus. I know the people of our city will be very keen however to mark the occasion of VE Day, and we look forward to seeing and hearing how they do so from home in their own individual ways."
Leader of Leeds City Council, Councillor Judith Blake, said:
"Whilst it is very disappointing that VE Day events across the city have had to be cancelled as a result of coronavirus, the toolkits and resources available are fantastic and offer a great way in which you and your family members can take part in the occasion from your own homes.
"For any parents who may be home-schooling, the 75th anniversary of VE Day is also a tremendous opportunity to use these resources to teach your children about such a defining part of our country and the world's history, and the many sacrifices made by those we owe so much."
Councillor Jane Dowson, Armed Forces Champion, said:
"VE Day is such a significant and important moment in history and we have been looking forward to commemorating its 75th anniversary this year.
"As a city, we are extremely proud of our long and distinguished military history including the thousands of individuals from Leeds who served during the Second World War. Although we are no longer able to attend VE Day events and activities, I hope you can all join me in celebrating the day from our own homes to remember and honour all those who sacrificed so much during the Second World War."
ENDS
Notes to editors:
For media enquiries please contact:
Leeds City Council communications and marketing
Tel: 0113 378 6007
For media enquiries contact: