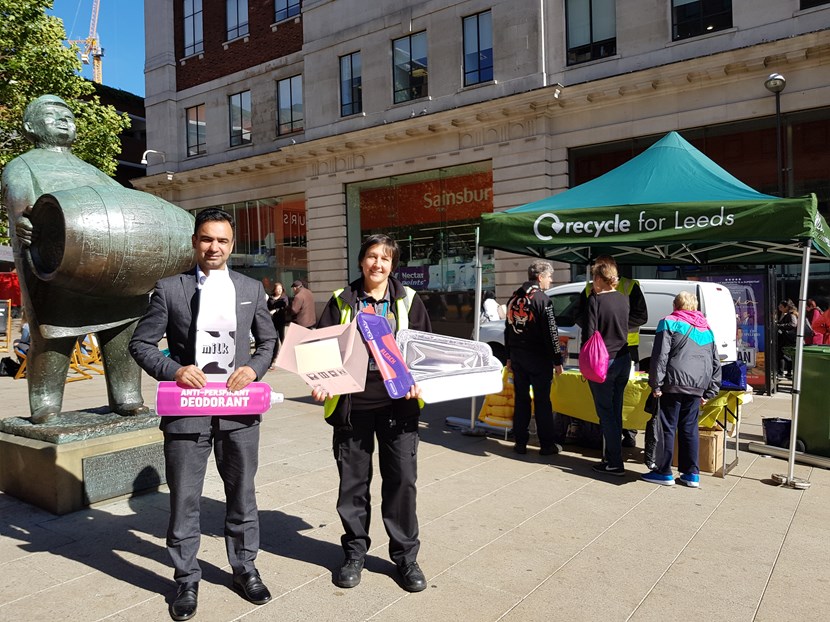 25 Sep 2018
Leeds residents urged to make it count for national recycle week
Leeds residents are being asked to ramp up their recycling efforts for national recycle week.
Now in its 15th year, the initiative has grown each year with a large number of local authorities and community groups joining in with the initiative to get Britain recycling more, and making sure people know what to add to their recycle bins.
In Leeds, almost a third of the average general waste bin is still made up of materials that can be recycled.
Items like paper, glass, plastic and metal can all be recycled, and earlier this year the council issued a handy recycling guide to all Leeds residents to help them understand what they can and can't recycle.
The equivalent weight of over 25 double decker buses of recycling waste is collected in the city each day. However, the people of Leeds can go even further and make a difference by recycling all of the everyday items that can be put in the green bin. These include mixed paper and card, food tins and drinks, aluminum foil, any plastics with the number 1, 2 or 4 in the triangle symbol on the packaging as well as plastic bottles and bags.
A recycling roadshow will visit various areas in the city across the week to raise awareness of what can and cannot be recycled, as well as offering residents and shoppers the chance to try out an educational game! To support the awareness week, a number of iconic Leeds buildings will be lighting up green across the week, including Trinity Leeds, The Queens hotel, Becketts University, The Merrion Centre, 02 Academy and first direct arena.
Councillor Mohammed Rafique, Leeds City Council executive member for the environment and active lifestyles said:
"As a city, we can all make a real difference to the environment if we ensure we understand which items can be put in our green recycling bins – it could surprise you how much you can actually recycle. "
Craig Stephens, campaign manager for Recycle Now, said:
"This year we've all taken more notice of our impact on the environment, and realised that recycling is part of reducing that impact. Here in Leeds it's no different – more and more of us are recycling, so the next step is to make sure we get our recycling right. So come on, Leeds keep up the great work and let's make the city's recycling better than ever before!"
Residents across the city are also encouraged to take any glass recycling to their local household waste sorting site, or their nearest bottle bank, of which there are over 700 in the city. Glass is endlessly recyclable, and can be back on the shelf as a new bottle or jar in around 30 days, but only if it is properly recycled. Glass that is thrown into the black and green household bins is wasted, with over 15,000 tonnes of glass bottles and jars thrown away last year. By recycling these simple household items, new products can be created, along with helping the environment.
For more information about what you can recycle in your green bin visit https://www.leeds.gov.uk/ greenbin or download the Leeds Bins app on the Apple App store or via the Google Play store for android phones.
For media enquiries contact: