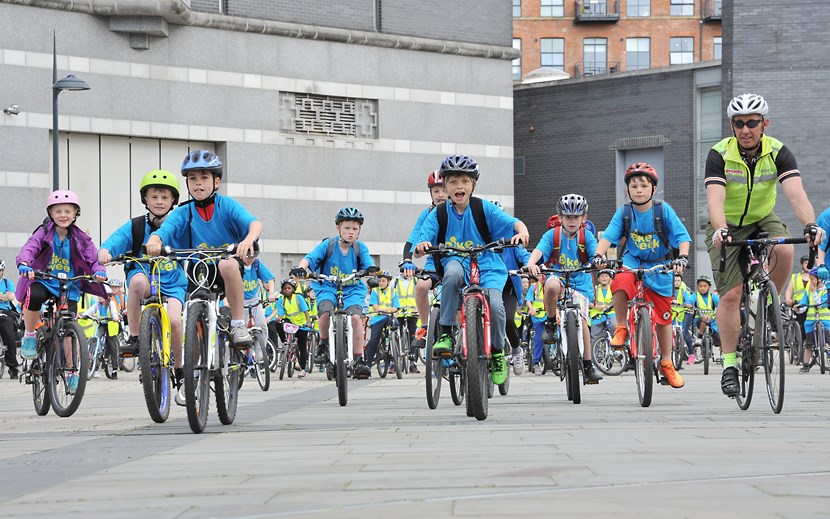 14 Jun 2016
Leeds pupils take to two wheels for Bike Week
Children all over Leeds are jumping on their bikes and cycling to school this week as part of Bike Week.
Leeds schools have organised a host of cycle themed activities to mark this annual celebration of all things 'bike' including; Bikeability training, playground obstacle courses, designing cycle helmets, making posters and writing poetry.
Colton Primary School are encouraging their children to bring their bikes to school and ride around their great new cycle track. The children at Methley Primary have been busy organising a bike and scooter to school week, with race training and a "wheels afternoon" to reward for the children who ride to school the most. Rawdon Littlemoor are "Jumping on their Bikes in June" with whole school rides around the school grounds every afternoon.
On Thursday 16 June over 100 children from six Leeds schools; Bramley, Greenhill, Holy Family, Calverley Parkside, Raynville and Park Spring primary schools are taking part in a Bike Bash which is a partnership event between City Connect and Leeds City Council. The children will cycle along the canal tow path to Hunter Greave Activity Centre before being treated to an afternoon of fun cycle activities and a BMX show.
As part of Bike Week, Leeds City Council has launched a competition inviting schools to submit blogs or vlogs about cycling at their school. £200 is on offer to the best entry with £100 for the runner up to spend on bikes or cycling accessories, as well as a day of fun cycling activities. The council has also provided resource packs to schools which are planning cycling themed activities. The packs include stickers, pens and wrist bands as well as a T shirt, water bottle, seat cover, bike lock, bike bell and bike lights.
Councillor Richard Lewis, executive member for regeneration, transport and planning, said:
"Bike week is an important event for us in Leeds. We are very keen to promote safe cycling across the city. It's a sustainable form of transport which has the added benefit that it keeps you fit.
"So if you haven't cycled in a while, Bike Week is a great opportunity to get back in the saddle and find out what you have been missing."
Councillor Lisa Mulherin, executive member for children and families, said:
"Leeds, as a city, has really embraced cycling over recent years, with massive support being shown for events like Tour de Yorkshire and the Grand Depart. We want to instil in our children the importance of cycling for a healthy and active lifestyle as well as creating a more pleasant environment for them, and future generations to grow up in.
"Bike Week is a great opportunity for schools across the city to encourage children to use their bikes to discover all of the benefits cycling brings."
Bike Week is an annual opportunity to promote cycling, and show how cycling can easily be part of everyday life by encouraging 'everyday cycling for everyone'. Demonstrating the social, health and environmental benefits of cycling, the week aims to get people to give cycling a go all over the UK, whether this is for fun, as a means of getting around to work or school, the local shops or just to visit friends.
This year's Bike Week has a special focus and will encourage people to use their bikes to cycle to work. Many people will use the events to ride and take part in 'buddy' rides with colleagues, scope out the easiest route to their place of work or take part in work place challenges.
For media enquiries contact: