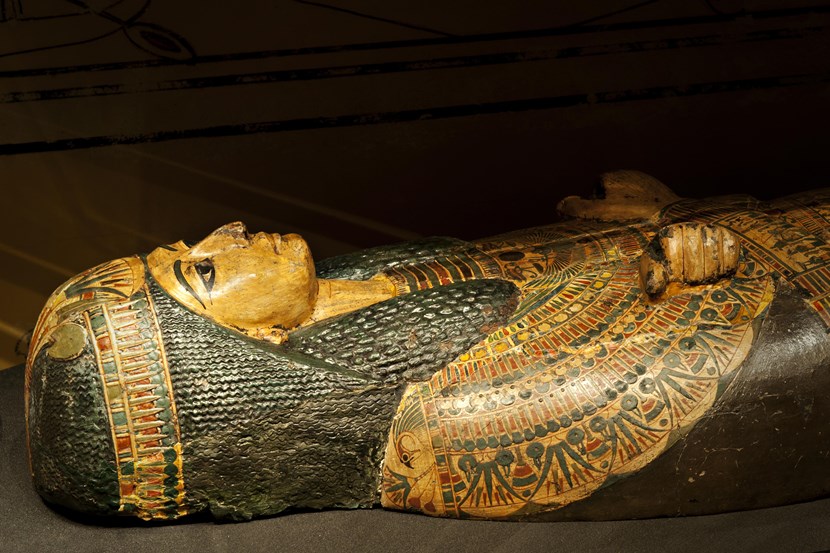 21 Dec 2017
Leeds Museums and Galleries object of the week- Coffin of Nesyamun
For more than three thousand years, Nesyamun's mummified remains have resided in the beautiful, ornate coffin which is today on display at Leeds City Museum.
Known locally as The Leeds Mummy, the coffin and its occupant have captivated generations of visitors to the city and is one of the museum's most famous exhibits.
Experts believe that Nesyamun was a high-ranking Egyptian priest, incense-bearer and scribe at the temple of Amun in Thebes's Karnak complex.
From the leather ornament found in his bandages, it was deduced that he lived during the reign of Ramesses XI, between 1113 and 1085 BC, when he had ascended to the rank of "waab priest".
Because of his status, he was permitted to approach the statue of Amun, head of the ancient Egyptian Gods, in the scared inner sanctum of Karnak's sprawling temple.
Recent studies have shown he probably died following a severe allergic reaction.
His decorative outer coffin is painted with scenes from the famous Book of the Dead, which depict Nesyamun making offerings to deities, while the text prays for success and in the afterlife and contact with the gods.
The coffin was first collected by the Leeds Philosophical and Literary Society and was bought to Leeds in 1823 having been purchased from bullocks museum in London .
The mummy itself was the subject of the first ever multi-disciplinary mummy investigation in 1828 and the current display includes a 3D reconstruction of what Nesyamun would have looked like.
He is also the only known mummy to date from 19th Dynasty and the one of the Leeds collection of mummies that survived bombing during the Second World War.
ENDS
Leeds City Museum – Entrance is free
Opening hours:
Monday closed (except bank holidays)
Tues – Fri: 10am-5pm
Sat, Sun and bank holidays: 11am – 5pm.
www.leeds.gov.uk/citymuseumMillennium Square, Cookridge Street, Leeds, LS2 8BHTel: 0113 2243732. Email: city.museum@leeds.gov.uk
For media enquiries contact: