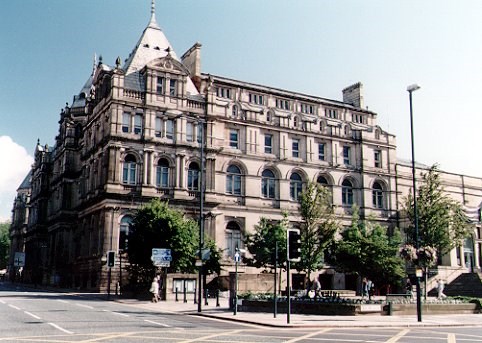 08 Mar 2016
Leeds library service hits the heights in National Coding Awards
Leeds library service is celebrating this month after scooping two top coding accolades.
As part of the 2016 National Coding Awards, the library service was recognised for its 'Hour of Code' activity sessions held last year at Leeds Central Library and Headingley Library in partnership with Leeds Code Dojo, with two 'Highly Commended' honours. The awards celebrates those schools, libraries, hubs, businesses and individuals who are setting the standard helping adults in communities across the UK learn crucial digital skills.
Through the sessions which were aimed at adults, those in attendance were given the opportunity to learn coding as a new skill and take part in an online JavaScript tutorial. A tutor was also on hand from Leeds Code Dojo to offer advice and information on how learning to code can open up a range of employment opportunities.
Leeds libraries are holding a range of activities and events this year as part of its wide-ranging digital making programme. Building on the success of their Code Club, Minecraft and Raspberry Pi activities, they will be introducing new sessions using Little Bits, Makey Makey and Sonic Pi.
Councillor Debra Coupar, Leeds City Council's executive member for communities said:
"We are working extremely hard to provide a wide range of learning opportunities and events at our libraries, and I am delighted that our Hour of Code activity sessions have been recognised with two National Coding Highly Commended Awards.
"It really is never too late to learn a new skill, and we are especially keen to open up the variety of opportunities which are available through coding to adults. It was fantastic therefore to see so many people take advantage of our Hour of Code sessions at both Leeds Central Library and Headingley Library last year, and we are looking forward to attracting more people to take part in our digital programme in 2016."
To find out more about events and activities at Leeds libraries, please see:
http://whatson.leeds.gov.uk/Pages/default.aspx
For more information regarding the winners at the 2016 National Coding Awards, please see: https://medium.com/@nationalcodingweek/8fbe9f367491#.lp5glcsy3
For more information regarding National Coding Week, please see: www.nationalcodingweek.com or follow @CodingWeek #NationalCodingWeek
For media enquiries, please contact;
Colin Dickinson, Leeds City Council press office (0113) 39 51578
Email: colin.dickinson@leeds.gov.uk
For media enquiries contact: