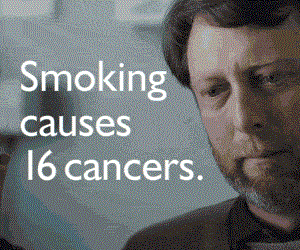 01 Feb 2016
Leeds launches hard-hitting campaign to highlight 16 cancers linked to smoking
Every month 64 people from Leeds discover they have cancer caused by smoking. While most smokers know about the link between smoking and lung cancer, many people do not realise smoking is linked with not one, but 16 different cancers, including cancers of the mouth, nasal cavities, pharynx and larynx, stomach, kidney, bowel, liver, pancreas, ureter, oesophagus, cervix, bladder and ovaries as well as myeloid leukaemia.
Quit16 is a hard-hitting campaign that highlights the 16 cancers associated with smoking and asks people to quit. It is the first region-wide anti-smoking campaign that includes advertising on television and online, by local tobacco control alliances, collaborating as Breathe 2025, and supported by Cancer Research UK.
It is based on a campaign first developed and run in Australia in 2014 by the Cancer Council Western Australia, with 74% of smokers who saw it seriously considering quitting and 20% discussing quitting with a health professional as a result.
Yorkshire and the Humber has the highest adult smoking rates in the country, with 20% of adults still smoking.
The campaign launched today, Monday 1 February, and runs throughout the month. The campaign website is www.quit16.co.uk
Councillor Lisa Mulherin, chair of Leeds health and wellbeing board, said:
"We know there are areas of Leeds where one in three adults smoke, well above the national and regional average. Smoking costs the city over £220 million and we want to make sure the next generation of children born and brought up in this city never start smoking and grow up free of the terrible health harms associated with tobacco. If you smoke, trying to quit is a great way to help make that happen and there's support available to you if you want it."
Dr Ian Cameron, Leeds City Council Director of Public Health, said:
"The films and message are brutally honest: there are 16 cancers caused by smoking. Some will kill you quickly, others more slowly and it's you and your family who have to live through it. Stopping smoking is the best thing you can do to reduce the risk that one of those deaths will be you.
"Quitting isn't easy but there is lots of help out there - from face to face support, to personalised texts, emails and apps. You can find out details of support near you on our website Quit16.co.uk."
Dr Louise Merriman, the GP cancer lead at the Yorkshire and Humber Strategic Clinical Network said:
"Most people are aware smoking can cause lung cancer, but there is a huge lack of general awareness about the true health harms of smoking. People who smoke are at an increased risk of a range of cancers and you're also more likely to have a stroke, a heart attack, and develop different health conditions including coronary heart disease.
"We want to encourage all smokers out there to find out more about quitting. Your GP can give you lots of advice and information and there are a range of resources available to help you."
Dr Julie Sharp, Cancer Research UK's head of health and patient information, said:
"Many people are aware of the link between smoking and lung cancer but many are unaware that it's linked to many other cancers as well, including mouth, bowel and bladder cancer.
"The best thing smokers can do is give up - for their own health as well as their friends' and family's. Quitting can be extremely difficult, but it greatly reduces the risk of smoking-related cancers, as well as other illness such as heart and lung disease. For those who are ready to give up, local Stop Smoking Services are the best place to start. The earlier you stop smoking the better but it's never too late to quit."
-ends-
Notes for editors
For more information, images and film from the campaign please contact Phil Morcom, Communications, Leeds City Council, T: 0113 251 43111 M: 07891 276270 philip.morcom@leeds.gov.uk
As well as the www.quit16.co.uk website, smokers wanting support can contact the Leeds Stop Smoking Services phone:0800 169 4219, text SMOKEFREE to 60066, email: stopsmokingleeds@nhs.net or find out more at www.leedsletschange.co.uk
The 16 types of cancer associated with smoking (source: the International Agency for Research on Cancer (IARC))
Oral cavity
Nasal cavity and paranasal sinuses
Pharynx
Larynx
Oesophagus
Lung
Stomach
Liver
Pancreas
Kidney
Ureter
Bladder
Ovary
Cervix
Colorectal (bowel)
Myeloid leukaemia
Cancers are caused by mutations in DNA, which are acquired during a person's lifetime. Lung cancer causes around one million deaths worldwide each year and almost all are associated with smoking. The number of mutations found in the genome of the lung cancer cells - almost 23 000 - suggest that a typical smoker would acquire one mutation per 15 cigarettes smoked - Wellcome Trust Sanger Institute http://www.wellcome.ac.uk/News/2010/News/WTX058965.htm
The first tv adverts are due to air on ITV 1 on February 1. Details on the campaign, including how to get local stop smoking support are availableon the campaign website http://www.quit16.co.uk The campaign is also being run in the North East, linking with Fresh NE, the independent office of tobacco control.
Yorkshire and the Humber cancer indidence and mortality attributable to smoking, 2013
New cancer cases (from smoking)

Deaths (from smoking related cancers)

Barnsley

264

173

Bradford

465

335

Calderdale

227

156

Doncaster

358

245

East Riding of Yorkshire

466

296

Hull

283

194

Kirklees

429

279

Leeds

767

507

North East Lincolnshire

180

139

North Lincolnshire

198

127

North Yorkshire

731

472

Rotherham

303

208

Sheffield

580

390

Wakefield

375

254

York

217

127

Yorkshire and the Humber

5843

3902
source: PHE based on Cancer Incidence and Mortality figures from the National Cancer Registry System, using estimates from Cancer Research UK that nearly one in five (19.4 per cent) of new cases of cancer in the UK are caused by smoking and research led by Richard Peto at the University of Oxford that 28 per cent of deaths from cancer in the UK are caused by smoking.
Proportion of adult smokers in Yorkshire and the Humber (percentage)
Breathe 2025 is the overarching campaign brand for work and aspirations to eliminate tobacco-related harms and health inequalities across Yorkshire and The Humber. Our vision is to see the next generation of children born and raised in a place free from tobacco, where smoking is unusual. For more information visit www.breathe2025.org.uk facebook.com/breathe2025
Cancer Research UK is the world's leading cancer charity dedicated to saving lives through research. For further information about Cancer Research UK's work or to find out how to support the charity, please call 0300 123 1022 or visit www.cancerresearchuk.org. Follow us on Twitter and Facebook.
Smoking costs society in Yorkshire and the Humber £1.5 billion a year and £220 million in Leeds. This includes costs to the NHS of approximately £223.3 million and an estimated £117.4 million in care costs for current or former smokers with smoking-related illness. (Source: ASH ready reckoner)
For media enquiries contact: