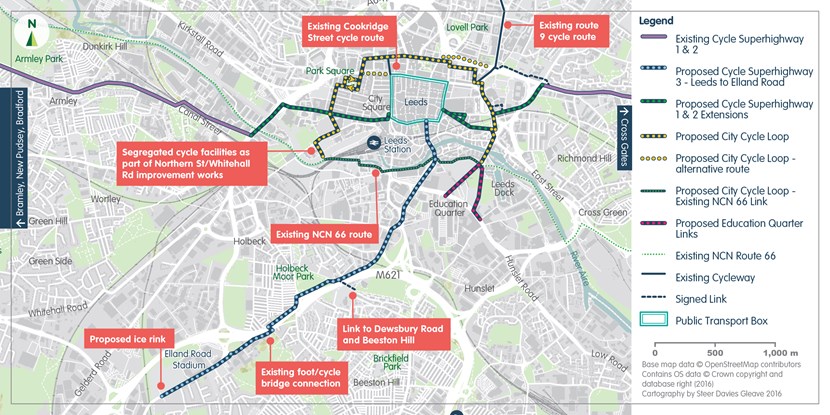 06 Feb 2017
Leeds council bosses to discuss further £6.5m CityConnect cycling improvement plans
Plans to invest £6.5million on further improvements to cycling infrastructure in Leeds will be considered by senior councillors this week.
Following the recent announcement that over 100,000 trips on the CityConnect Cycle Superhighway (CS1) have already been made since it opened in June last year, proposals for the next stage of CityConnect, will be discussed at the executive board meeting at Civic Hall on Wednesday 8 February.
The new plans signal the start of the next phase of CityConnect, which would deliver the first part of an additional 10 kilometres of segregated cycle lanes in Leeds. CS1 and CS2, the 23-kilometre cycle superhighway, runs from Seacroft to Leeds city centre and on through Pudsey to Bradford city centre. CityConnect have also delivered improved access along the Leeds Liverpool Canal towpath between Leeds and Shipley.
A successful bid has now been put in to the government's Cycling City Ambition Grant to secure additional funding for further infrastructure improvements in Leeds, Kirklees, Wakefield, Calderdale, Bradford, Leeds and York.
For Leeds, it means a further £6.5m to begin the next element of CityConnect. This would extend the cycle superhighway through the city centre along Wellington Street to City Square, from Queen Street to Westgate, from Leeds Bridge into the South Bank and from north to south along the line of St Peter's Street. Improving access and making it easier and faster to move around the city for residents and visitors alike, including students attending the new education hub at the South Bank.
CityConnect aims to promote safe and efficient cycling including the use of lanes segregated from general traffic. It also features junction designs to accommodate cyclists, segregated cycle crossings, cycleway bypassing of bus stops, cycling priority on side roads and clear signage. The Leeds scheme also includes improvements to pedestrian crossing facilities and enhanced public spaces.
The full delivery of Leeds' cycling ambition would be carried out in phases as funding becomes available, with the further elements of it to offer up to 10 kilometres of new segregated lanes in total including:
Extension of cycle superhighway from Leeds city centre to Elland Road and then on to south Leeds and Morley

To provide additional sections to create a complete 'loop' around Leeds city centre

Additional segregated superhighway from the city centre south-east to access South Bank with a focus on the new education hub there used by 10,000 students each day

The improvements to cycling infrastructure and provision also forms part of the broader and longer-term new Leeds Transport Strategy, helping to reduce congestion by making cycling and walking more attractive, improving air quality and public transport journey times making it easier and faster to move around the city. Increased cycling and walking would also bring about significant health benefits.

Consultation on the city centre plans as part of CityConnect was carried out by WYCA and Leeds City Council with the public, businesses and local stakeholders last summer, resulting in 94 per cent of respondents supporting the plans.

If approved by executive board, the next phase of CityConnect aims to start on site in June and is expected to be completed by May 2018.

Leeds City Council executive member for regeneration, transport and planning Councillor Richard Lewis said:

"These plans form part of our long-term transport strategy to make it easier to get around the city. We know that there is no quick-win but it is important we invest now in order to encourage safe cycling and walking and the wide range of benefits these would bring, including reducing congestion and ultimately improving air quality across the city, now and in the future.

"CityConnect along with other improvements to the city's cycling infrastructure will help address many of the concerns raised during the recent transport conversation, which attracted over 8000 replies, which highlighted that many people would like to cycle more, but felt that the biggest barrier is a lack of good infrastructure.

"A lot has been learned from the issues which arose during the construction of the first part of the cycle superhighway which will help guide the next phases as the project continues to develop."

The majority of the funding for CityConnect has come from the Department for Transport and West Yorkshire Combined Authority (WYCA)* to invest in improving cycling and walking infrastructure, with the project being delivered by WYCA supported by Leeds City Council and Bradford Metropolitan Council.

For more information on the CityConnect Cycle Superhighway, visit the website at http://cyclecityconnect.co.uk/

Notes:

*The total grant from the DfT for CityConnect is £40.15m with £14.3 from WYCA and £440k from various public health grants.
For media enquiries contact: