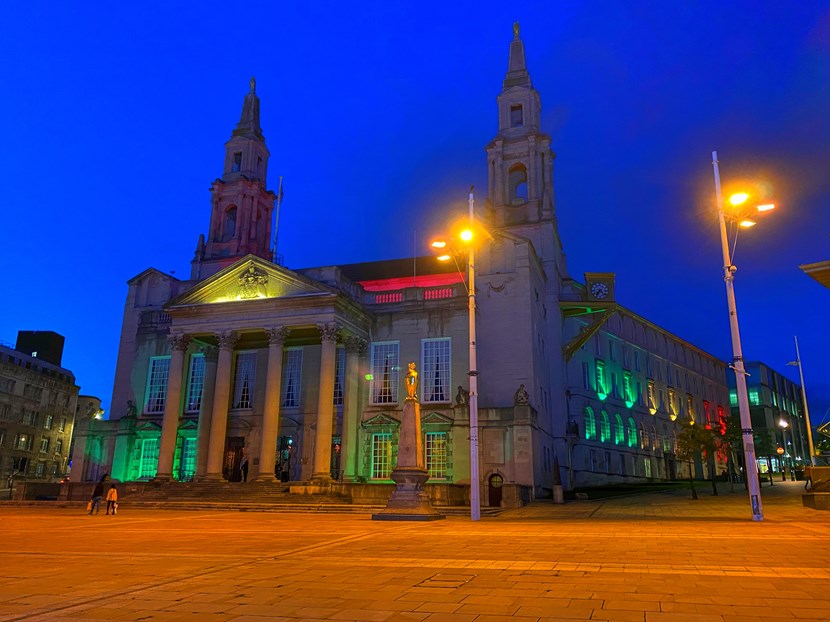 09 Oct 2020
Leeds City Council's buildings illuminated to mark the start of Black History Month
Black History Month is a very important time where we celebrate the history and achievements of black contributions to the UK. Iconic buildings were illuminated to mark the start of activities to celebrate Black History Month in Leeds.
Leeds Civic Hall, Leeds Town Hall, and Leeds City Museum were lit up as the city began a programme of events to recognise the achievements and contributions of people of African and Caribbean heritage and encourage people to learn more.
Events and presentations will also be held this month by Leeds City Council and Leeds Museums and Galleries to highlight this celebration.
There will also be a series of internal events for the Leeds City Council staff to celebrate and mark Black History Month 2020. As part of the annual Wear Red Day event, Leeds City Council will also be hosting a virtual internal event on October 16 and encouraging colleagues to participate in this national day of action and wear red to promote anti-racism.
Councillor Debra Coupar, Leeds City Council's executive member for communities, said:
"I am pleased that Leeds is once again celebrating Black History Month with a range of diverse activities and events.
"As part of this month's programme we will be also focusing on the huge contribution brought to the communities of Leeds and the UK by the Windrush generation.
"The positive contribution of people of African and Caribbean descent and the enormous cultural and artistic value they have brought to the city should never be forgotten. It's fantastic therefore that through Black History Month in our city their efforts will be recognised.
"We have also set up an anti-racism steering group with black leaders within the community and elected members to look at the inequalities faced by our black citizens as well as other ethnic minorities. With this, we look to bridge the gap and create a fairer and more equitable society for us all."
Councillor Abigail Marshall-Katung, Leeds City Council's Lead Member for Black, Asian Minority Ethnic, said:
"I am really proud that Leeds is celebrating Black History Month and also taking a closer look at the experiences and achievements of those who travelled to the UK from Africa and the Caribbean.
"Black History Month is a fantastic opportunity to learn more about the contributions that have been achieved in so many different ways, and I really would urge anyone with an interest to sign up to one of the activities or events.
"We can only achieve peace and harmony when we continue to embrace and celebrate our unique differences whilst we continue to stay stronger together."
The BME HUB in Leeds said:
"A people without the knowledge of their past history, origin and culture is like a tree without roots. (Marcus Garvey)"
ENDS
Notes to editors:
During the second half of October (date TBC), Leeds Art Gallery will host an online talk about African sculpture based around the Woodwork exhibition displayed at the gallery.
Between Tuesday, October 27, and Friday, October 30, Leeds Industrial Museum will host 'Represent', an event aimed at young people which focuses on industrial history collections. To find out more, visit https://www.leedsinspired.co.uk/events/represent
To find out more Black History Month content, visit Leeds Museums & Galleries social media platforms and the blog:
https://twitter.com/leedsmuseums/
https://www.instagram.com/leedsmuseumsandgalleries/
https://www.facebook.com/LeedsMuseumsandGalleries/
https://museumsandgalleries.leeds.gov.uk/about-us/blog/
A series of tweets focused on Black History Month will also be available on My Learning (@mylearning_org), a website of curriculum-linked teaching resources: https://www.mylearning.org/
For media enquiries contact: