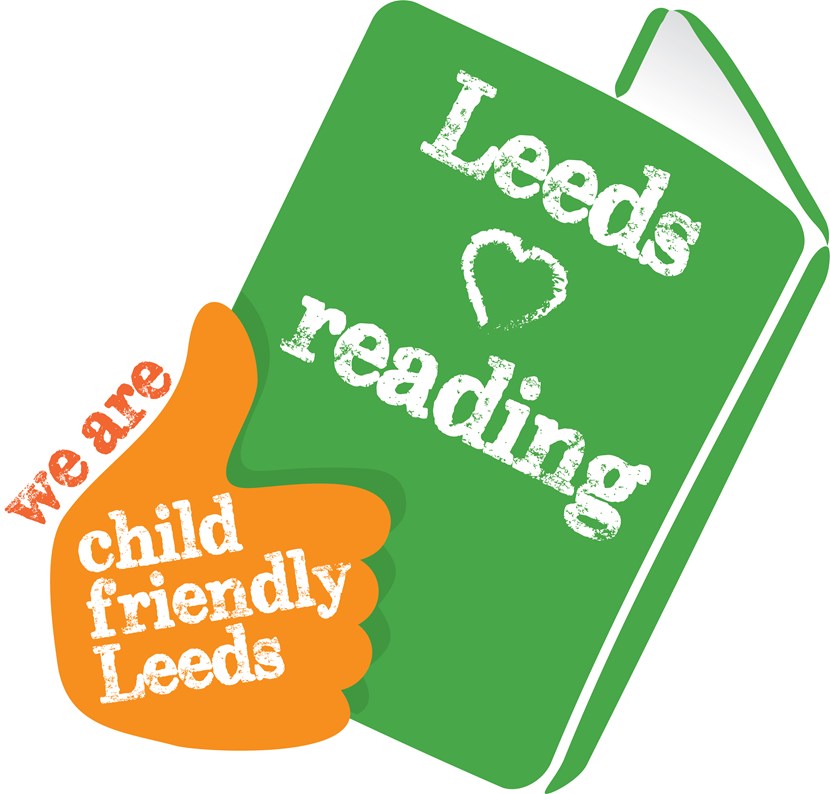 12 Sep 2019
Leeds City Council and BookTrust sign exciting partnership to launch the Leeds Year of Reading
PRESS RELEASE ISSUED BY LEEDS CITY COUNCIL IN PARTNERSHIP WITH BOOKTRUST
Today (Thursday 12 September), Leeds City Council officially launched the Leeds Year of Reading with more than 200 schoolchildren attending a special event at Shakespeare Primary School.
The aim of Leeds Year of Reading is to promote and encourage a love of reading across the city and, in particular, to engage children and their families, from different communities and backgrounds, in positive reading activity to help generate a long-term love of reading.
To mark the start of this exciting initiative, the council signed a partnership agreement with the UK's largest children's reading charity, BookTrust, who will contribute over £1million in books and resources for children and families in Leeds over the next three years. Leeds is just one of over 150 areas in England that BookTrust has committed to funding with books and resources to get children reading.
At the event, children from Shakespeare and a number of other schools across the city were entertained by Leeds' own Rainbow Factory, who specialise in stimulating children's imaginations through storytelling and the creative arts. Composer and music educator Luke Carver Goss also ran a reading themed song writing session with the children, which led to a performance to invited guests and other students.
Over the next 12 months, Leeds City Council and key partners will inspire and activate schools and other education settings, libraries, businesses, ambassadors, individuals and families to promote a love of reading and to engage children in the wonderful world of storytelling.
Councillor Jonathan Pryor, Leeds City Council executive member for learning, skills and employment, said:
"We want everyone in Leeds to read - not just for learning, but also for enjoyment. Reading is a fundamental skill that underpins all areas of learning and a love of reading is a key factor in long term academic success.
"All across the city, people will be able to get involved in activities such as supporting reading sessions in schools, book swap days and much more. The Leeds Year of Reading will be inclusive and reflect the diversity of our city, incorporating the different cultures and languages that make the city what it is."
Philip Mellen, deputy director for learning, Leeds City Council, said:
"We want Leeds to become a city of reading, where stories and books are valued and an integral part of everyone's lives. Reading is a vital skill that is a cornerstone of successful learning and the Year of Reading launch is the catalyst for an exciting year filled with author visits, events and learning for children and families across our fantastic city."
Diana Gerald, CEO of BookTrust, said:
"I'm delighted that we're able to work with Leeds on such an exciting partnership. Leeds is clearly committed to changing the lives of their children and young people through reading, and understand how important reading is to improving their life chances.
"Research shows that a child who enjoys reading will do better in all subjects, even maths. That's why we make sure every child gets high quality children's books and support from birth, and why – working with Leeds Council – we will be distributing over £1,000,000 worth of books to children and families across the city over the next three years."
ENDS
Press contacts:
Claire Macklam, Communication and Marketing Manager, Leeds City Council: 07712 214223 claire.macklam@leeds.gov.uk
Jessica Rudd, Press Officer, BookTrust, 020 7801 8050, jessica.rudd@booktrust.org.uk
About Leeds City Council
Leeds City Council is the second-largest local authority in England serving a population of around 776,000 people. One of the fastest-growing cities in the UK, Leeds is at the heart of the Leeds City Region working with a wide range of public, private and third sector partners. The council's aim is for Leeds to be recognised as the best city in the UK and also the best city for children and young people to grow up in – a place where children are valued, supported, enjoy living and can look forward to a bright future – a truly child friendly city. Leeds has placed children and young people at the very heart of the growth strategy of the city.
About BookTrust
BookTrust is the UK's largest children's reading charity. We work to inspire a love of reading in children because we know that reading can transform lives. Each year we reach 3.9 million children across the UK with books, resources and support to help develop a love of reading. Every parent receives a BookTrust book in their baby's first year. Our books are delivered via health, library, schools and early year's practitioners, and are supported with guidance, advice and resources to encourage the reading habit. Reading for pleasure has a dramatic impact on educational outcomes, well-being and social mobility, and is also a huge pleasure in itself. We are committed to starting children on their reading journey and supporting them throughout. booktrust.org.uk
For media enquiries contact: