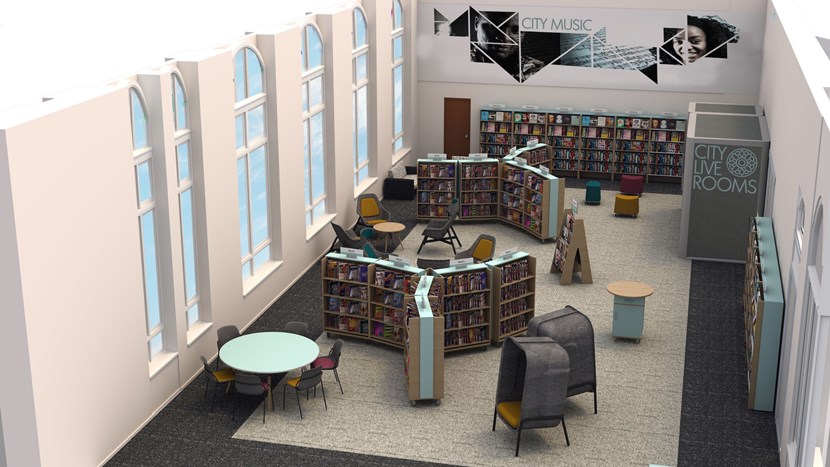 25 Mar 2022
Leeds Central Library receives £500k funding boost
New funding from Arts Council England and Leeds City Council will invest more than £500k in making the library better than ever
Leeds City Council's library service has been successful in securing more than £250,000 of new funding from Arts Council England to transform Leeds Central Library.
The Central Library, which first opened its doors in 1884, will see major improvements to the city's music and lending libraries.
The Arts Council England funding will be supplemented by £300,000 from Leeds City Council, bringing the total investment to more than £550,000.
The funding will allow the existing music library to be upgraded to provide access to recording equipment, software and instruments for aspiring musicians to practise and perform in a dedicated performance space.
In addition, the funding will provide the opportunity to redesign and refurbish the current children's and lending library rooms, providing updated, attractive and inviting spaces where people can read, socialise, study and relax in the city centre.
More free-to-use computers and digital devices will also be made available, supporting the library service's role to improve digital access and inclusion across the city through its #Digital121 programme.
The redesign, due to be completed in early 2023, will be in keeping with the rich history of the library, celebrating the building's unique heritage and uncovering hidden design features, while making it more accessible for people to browse the thousands of books on offer, learn new skills and attend events and workshops.
In a second boost, Leeds Libraries has also received £98,000 to lead a pilot project for the national Ask for a Book initiative which will provide an online service delivering tailored reading recommendations for library users. The suggested titles can then be collected for free from a local library.
The Ask for a Book project will be delivered in partnership with creative company Opening the Book and 17 library authorities across the country and has received funding through Arts Council England's National Lottery Project Grants.
Councillor Mary Harland, Leeds City Council's executive member for communities, said:
"Central Library is already a much-loved space in the heart of the city. By securing this funding we'll be able to transform key areas of the library, giving people the equipment, resources and space to unlock their creative potential.
"The improvements will make the library much more accessible to our whole community while introducing places for people to learn new skills and find out about the breadth of the library offer.
"Planned works will complement the recently refurbished Business & Intellectual Property Centre which gives entrepreneurs and small businesses a place to work, as well as offering specialist events and one-to-one information sessions to support them to start or grow their own business."
Andrea Ellison, Leeds City Council's chief librarian, said:

"I am absolutely thrilled that we've been successful in our bid for funding to transform our Central Library and improve access to our spaces, activities and unique collections, while also celebrating the heritage of the building.
"Through this Arts Council England and Leeds City Council funding, we'll be able to create a go-to place for music in the city. We want people to come here and experience their first gig or recital, gain skills from a music lesson or record their first demo, or take a first step towards working in the music business.
"This funding also supports our ambitions to offer a gold-standard city centre library service for the whole community of Leeds, including improving support for digital access, skills and creativity and encouraging participation in our rich cultural programme."
The improvements will be carried out in phases to minimise disruption for library visitors.
The grant for improvements to Leeds Central Library comes from Art Council England's Libraries Improvement Fund, which is helping to transform library services in England by investing in upgrades to their buildings and digital infrastructure so they can respond to the changing ways people use them.
For media enquiries contact: