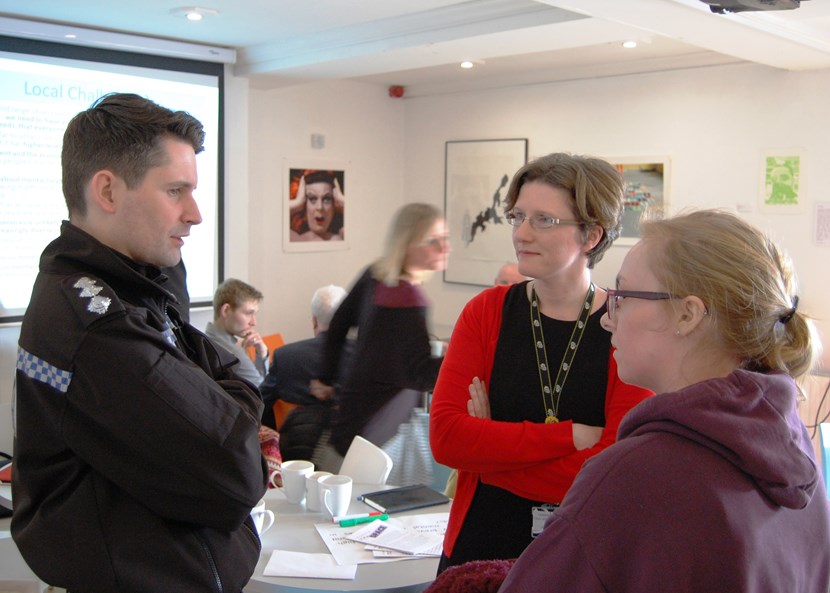 09 Oct 2015
Leeds celebrates dignity in mental health for this year's World Mental Health Day
The doors of Leeds Civic Hall are set to open to the public once again to celebrate World Mental Health Day.
With a theme of 'dignity in mental health', over 40 organisations from around Leeds are coming together to provide help and advice and to raise awareness of what can be done to ensure people with mental health conditions can continue to live with dignity.
The joint event backed by third sector mental health network Volition, Leeds City Council's adult social care team and Leeds & York Partnerships NHS Foundation Trust, will also feature entertainment and activities from other supporting organisations. These include singers and songwriters Miranda Arieh and Dave Lynch, along with opera singer Sally Daley as well as massages and more.
World Mental Health Day is celebrated worldwide on 10th October. It is an opportunity to inform and educate people about mental health helping to end the stigma.
This year Leeds' event will be held on 15th October at 11am – 4pm and opened by the Lord Mayor, Councillor Judith Chapman.
Councillor Lisa Mulherin, Leeds City Council's executive member for health, wellbeing and adults will also say a few words.
She said: "All too often people with mental health issues and their families experience stigma and discrimination. This event will help to educate the public nand demonstrate the city's commitment to improving mental health and wellbeing.
I am delighted to see so many activities and events taking place in Leeds which aim to show the ways in which dignity can be provided in all aspects of mental health ranging from patient care to the attitudes of the general public.
Whilst progress has been made in removing the stigma around mental health issues, we need to work harder to change attitudes and spread public awareness of the nature of mental illness.
As one of our main priorities, Leeds wants everyone to have a fulfilling life, be able to achieve their goals and to live somewhere they feel safe."
The day provides an opportunity for all stakeholders working on mental health issues to talk about their work, make new connections and raise the profile of support services.
Friday's event will build on the range of work being done by the city's Health and Wellbeing Board, which has been working to improve people's mental health and wellbeing as part of their strategy for Leeds.
Andrew Howorth, Head of Patient Experience at Leeds and York Partnership NHS Foundation Trust (LYPFT) said:
"In 2015 it is a scandal that people in Leeds still suffer from the stigma and discrimination of mental ill health. World Mental Health Day is an ideal opportunity to highlight the inequalities people suffer and raise awareness of the challenges that one in seven adults face at some point in their lives. Here at LYPFT we have been focusing on the mental health and wellbeing of men in our modern day society and the difficulties that they often face in seeking the help that they need."
More information about the event can be found here: http://www.volition.org.uk/world-mental-health-day-event-15th-oct-2015/
ENDS
For media enquiries contact: