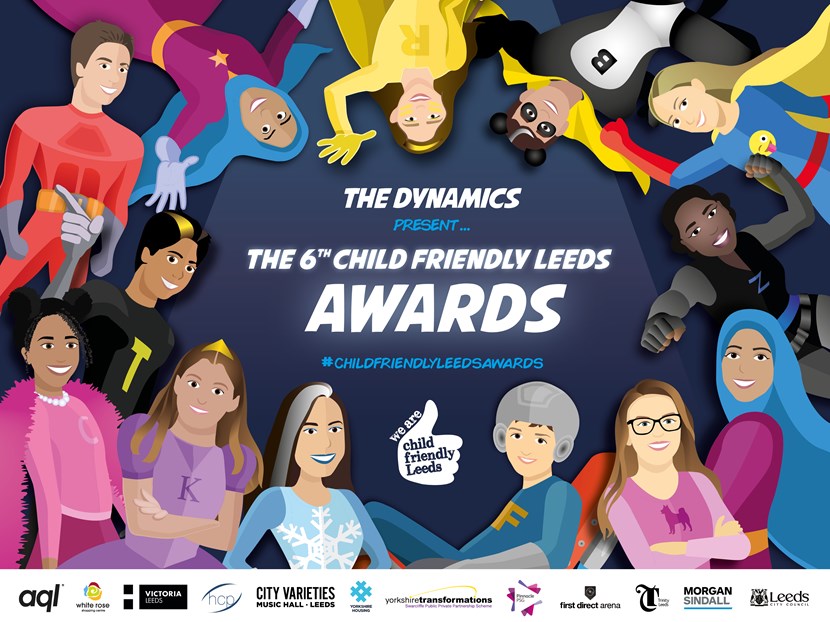 06 Feb 2019
Leeds businesses support children's awards
The sixth annual Child Friendly Leeds awards take place this week, and last minute preparations are underway.
The awards have been planned by a group of young people, 'The Dynamics', who have organised every aspect of the awards, including choosing the theme – Comic Superheroes.
The Child Friendly Leeds ambition was launched in 2012, and has built up an expansive network of ambassadors over the years. Hundreds of individuals, businesses and organisations from across Leeds have signed up to be Child Friendly Leeds ambassadors, and have committed to help make Leeds the best place for children and young people to grow up in.
The annual awards offer a great opportunity for ambassadors to join in the city-wide celebration of all the fantastic work that is happening across the city. This year, 10 businesses have sponsored the awards, which demonstrates a growing commitment from the ambassador network. Sponsors are: aql; White Rose Shopping Centre, Trinity Leeds; HCP; Yorkshire Transformations Limited; Yorkshire Housing; Pinnacle PSG; Victoria Leeds; Morgan Sindall and First Direct Arena. The City Varieties Music Hall host the event.
Councillor Lisa Mulherin, Executive Member for Children and Families, said:
"We are overwhelmed by our ambassadors' commitment to our Child Friendly Leeds ambition. Their generous support means we are able to host events like the Child Friendly Leeds awards, which enables us to recognise and celebrate all the hard work that goes on every day across the city to improve the lives of children and young people."
Professor Adam Beaumont, founder and CEO of aql, who is sponsoring the 'Overall Contribution to Making Leeds a Child Friendly City' award commented:
"I'm dedicated to trying to create hugely positive opportunities, which contribute towards the rich and diverse picture of Leeds. We are the first child friendly city in the country and I am proud to support and champion our city's differences and strengths.
"As the overall sponsor of Child Friendly Leeds Awards for a second year– I think it is fantastic that young people are supported to plan and deliver the awards and I love the focus of the event, which celebrates the achievements of young people. It is also great to see people and organisations being recognised for the work they do to support young people."
He added:
"My favourite comic book hero has to be Tony Stark (Iron Man). He's a philanthropist, an entrepreneur and has no special powers other than the powers of invention, which is something which is open to us all."
Dean Stratton and Samantha Knight from White Rose Shopping Centre, who are sponsoring the award 'Child of the Year (Under 11 Years)' said:
"We are encouraged to make a positive contribution to our local community wherever possible, and social impact is very important to us. We feel particularly strongly about Child Friendly Leeds and have made personal commitments to contributing to the local authority's ambition.
"Leeds City Council, through Child Friendly Leeds, does a brilliant job of supporting the young people of this fabulous city. Today's young people are the future of Leeds, and all organisations should be invested in maximising their potential and wellbeing."
Samantha added:
"My favourite superhero is Superwoman, because just like the heroic character, I can hardly sit still for five minutes! Who wouldn't find the gifts of super-strength and being able to fly handy day-to-day?"
This year, HCP Ltd, Pinnacle PSG, Yorkshire Housing and Yorkshire Transformations are jointly sponsoring two awards: 'Adult Making a Difference for Young People' and 'Communities and Schools Working Together'.
Sarah Sibbald, Project Director at HCP and Yorkshire Transformations Limited, said:
"The awards are a truly a wonderful event and demonstrate the amazing talent and achievements of children in Leeds. It is a great platform for places and organisation to showcase what they do to make Leeds a great place to live in, and includes those with individual challenges.
"To see all of these individuals, companies and children come together on the night is very inspirational and therefore any help we can offer towards the cost of this event is a privilege."
Sean Hancock from Pinnacle PSG said:
"The awards themselves highlight the work that individuals or companies complete without thought of an award, which is inspirational on the night and from a personal perspective, it gives me the drive to believe, I and my company can deliver more.
"My favourite superhero is Batman because he is actually a normal man without superpowers, but he has developed the powers and skills to help him to 'do good' despite a setback when he was younger. Perhaps there is a message there for us all."
Sally Kendrick, Facilities Manager at Yorkshire Housing Limited added:
"This year will be our first attendance at the awards and we wanted to give our contribution to ensure the continuation of the awards. The work that Child Friendly Leeds does with its children and ambassadors is truly inspirational."
The prestigious awards ceremony will take place at City Varieties and will be attended by around 400 individuals, businesses and organisations from across the city.
ENDS

For media enquiries please contact:
Leeds City Council communications and marketing
Email: communicationsteam@leeds.gov.uk
Tel: 0113 378 6007
For media enquiries contact: