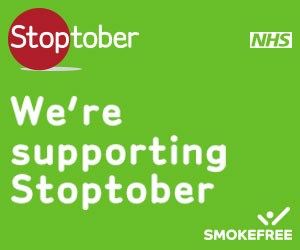 28 Sep 2018
Leeds backs national Stoptober campaign to help smokers quit
Leeds backs national Stoptober campaign to help smokers quit
Smokers in Leeds are being encouraged to 'find their best way to quit' this Stoptober, with a range of extra support and advice being offered through One You Leeds.
400,000 smokers quit successfully last year in England and 1,000 smokers quit every day on average. In Leeds smoking rates are at their lowest since records began. However, Leeds still has smoking rates above the UK average and Dr Ian Cameron, Leeds City Council's Director of Public Health, is backing the national Stoptober campaign to help more people quit.
Dr Cameron said:
"We know a million fewer people are smokers in England than in 2014, and in Leeds almost six out of ten adults have now never smoked, compared with more than a half ten years ago. This is encouraging for our ambition for a smokefree generation, and with the help of Stoptober and people accessing the right stop smoking support for them, we can help more people quit too.
"We understand that because there are lots of different ways to stop smoking and it can be difficult to know what will work best for you when you want to quit. The important thing is not to be put off trying to quit even if you have not managed to do it in the past. Stoptober offers a chance to find a combination that could work for you and I urge smokers not to get left behind: Join in, find your best way to quit and start your 28 day journey to becoming smokefree."
Last year, nearly 400,000 smokers in England quit successfully, which is the equivalent to 1,069 smokers each day. Despite new smokers starting and ex-smokers relapsing, there are now 1 million fewer smokers in England since 2014.
Of the 6.1 million smokers in England, six in 10 want to quit but most try to quit using willpower alone (or 'cold turkey') despite this being the least effective method. The most successful quit attempts use a combination of effective stop smoking support methods. The best way to quit is with expert help from local stop smoking services together with stop smoking aids. In 2017-18, half (51%) of smokers who got this package of support managed to quit and among those who used an e-cigarette in their quit attempt, the success rate was up to 63%.
New to this year, Public Health England's Stoptober campaign is offering a free online 'Personal Quit Plan' to help smokers find the right stop smoking support for them. The online plan asks a number of questions and provides smokers with a suggested combination of support based on their level of tobacco dependency and what quitting support they have used previously. Smokers will be advised that nicotine replacement therapy (NRT) products are most effective when used in combination – an all-day patch together with a fast-acting option such as an inhaler or lozenges to help them deal with any immediate cravings.
Councillor Rebecca Charlwood, Leeds City Council executive member for health and adults, said:
"Thousands of people in Leeds are living healthier lives because of our efforts to reduce smoking rates. We are not only helping people quit, we are helping people never to start and backing tobacco control measures to crack down on illegal tobacco.
"We are not complacent though and we will keep encouraging smokers to quit, which is the single best thing a smoker can do for their health. If you search 'Stoptober' you can use the Personal Quit Plan and find out about the range of free and proven support available to help you start your quitting journey on the 1st October."
Dr Sarah Jarvis, GP and TV doctor said:
"I see many people in my surgery who want to quit smoking but far too many try without support and they end up going back to smoking after a short period. Stop smoking aids and face-to-face support from local stop smoking services are proven methods of support that help many thousands of people to quit each year.
"The Personal Quit Plan is a quick and useful free tool for smokers looking to quit. People just answer a few questions about their smoking and they are then recommended a combination of support to increase their chances of quitting this Stoptober."
Jeremy Kyle, who quit smoking recently, is supporting the campaign this year with a new film to encourage people to stop smoking this Stoptober.
Jeremy Kyle, TV presenter and until recently a smoker of 35 years, said:
"I was a 20 a day smoker for most of my life and am proud to say I quit smoking earlier this year. I've tried many times in the past to quit but nothing really worked for me. This year, however, the time was right and I wanted to do it for me. With the death of my mother, having cancer myself and becoming a grandad this year, I was determined and I'm so happy I'm now smokefree. I'm not going to pretend it is easy, but I knew my time smoking was up.
"The thing that is really helping me stay smokefree is vaping. I'm currently on the lowest nicotine strength and will then come off the e-cigarette altogether when the time is right for me. Since quitting I've learned just how important using support is and for people not to go 'cold turkey' – that certainly didn't work for me in the past. If I can quit, I honestly believe anyone can quit if you just have the right support, and that's what Stoptober is there to give you and I want people to know that and to do it this year."
Stoptober is based on research that if you can make it to 28 days smokefree, you are five times more likely to quit for good.
The new Personal Quit Plan will recommend a range of options to smokers including face-to-face support, nicotine replacement therapies like patches, gum or inhalers, and e-cigarettes.
E-cigarettes remain the nation's favourite stop smoking aid, with an estimated 3.2 million adult users in Great Britain. Over time, the proportion who are ex-smokers has risen and over half (52%) of current vapers have stopped smoking completely.
A further 900,000 people have given up both smoking and vaping.
People in Leeds can take part in Stoptober with personal support from a Health Coach to help them succeed. The free service is available at www.oneyouleeds.co.uk or by calling 0800 169 4219.
For media enquiries contact: