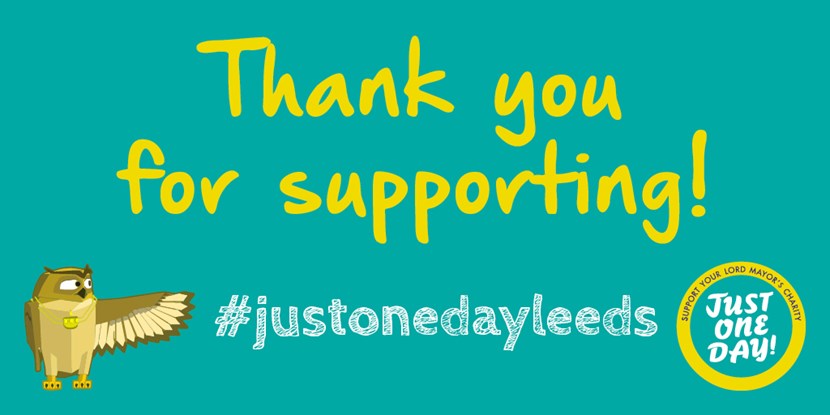 19 Apr 2021
'Just One Day' fundraiser returns virtually this year in aid of Lord Mayor's charity appeal
'Just One Day', the Lord Mayor of Leeds' charity fundraising day, will be returning virtually this year on Friday 14 May.
After being postponed last year due to coronavirus, the Lord Mayor of Leeds, Councillor Eileen Taylor, is once again encouraging local residents, businesses and organisations to come together virtually for 'Just One Day' to raise awareness and support fundraising for her official charity.
To enable people to safely fundraise from home, a virtual fundraising pack has been created which includes ten exciting fundraising ideas, ranging from putting on an online gig to hosting a virtual bake off.
It is appreciated that a set date for organising a virtual fundraising event may not always be convenient; therefore, 'What's Your Day' means you can support the campaign at a time that suits you.
All proceeds from the fundraising activities that take place over 'Just One Day' and 'What's Your Day' will be donated to the Lord Mayor's chosen charity, SARSVL (Support After Rape and Sexual Violence Leeds).
The Lord Mayor of Leeds, Councillor Eileen Taylor, said:
"'Just One Day' is a fantastic opportunity for friends, families and colleagues to come together virtually and have some fun whilst also raising money for a great cause.
"Every penny raised will enable my chosen charity SARSVL to continue the vital work they do day in, day out, helping survivors of sexual violence and abuse at the time they're ready to seek support.
"Whether you decide to organise a virtual event, make a donation or simply help to spread the word about SARSVL, I can't thank you enough for your support."
SARSVL is the dedicated Rape Crisis Centre for all women and girls in Leeds affected by rape and sexual violence.
During Councillor Eileen Taylor's first term as Lord Mayor, over a thousand women and girls accessed one of SARSVL's specialist services for emotional and practical support. Throughout the pandemic, the charity has continued to offer vital support by operating virtually.
After successfully raising over £40,000 for the charity last year, the Lord Mayor hopes funds raised from 'Just One Day' will help to exceed a final total of £50,000 by the end of her second year in the role next month.
For more information about Just One Day, please visit: www.leeds.gov.uk/JustOneDay.
If you'd like to get involved, the virtual fundraising pack can be downloaded at bit.ly/LMCAFundraisingPack.
Once you've finished your fantastic fundraising, simply donate the money via the Lord Mayor's charity appeal at www.justgiving.com/lmca.
If you are unable to host or participate in a virtual fundraising activity but would like to make a donation to the charity, payments can be sent via the JustGiving page.
Don't forget to share your fundraising stories and activities on social media by tagging @LordMayorLeeds and @SARSVL on Twitter or using the hashtag #JustOneDayLeeds.
Notes to editors:
All fundraising activities that take place must be in line with current government guidelines.
For more information about SARSVL, please visit: www.supportafterrapeleeds.org.uk.
ENDS
For media enquiries please contact:
Leeds City Council communications and marketing
Tel: 0113 378 6007
For media enquiries contact: