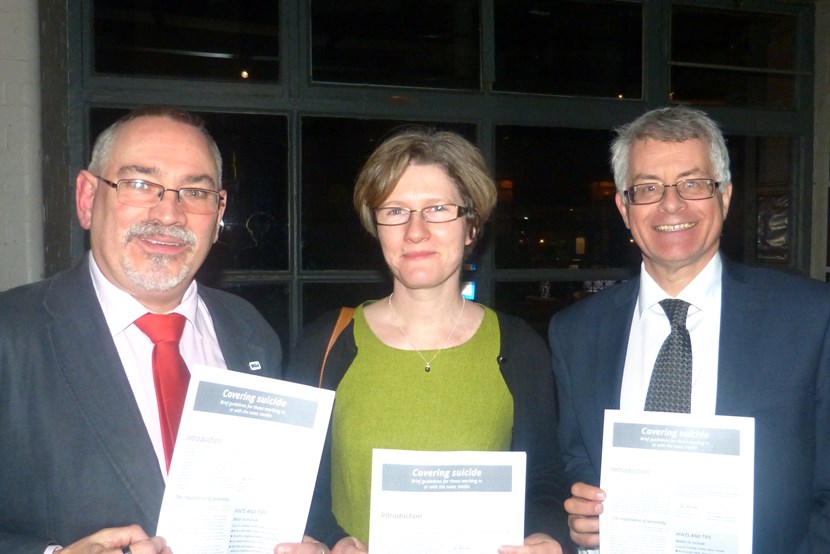 04 Dec 2015
Journalists and health workers link to support new suicide reporting guidelines
New guidance for those working in or with the media has been launched in Leeds as part of a joint initiative between the National Union of Journalists, Leeds City Council and the city's Strategic Suicide Prevention Group.
Following concerns about media coverage and how those bereaved by suicide had felt following interviews, members of the Leeds Strategic Suicide Prevention Group have been working with local NUJ members to see how journalists could be helped to balance editorial demands and sensitive, ethical coverage.
The new guidelines have been produced in conjunction with the Leeds NUJ Branch, with Leeds-based NUJ national president Adam Christie helping design and write the guidance. He said:
"I know how difficult it is to balance the potential newsworthiness of suicide and time pressures to publish or broadcast, with making sure reporting is done with care and sensitivity.
"The NUJ has a longstanding commitment to seeing suicide covered responsibly, with NUJ Scotland producing in-depth guidance which has been a core source for our guidelines. As a union we want journalists to deal with the issues of mental health and suicide in a sensitive and thoughtful way. Reporting suicide and the language we use can have significant impact, so we need to do our best to get it right."
The suicide media guidelines follow on from initiatives analysing suicide and the recent launch of Leeds postvention (suicide bereavement) service in September.
Councillor Lisa Mulherin, Chair of Leeds Health and Wellbeing Board, said:
"This is a great initiative. Hopefully it will play a role in suicide prevention and better awareness of mental health as well. Reporting well can make a huge difference to those left behind after suicide and I'm pleased local journalists have worked closely with Leeds Strategic Suicide Prevention Group to come up with this easy to use advice."
Dr Ian Cameron, Leeds City Council Director of Public Health said:
"Leeds has a reputation as a leading area for analysis of suicide and suicide prevention work. I'm delighted that local journalists have supported the Strategic Suicide Prevention Group to come up with these guidelines. I hope it will help bridge any gaps in understanding and this local initiative can be replicated elsewhere, helping journalists who have to report on suicide in local newsrooms."
Richard Edwards is Secretary of NUJ Leeds branch and works for BBC Radio Leeds. He said:
"Anything that makes it easier for reporters to make the best decisions is really welcome. Whether working in local papers or radio, there can be real pressure to sensationalise and we know many media organisations are increasingly chasing online 'clickbait'. It is really important to recognise the importance of sensitivity and I know colleagues have had to deal with making difficult choices reporting this issue in recent months, so this advice is really well timed."
The Leeds Strategic Suicide Prevention Group and NUJ will be sharing the guidance with other local authority Public Health teams and local union branches so that they can adapt it for local use.
-ends-
Notes for editors:
Copies of the guidance are available online from the Leeds City Council Public Health Resource Centre http://www.leeds.gov.uk/docs/CoveringSuicide.pdf , as well as by contacting NUJ Leeds Branch at nuj.leeds@yahoo.com .
For media enquiries contact: