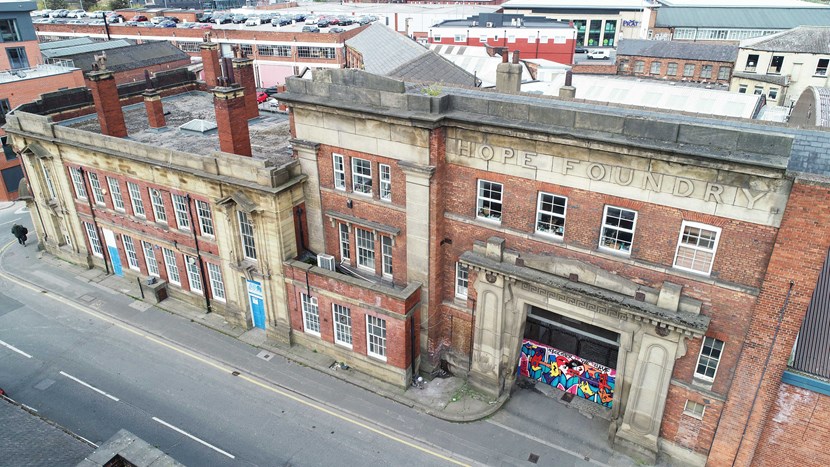 03 Aug 2021
Join the conversation and help shape the future of vibrant Leeds area
People in Leeds are being encouraged to seize their chance to shape the future of a neighbourhood that has a definite spark and personality all of its own.
With a proud history as one of the original drivers of the city's industrial and manufacturing revolution, Mabgate has in recent years been transformed into a rich and diverse community with a vibrant independent arts scene.
Mabgate also provides a crucial physical link to Leeds city centre for the communities of Lincoln Green and Burmantofts, with its range of sustainable brownfield sites meaning a number of landowners are proactively exploring possible development opportunities across the area, including proposals for a new Leeds City College campus.
Now, in light of both recent successes and the potential for new growth, Leeds City Council is planning to co-produce – in collaboration with the local community, landowners, existing businesses and all other interested parties – a regeneration framework that will lay out an action plan and shared set of ambitions for the future of Mabgate.
This framework will aim to ensure that the growth happening there is inclusive, putting people first in the delivery of new infrastructure and better connecting them to jobs, training and learning. Another important consideration will be ensuring that arts and culture continue to thrive as new investment finds its way to the area.
As part of the framework project, the council is encouraging people and organisations with an interest in Mabgate to share their thoughts and aspirations for the area via the Your Voice online engagement platform. A number of online and in-person engagement events are also being planned.
Key topics that will be explored during the creation of the framework include delivering improved connections to Lincoln Green and Burmantofts, the local response to the climate emergency and the provision of new public spaces and walking and cycling routes that will help make Mabgate a more attractive and accessible place for people of all ages.
By providing a clear basis for collaboration between landowners, businesses and residents on regeneration activity, it is hoped the finished framework – and others developed by the council for city centre growth areas such as the South Bank – will bring about lasting and positive change.
The new framework will also support the delivery of the emerging East Street Arts-led neighbourhood plan for Mabgate, Lincoln Green and Burmantofts, which has been in the pipeline since 2017 and is designed to help chart a course for future development in those three areas. The Mabgate framework will work alongside the neighbourhood plan and complement it to set out the community's vision for the area.
Councillor Jonathan Pryor, Leeds City Council's executive member for economy, culture and education, said:
"Mabgate is a vibrant, fascinating community with a can-do spirit that embodies some of the finest qualities of the city of Leeds as a whole.
"As the city centre grows, we want to make sure the area's independent arts scene continues to thrive for many, many years to come. That is why we are in the process of planning this new regeneration framework, which will play a vital role in shaping a Mabgate that showcases the very best of our creative industries."
Councillor Helen Hayden, Leeds City Council's executive member for infrastructure and climate, said:
"The growth we see – not just in Mabgate but across the entire city – has to be inclusive and compassionate, delivering enhanced access to jobs, training and education for all local people.
"As we look ahead to a bright future for the area, we want to gather as many thoughts and ideas as ­­possible to ensure Mabgate is a place where people get the opportunities and support they need to make the most of their talents, skills and potential."
Helen Moore, East Street Arts' engagement lead, said:
"At East Street Arts we are committed to being a good neighbour to the other residents and businesses in Mabgate, Lincoln Green and Burmantofts. We have been fortunate enough to be involved in the first-ever arts and culture-led neighbourhood plan for this area, and bringing together a brilliant forum. We look forward to seeing the progression of the framework and how this will benefit the community."
To join the conversation about Mabgate and the framework project, visit https://yourvoice.leeds.gov.uk/mabgate-regen. Paper copies of a survey will be made available at Burmantofts Community Hub (Rigton Lawn), Merrion House Hub (Merrion Way), Kirkgate Community Hub & Library (Unit 280-82 in Leeds Kirkgate Market), One Community Centre (Cromwell Street in Lincoln Green) and Patrick Studios (St Mary's Lane in Mabgate).
To find out more about the project or talk to someone on the team, head to Kirkgate Community Hub & Library on August 10 (midday to 2pm), August 12 (2pm to 4pm), August 14 (10am to midday), September 10 (9am to 11am), September 11 (11am to 1pm) or September 13 (10am to midday).
Notes to editors:
Mabgate's storied past as an industrial powerhouse of the 19th and early 20th centuries has left a lasting legacy in the shape of its many historic buildings, including Smithfield House, which dates back to the 1840s, and Hope Foundry, a stunning Grade II-listed former brass and iron works. More recently, some of these buildings have been repurposed to accommodate hands-on creative and 'maker' spaces that are often larger and more flexible than traditional office environments.
Local success stories include the Centre for Live Art Yorkshire as well as East Street Arts spaces such as Patrick Studios, Convention House and the Art Hostel. The education work being done by the MAP (Music & Arts Production) Charity at Hope Foundry has also won widespread praise.
Mabgate's reputation as a jewel in Leeds's cultural crown was given a boost in 2020 when it was named as one of the UK's coolest neighbourhoods by Condé Nast Traveller magazine and hailed as an "under-the-radar zone with art at its core".
Details of the framework project have been announced amid ongoing work on the A64 bridge over Regent Street that will mean better connections between Mabgate and the city centre, with increased scope for the creation of attractive public space. Complementary plans have been drawn up for improved cycling and walking links – with new seating and trees – between Mabgate and places such as Lincoln Green and Burmantofts, including St James's Hospital.
ENDS
For media enquiries contact: