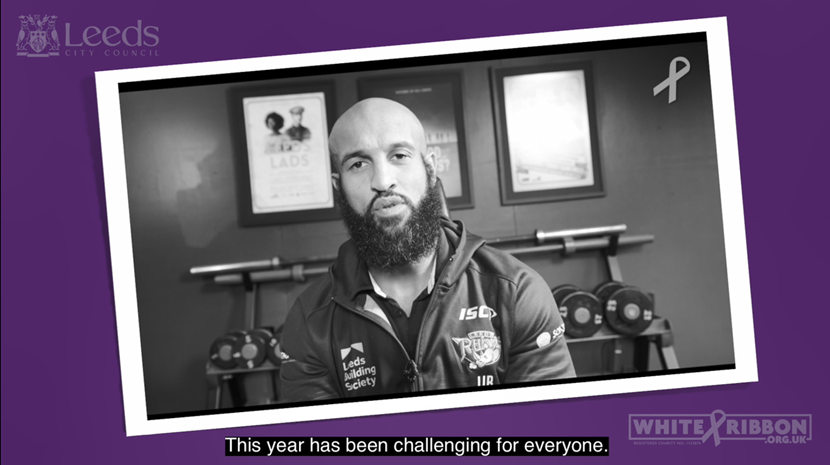 25 Nov 2020
Jamie Jones-Buchanan takes the White Ribbon promise alongside city-wide leaders
Leeds Rhinos star, Jamie Jones-Buchanan, has taken part in a short video produced by Leeds City Council for this year's White Ribbon and 16 days of action campaign.
Jamie is joined alongside other council and city wide leaders including Tom Riordan, Chief Executive of Leeds City Council, Paul Money, Chief Officer for Safer Leeds, and The Revd Canon Sam Corley, Diocese of Leeds, to raise awareness of domestic abuse and encourage men to promise that they will not commit, condone or remain silent about violence against women. The video can be viewed here- https://bit.ly/37aXa3K
The 16 Days of Action campaign runs from 25 November to 10 December. This year has seen a much bigger spike in domestic abuse cases due to the restrictions enforced during the ongoing coronavirus crisis which is a key focus throughout the video.
At the start of lockdown, there was a big increase in calls to the police and the LDVS local helpline and this increased further as the pandemic went on. Worryingly, the increase in high risk cases and those with complex needs was very significant. Although levels of reporting reduced at the end of the first lockdown, they still remain higher than at the start of the year. There is greatest concern for those people and families who are not making contact with services and who may be in very risky situations.
Councillor Debra Coupar, Leeds City Council's executive member for communities said:
"We know this year has been difficult for everyone and for many people the coming months will present more challenges and trials, including a greater risk of suffering domestic abuse.
"During the pandemic, we have sought to provide all communities with information about the help available to anyone that is suffering from domestic abuse, including those who are speakers of other languages and people within the lesbian, gay, bisexual and trans communities.
"Campaigns such as the 16 days of action and White Ribbon awareness day are more important now than ever to ensure everyone is aware of the terrible impacts of domestic abuse and violence and where to provide and seek help for themselves or for others, especially during these times where social contact is reduced."
The key message to family and friends is that if you are concerned, seek help for your loved one and if you are experiencing abuse, support is available for you. The video will importantly highlight the added pressures placed on victims of domestic violence and abuse and call for men and boys to stand up against these actions.
Other work across the city will be taking place across the 16 days to raise awareness. Women's Lives Leeds with support from Safer Leeds will be putting out a series of bite-sized survey questions on the subject of 'Safety', to flag up a more substantial piece of work that Women Friendly Leeds are doing next year. These questions are around where women and girls feel safe in Leeds at the moment, and if they know who to tell and where to seek help and support. The questions will alternate throughout the 16 Days with content that celebrates the work Women's Lives Leeds organisations are doing to support and empower women and girls in Leeds.
Sally Egan, Women's Lives Leeds Strategic Development said:
"We've been working with Safer Leeds to find ways we can amplify the 16 days of action campaign and wider awareness of the work we've been doing to support women and girls within the current restrictions.
"Although this year it will be an online-only campaign, it has been a really positive experience, with everyone generously offering to share content and support in spread the message as wide as possible."
Seacroft Local Care Partnership has also committed to an ongoing programme of training and awareness raising with staff and citizens to offer support for those who have been affected. This will also involve increasing the availability of safe spaces and enable more support to those seeking safety and refuge from abuse. To find out more contact lcht.lcpdevelopment@nhs.net
George Winder, Seacroft Primary Care Network Clinical Director and GP said:
"As a GP I was alarmed to see how the lockdown was increasing the suffering of victims of domestic abuse and their families. The launch of the work is crucial to helping support these individuals and families and although it will coincide with the 16 days of action, the team recognise this issue is not going away and it will be a focus of support for the community going forward."
For help and support with Domestic Abuse and Violence, contact the 24 hour LDVS helpline on 0113 246 0401 or visit their website- https://ldvs.uk/
If you are in immediate danger, please contact the police on 999 or visit https://www.westyorkshire.police.uk/report-it/report-domestic-abuse for the online reporting form.
For honour based abuse and forced marriage, contact Karma Nirvana 0800 5999 247.
For support for those who are concerned their behaviour is causing harm, contact Respect on 0808 8024040
UK SAYS NO MORE is also working with Boots UK, Superdrug pharmacies, Morrisons pharmacies and independent pharmacies across the UK to provide Safe Spaces in their consultation rooms for people experiencing domestic abuse. You can access a Safe Space by walking into any participating pharmacy in the UK and asking at the healthcare counter to use their Safe Space. To locate your nearest safe space, visit https://uksaysnomore.org/safespaces/
For media enquiries contact: