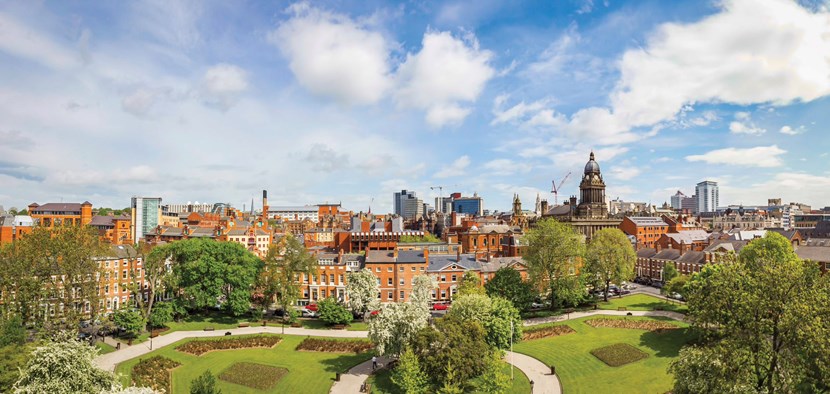 20 Nov 2023
Investment Zone boosts Leeds' innovation ambitions and vision
The Leeds Innovation Partnership has welcomed news that West Yorkshire is to be home to the country's third Investment Zone, boosting the city's ambition to deliver innovation that creates a healthier, greener and inclusive future for Leeds, the region and across the globe.
The investment in digital and healthtech will accelerate plans for the Leeds Innovation Arc, kickstarting the development of the Innovation Village on the Leeds General Infirmary site with the refurbishment of the Old Medical School to create a healthtech innovation hub.
Co-locating entrepreneurs, businesses, clinicians and academics in this way will help deliver the first phase of development of the 12.5 acre site which will deliver 4,000 new jobs and up to £13bn economic boost for the region.
The Innovation Village is one of a series of innovation neighbourhoods that form the Leeds' Innovation Arc, an area to the west of the city centre formed around the natural anchors or our main universities, the proposed adult and children's hospitals, and major private sector partners.
The Innovation Arc is already home to some of the most significant innovation assets in the north of England including Nexus at the University of Leeds, a hub for an increasing number of innovative businesses including SeeAI, Itecho Health and Atlas Endoscopy.
Leeds City Council recently adopted a supplementary planning document to support the Innovation Arc, defining how it will benefit from enhanced connectivity, promoting the restoration of key buildings, guiding future development, and supporting relevant funding bids.
Across the city the Leeds Innovation Partnership is working to foster a culture of innovation. This commitment to innovation includes supporting diverse and talented entrepreneurs along with grassroots community-led organisations like the Leeds Digital Festival, alongside world-leading research and development and health innovators.
Dame Linda Pollard, Chair of Leeds Teaching Hospitals NHS Trust and Chair of the Leeds Innovation Partnership said: "This is wonderful news for Leeds and the wider region. The Innovation Village will catalyse regeneration and healthcare transformation and the redevelopment of the Old Medical School is the first exciting phase in realising this. This once in a lifetime opportunity has only become possible as a result of the recent confirmation from the Secretary of State for Health to fully fund the new home for Leeds Children's Hospital, a new adults' hospital and one of the largest single site maternity centres in the country on the Leeds General Infirmary site."
Councillor James Lewis, Leader of Leeds City Council, said: "Securing an investment zone for West Yorkshire with a focus on life sciences is fantastic news for Leeds because of our internationally-recognised pedigree in delivering innovation in the healthtech sector.
"Further investment in this area will allow us to build on the achievements of the many successful businesses within this sector which are based in our city, providing more opportunities for inclusive and economic growth which will benefit our residents and wider communities across the region."
Dr Martin Stow, Pro-Vice Chancellor for Business Engagement and Enterprise commented: "This is a significant investment in the region and a real acknowledgement of Leeds as one of the UK's leading healthtech innovation clusters. It will further the knowledge exchange between clinical experts, entrepreneurs and academics to support economic growth and nurture the skills and talent that will be required in the future."
Adrian Brown, CEO and Co-Founder of Itecho Health, based at Nexus said: "We're delighted to welcome this investment, it's great to see recognition of the thriving healthtech sector in our region. This investment will increase opportunities for businesses like ours, working to innovate novel solutions to improve patient care across the NHS, to scale-up whilst remaining within West Yorkshire. We've got something really special in our region and its brilliant that this funding will help us achieve even more of our innovation ambitions."
For media enquiries contact: