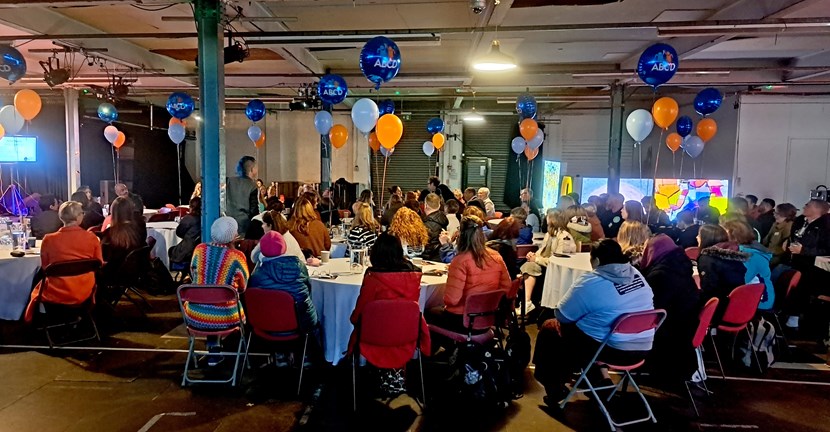 27 Oct 2023
Innovative ABCD in Leeds programme celebrates milestone at special city event
An event marking a special birthday of a pioneering asset-based community development programme in Leeds has been held this week.
Over 150 attendees, including members of third sector organisations, interested representatives of other local authorities and city councillors came together at Slung Low in Holbeck to celebrate the 10th birthday of the Asset Based Community Development (ABCD) programme.
Developed in partnership between Leeds City Council and third sector organisations, a key aim of ABCD in Leeds is to shift power back into the hands of local communities and residents and provide them with the support and tools they need to lead on and make meaningful change in the areas they live through a variety of different projects. In doing so, ABCD has played its part in helping to improve the skills, learning, and health and wellbeing of residents, and the tackling of different issues such as loneliness and social isolation.
Currently there are 14 ABCD sites (which includes third sector organisations, a housing association and theatre company) supporting the delivery of the programme in different communities across Leeds.
As part of the event, attendees had the chance to take part in different activities to broaden their understanding and learning of ABCD in Leeds and Leeds City Council's' four-tiered approach: Grassroots/community level, Practitioner level, Service level, A whole system level.
The day included themed workshops, Q&A sessions with experts in asset-based approaches, networking opportunities and the chance to listen to contributions from those involved in the ABCD in Leeds programme. Key themes included reflecting on the success and challenges of the past decade, whilst also discussing what opportunities were available in the future to potentially grow ABCD so more communities in Leeds and beyond can benefit from its approach.
To find out more about ABCD in Leeds, please see: www.abcdinleeds.com
Councillor Salma Arif, Leeds City Council's executive member for Adult Social Care, Public Health and Active Lifestyles, said:
"We are incredibly proud of the ABCD in Leeds programme and what it has achieved over the past 10 years. Through its asset-based approach, ABCD places power and puts its trust firmly in the hands of communities to make the decisions they feel will have a real positive impact locally.
"It takes a lot of hard work, dedication, and commitment from so many people to make an initiative such as ABCD in Leeds a success. I would therefore like to thank everyone who has contributed to the programme since 2013."
ENDS
For media enquiries contact: