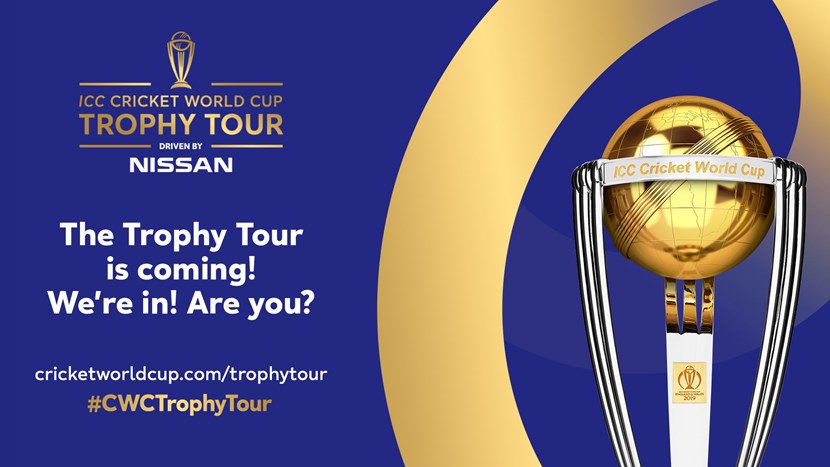 25 Jan 2019
ICC CRICKET WORLD CUP TROPHY TOUR TO VISIT LEEDS, AS PART OF 100-DAY TOUR
SENT ON BEHALF OF ICC CRICKET WORLD CUP 2019
ICC Cricket World Cup Trophy Tour commences tour of England and Wales on 19 February 2019

100-day tour starts off in London and will finish on 29 May ahead of the tournament opener at The Oval for England v South Africa

The famous trophy will be in Leeds on Sunday April 14 and Monday April 15, visiting Trinity Leeds and Headingley. Further details on how fans can see the trophy will be provided closer to each event.

The trophy will visit all 11 Cricket World Cup 2019 venues, making over 100 stops in more than 20 towns and cities across England and Wales

The trophy will be transported in the all-electric Nissan LEAF

Fans can nominate someone who deserves to be recognised for their contribution to cricket and the wider community to win a visit from the trophy
The 100-day schedule for the domestic leg of the ICC Cricket World Cup Trophy Tour, driven by Nissan, has been announced today ahead of its start date on 19 February - when it will commence its journey across the length and breadth of England and Wales, covering thousands of miles and making stops in more than 20 towns and cities.
The trophy, which will be lifted by the ICC Men's Cricket World Cup winners at Lord's on 14 July, will be driven around England and Wales in a Nissan LEAF – Europe's top-selling electric vehicle (EV)*- making this tour the first ICC Trophy Tour powered by an all-electric vehicle.
From extreme sports and a cricket match underground to a theme park and a quintessential English village, the trophy is set for some unique visits during its time on tour, with its final stop on 29 May the day before the tournament opener of England v South Africa at The Oval.
Thousands of fans have already had the chance to catch a glimpse of the trophy during the international leg of the tour, with cricketing legends such as Brian Lara, Tillakaratne Dilshan and VVS Laxman - just to name a few - visiting it along the way. The trophy has made stops at each of the ICC Men's Cricket World Cup 2019 participating nations, with additional visits to countries in Europe and Africa, and as far as Nepal and the USA. By the time the Trophy Tour reaches England and Wales, it will have visited 18 countries worldwide.
Commencing on 19 February, the trophy will visit the ICC Men's Cricket World Cup 2019 Host Cities of London, Manchester, Birmingham, Bristol, Nottingham, Leeds, Durham, Southampton, Cardiff and Taunton, stopping off at each Host Venue.
While supporting the development of grassroots cricket by visiting every first-class county, the Trophy Tour also aims to take cricket to new areas with stops at other towns and cities across England and Wales. The 100-day route showcases an array of different communities and celebrates multi-cultural Britain at its finest.
There will be a number of open events throughout the tour where fans will get the opportunity to get close to the trophy, including three 'Super Saturdays' in Manchester, Birmingham and Bristol. These will combine music, special guests, entertainment and a street cricket tournament involving local businesses, fan groups and the public.
The ICC will be offering the chance for three lucky fans to get a personal visit from the trophy during the tour. Members of the public can nominate someone who they feel deserves to be recognised for their contribution to cricket and the wider community to win a visit from the trophy. More details can be found here.
Fans can follow the trophy's journey through the Trophy Tour section of the ICC Cricket World Cup website. The interactive map will follow the tour's itinerary, outlining information about each stop. There will also be behind-the-scenes content across all ICC Cricket World Cup digital channels.
The full #CWCTrophyTour schedule, driven by Nissan, can be viewed here.
ICC Men's Cricket World Cup 2019 Managing Director, Steve Elworthy said: "Today is another huge milestone in our journey to the Cricket World Cup, as we announce the 100-day Trophy Tour across England and Wales.
"We have seen an incredible response from supporters as it's made its way around the world, visiting communities across numerous countries.
"The countdown to the tournament will feel very real when the trophy arrives in England and Wales, and we look forward to it visiting some iconic and special locations before the opening match on 30 May.
"We'd also like to thank Nissan for all their commitment in delivering the Trophy Tour, it would not be possible without their help and support."
Leader of Leeds City Council Councillor Judith Blake, commenting on the ICC Cricket World Cup Trophy Tour arriving in Leeds, said: "We are very excited that Leeds and our world renowned Headingley Cricket Ground will be hosting four matches as part of the ICC's Men's Cricket World Cup.
"Excitement is already building in the city ahead of the tournament, and we are really looking forward to welcoming the ICC World Cricket World Cup Trophy as part of its tour across host cities.
"This is a fantastic opportunity for fans to see this iconic trophy of world sport close up, and get in the mood for what promises to be a celebration of cricket, as we showcase our sporting pedigree and amazing city to the world in 2019 by hosting an array of major events."
Nicolas Verneuil, Marketing Director, Nissan Motors GB, said: "We're delighted to be part of the first ICC Cricket World Cup Trophy Tour driven by an all-electric vehicle – Europe's best-selling in fact* - the Nissan LEAF.
"As our hero electric vehicle - LEAF embodies energy, passion and excitement – all the components needed for a successful Cricket World Cup! We can't wait to show off its Nissan Intelligent Mobility credentials as we take it for a 'spin' across the nation and get fans excited about electric mobility."
For more information about the ICC Cricket World Cup 2019, please click here.
* Based on Nissan LEAFs sold in Europe up to end of December 2018. For more information about the Nissan please read on here
ABOUT THE ICC MEN'S CRICKET WORLD CUP 2019
The tournament will run from 30 May to 14 July. The semi-finals will be played at Old Trafford in Manchester and Edgbaston in Birmingham on 9 and 11 July respectively, while Lord's will host the final on 14 July.
11 venues across England and Wales will be used, namely Cardiff Wales Stadium in Cardiff (four matches), Bristol County Ground in Bristol (three matches), County Ground Taunton in Taunton (three matches), Edgbaston in Birmingham (five matches, including the second semi-final), Hampshire Bowl in Southampton (five matches), Headingley in Leeds (four matches), Lord's in London (five matches, including the final), Old Trafford in Manchester (six matches, including the first semi-final), The Oval in London (five matches, including the tournament opener), The Riverside Durham in Chester-le-Street (three matches) and Trent Bridge in Nottingham (five matches)
The 10 teams in the tournament will play against each other in a single-league format, with the top four sides after 45 matches to qualify for the two semi-finals
England and Wales have previously staged ICC Cricket World Cups in 1975, 1979, 1983 and 1999
Australia is the most successful team in the history of the World Cup, having won events in 1987, 1999, 2003, 2007 and 2015. The West Indies won the first two editions in 1975 and 1979, while India won in 1983 and 2011. Other winners are Pakistan in 1992 and Sri Lanka in 1996
FOR MORE DETAILS CONTACT
Martin Gritton - Communications Manager, ICC Cricket World Cup 2019
Mob: +447785 419671
Email: martin.gritton@cwc19.co.uk
For media enquiries contact: