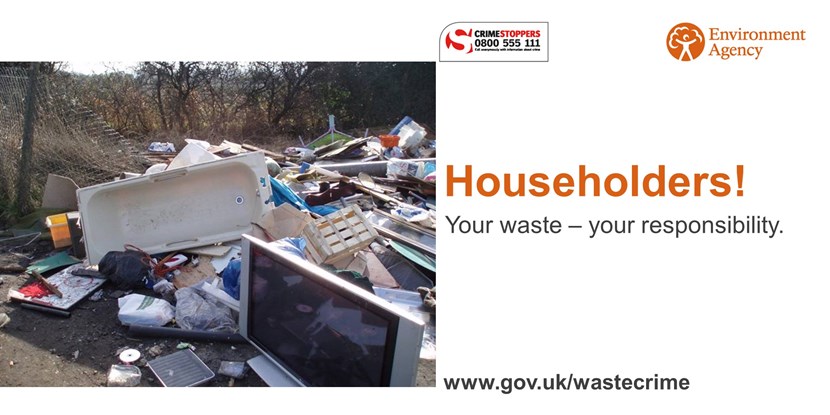 04 Jul 2018
Households urged to play their part in tackling waste crime
ISSUED ON BEHALF OF THE ENVIRONMENT AGENCY
Over a third of the waste found dumped at illegal waste sites is household waste and the Environment Agency is now urging homes in Yorkshire to exercise greater care when it comes to disposing of their rubbish.
Households, just as much as waste companies, local authorities and businesses have a responsibility to check what happens to their waste. A recent change in the law means that if you are found to be knowingly involved in the illegal dumping of waste, you could be liable for Landfill Tax, or prosecuted alongside the actual illegal operators.
Robert Cross for the Environment Agency said: "Unlicensed waste operators often advertise to homes via social media or through leaflets posted through the front door. They might offer what seems like a great deal to get rid of an old sofa or fridge for example, or building rubble, but you are responsible for the waste you produce and if it ends up dumped illegally you could be prosecuted."
Councillor Mohammed Rafique, Leeds City Council executive board member with responsibility for environment said:
"We do not tolerate flytipping in Leeds and take the enforcement of this illegal activity very seriously.
"Removing flytipping is costly to the council and in turn the tax payer, with one tonne of waste costing over £120 to fully remove and dispose of.
"If you are looking to dispose of bulky items or waste, it is well worth checking the validity of the company before hiring them, so as to protect yourself."
Waste crime can cause serious pollution to the environment put communities at risk and undermines legitimate business and the investment and economic growth that go with it. It's estimated to cost the UK economy £600m every year. That's enough to build and staff a new NHS hospital.
Thankfully there are some easy steps for people to take to avoid unwittingly contributing to waste crime.
Check the people taking away your rubbish are a registered waste carriers. Ideally they should have a copy of their registration documents on them, ask to see these. You can check their licence number at environment.data.gov.uk/public-register, or call 03708 506506 and we can check for you

Get a written receipt/transfer note showing their contact details, a description of your waste and details of where they are taking it

Note down the make, colour and registration number of the vehicle that's taking your waste away.
"And remember," Robert added: "If their quote seems too good to be true, it probably is. Make sure you get another quote to see if it's in the right area. Taking these steps will help us all work together to deter waste criminals and reduce illegal fly-tipping and dumping that are a blight on communities and cost thousands to clear up and make safe."
You can report suspected waste crime to the Environment Agency incident hotline 0800 807060 or anonymously to Crimestoppers on 0800 555 111.
For media enquiries please contact the press office on 0800 917 9243
Follow us on Twitter @envagencyyne
For media enquiries contact: