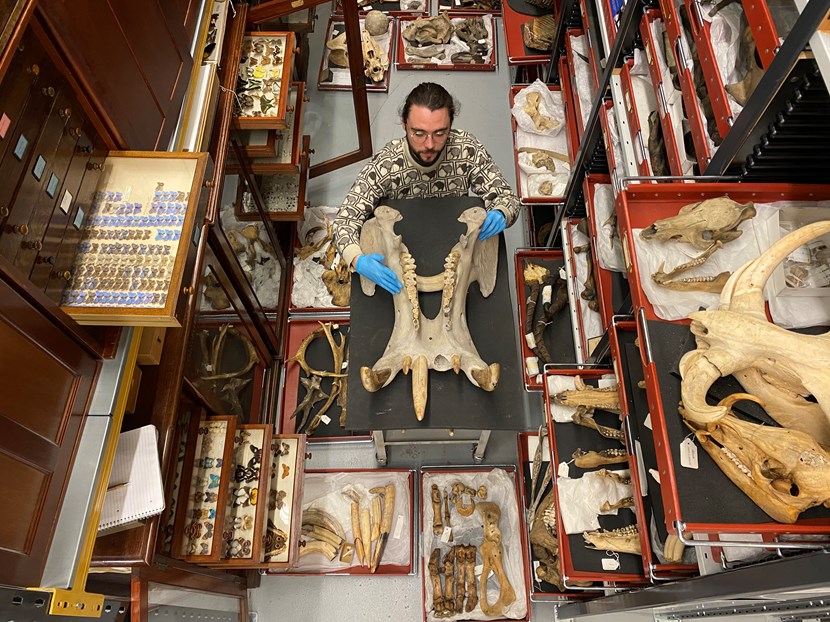 16 May 2022
Hip, hip hooray as curators find the whole tooth behind museum's natural wonder
Museum experts in Leeds turned dental detectives this week to get straight to the root of an historic hippo headscratcher.
The team at the Leeds Discovery Centre were preparing a colossal hippopotamus skull for display when they discovered one of the African animal's enormous teeth was missing.
After a lengthy search through a collection of possible candidates, they were able to correctly identify the massive incisor, carefully slotting it back into place and completing the impressive skull before it goes on display.
The hippo skull will soon move to Leeds City Museum where it will be one of the star attractions in the site's newly-revamped Life on Earth Gallery. Once there, the skull, which first became part of the Leeds collection after it transferred from Salford Museum and Art Gallery in 1982, is set to be displayed next to its prehistoric counterpart, the famous Armley Hippo.
The elder of the two sets of hippo remains belonged to an animal which roamed a much warmer Leeds around 130,000 years ago. Its bones were discovered in 1851 by workmen digging on land near where the Armley Gyratory stands today.
Clare Brown, Leeds Museums and Galleries curator of natural sciences, said: "Working with bones is often a combination of a bit of detective work and completing a very complex jigsaw, and fragments can often get mixed up over time when they're part of such a vast collection.
"It's always incredibly satisfying when we're able to find precisely the right pieces that will make a specimen complete and properly representative of the incredible animal it once was.
"Despite being separated by 130,000 years, our two hippos are in fact remarkably similar, and are both examples of Hippopotamus amphibius - the same species that still lives in Africa today.
"Like many of the animals in our Life on Earth Gallery, together they will help us to convey the extraordinary abundance of the animal kingdom and how inspiring, precious and fragile Earth's ecosystems are. We can't wait to welcome visitors back to the gallery and for them to discover more about the incredible story of the natural world."
Leeds City Museum's Life on Earth Gallery is currently closed to the public and will reopen later this summer after an exciting refurbishment project.
The new space will include updated displays with more information on the climate emergency and some in-depth histories of some of the museum's amazing natural science objects.
Councillor Jonathan Pryor, Leeds City Council's executive member for economy, culture and education, said: "Our world class natural sciences collection plays an important role in informing and educating people of all ages about both the stunning historic diversity of the animal kingdom and unprecedented threats facing the natural world today.
"It's inspiring to see the city's museums finding new and innovative ways to engage visitors and to help them discover more about the role they can play in securing the planet's future."
For more information about Leeds City Museum, which is free to enter, please visit: https://museumsandgalleries.leeds.gov.uk/leeds-city-museum
ENDS
For media enquiries contact: