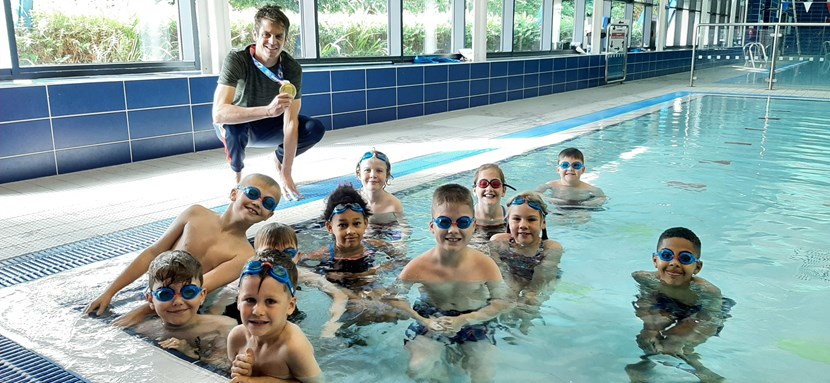 25 May 2022
Healthy Holidays fund Active Leeds intensive swimming programme
Children across Leeds were invited to attend intensive swimming lessons over the school holidays, in partnership with Healthy Holidays scheme, Zoggs and the Swimming Teachers Association.
Over the course of the week each child was provided swimming equipment and five 45-minute swimming lessons for five days. The scheme was funded by the Department of Education's holiday activity and food programme, which is locally called Healthy Holidays.
The Leeds scheme operates in partnership with the Leeds Community Foundation and other providers in the city and runs through schools, third sector organisations and council's providers. This scheme is for children who are eligible for free school meals.
The aim of the lessons was to ensure that children who had missed out on their swimming lessons due to COVID-19, were able to achieve at least one of the national curriculum outcomes by the time they leave primary school. Ensuring that children understand the dangers of water and what to do if they fall into an open body of water
Learning to swim is an important life skill that often families from deprived communities only have opportunity to develop through their limited school lessons. In five years', time, only 35% of children from the most deprived areas of England in year 7 will be able to swim 25 metres. This is due to the impact of Covid-19 on school swimming and water safety.
To help narrow the gap in Leeds, intensive swimming lessons have been delivered to 1600 children and a further 1500 spaces are available for summer 2022. By the end of the year, Active Leeds will have helped over 3000 children confidently put their face in water, move independently through the water and learn how to raise the alarm in the event a friend gets into difficulty in the water.
Speaking about the importance of the intensive swimming lessons an Active Leeds swimming teacher, said: "To see children walk on the poolside, at eight years old was a stark reminder on how much they have missed since the pandemic. The key focus was to build the trust, and confidence and ensure they have learnt Self-Rescue in case of an emergency. The smiles and enjoyment on their face towards the end of the week was the best feeling."
Councillor Salma Arif, executive board member for public health and active lifestyles, said:
"It is fantastic that we have been able to provide these specialised swimming lessons to those children who have missed out on their learning during the pandemic. It will provide an important opportunity for them to learn about water safety and how to swim confidently. I'd like to thank our staff and partners for making this happen."
Lord Mayor of Leeds, Councillor Asghar Khan, said:
"Learning to swim and confidence in and around water provides both wonderful exercise and life skills for children's enjoyment and safety. I'm delighted that the opportunity for these lessons have been made available, knowing that these children will benefit enormously from the Healthy Holidays Scheme – in terms of personal achievement and increased abilities."
If you are 2022 Healthy Holidays provider and interested in further information to deliver lessons in the 2022 Summer Holiday then please email schoolswimming@leeds.gov.uk. For more information on the Healthy Holidays scheme, please visit Healthy Holidays (leeds.gov.uk)
For media enquiries contact:
Aman Gudra
Communications Kickstart Placement
aman.gudra@leeds.gov.uk
For media enquiries contact: