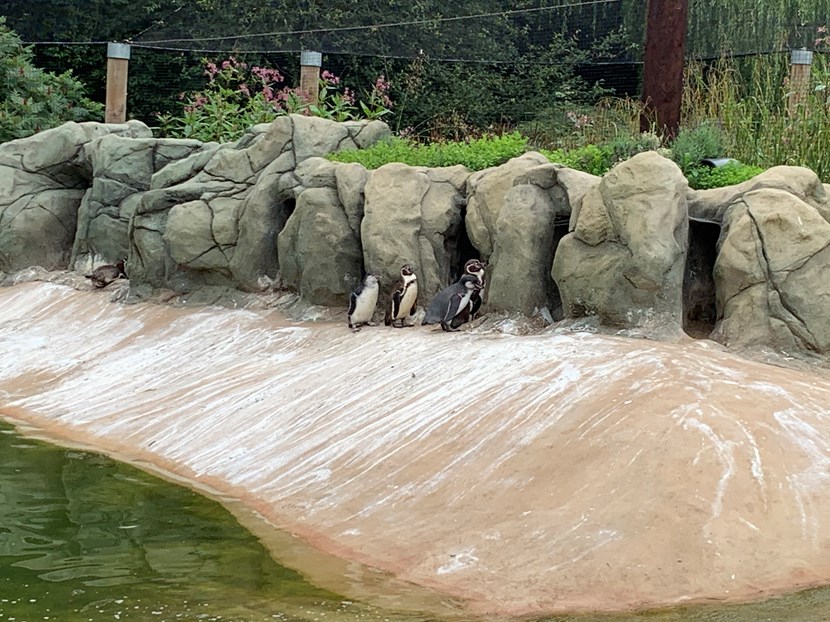 21 Jul 2020
Baby Bielsa's the hatch of the day as penguin chicks come out of their shell
A young penguin chick has named Bielsa in honour of the managerial mastermind whose Leeds United side just p-p-picked up a place in the Premier League.
The chick is one of a clutch of new arrivals at Lotherton, where staff have decided to honour the Whites' manager after his team remarkably secured the Championship and promotion to football's top table for the first time in 16 years. Today (July 21) also marks the manager's 65th birthday.
Bielsa and his fellow chicks hatched a few weeks ago and have since been settling in under the watchful eyes of their mums and dads as well as the team of experts at the Aberford estate's spectacular Wildlife World attraction.
After finding their feet, the chicks have become the latest additions to Wildlife World's excitable colony of Humboldt penguins and have waddled their way to its impressive 120,000 litre pool.
Rob Young, Lotherton's head keeper, said: "It's been really exciting watching the penguins patiently nurture their eggs and to finally see the chicks hatch successfully. We've been thinking of names for them and decided it was only right that we name on one in honour Marcelo Bielsa after everything Leeds United have achieved this season.
"Penguin chicks are extremely delicate and vulnerable, so we've been paying close attention to them during the crucial first few weeks and making sure they have the best possible chance with regular checks from specialist vets.
"All our penguins are first time parents too, so they're learning how to raise their chicks from scratch. Humbolt penguins usually mate for life, so if the males have done enough to impress their new partners, we could have some more eggs and chicks in future, which will be great news for the international breeding programme and our efforts to help preserve vulnerable species for future generations."
Native to the west coast of Chile and Peru, Humboldt penguins are classified as vulnerable by the International Union for the Conservation of Nature (IUCN).
During courtship, a potential couple will bow their heads to one other and exchange mutual glances with each eye alternatively. Standing side by side, they also emit a loud call resembling the braying of a donkey.
Once mating is successful, most penguin mums will lay two eggs of the same size four days apart that incubate for around 41 days.
Wildlife World recently fully reopened to the public after closing to help contain the spread of coronavirus.
Councillor Mohammed Rafique, Leeds City Council's executive member for environment and active lifestyles, said: "We know how much our visitors love seeing our animals and these new arrivals are a great way to welcome back visitors after what has been a tough time for our parks and the city as a whole. We're also really pleased to be naming one of the chicks after Marcelo Bielsa and we hope fans will enjoy coming and saying hello to him.
"As more of our spaces open to the public over the coming weeks and months, we're really looking forward to welcoming visitors back so they can safely enjoy our wonderful attractions."
Other vulnerable species supported by Wildlife World include Chilean flamingos, porcupines, critically endangered Visayan warty pigs and Arthur, the attraction's resident tapir.
For more details on Wildlife World, please visit: http://www.leeds.gov.uk/museumsandgalleries/Pages/lothertonhall/Wildlife-World.aspx
ENDS
For media enquiries contact: