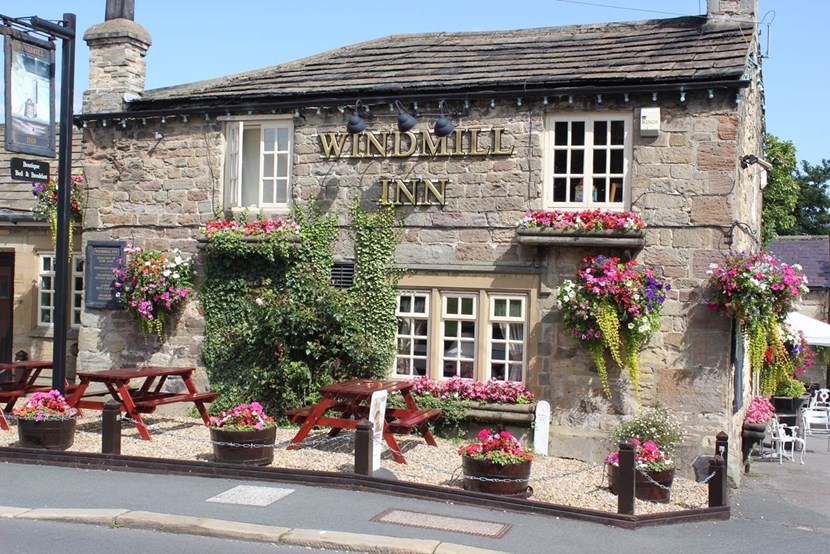 11 Dec 2015
Green fingered city groups and organisations celebrated in Leeds in Bloom awards
Local businesses, public houses, community groups, churches and schools have been recognised for their green fingered work as part of the city's latest 'in bloom' honours.
In another bumper year, 170 entries were submitted in 10 categories of the Leeds in Bloom awards, which celebrates, groups, organisations and businesses who keep their premises and surroundings looking so fantastic. The 10 categories included; Best Public House; Best Restaurant, Café; Best Hotel; Best Small Office/Business; Best Large Office/ Business; Best Small Retail Premises; Best Large Retail Premises; Best Retail Park; Best Residential Complex; Best School / Youth Group.
Councillor Jack Dunn, Leeds City Council's lead member for parks said:
"We are extremely fortunate to have so many local businesses, groups and organisations in communities' right across the city who love to keep their premises and surroundings looking so lovely, and it is fantastic that their efforts are recognised through the Leeds in Bloom awards.
"The entries we received really were top notch, and I would like to thank everyone who entered and for all of their hard work throughout the year, which deserves great praise.
"The 'in bloom' network in Leeds continues to move from strength to strength, and I look forward to seeing more people and groups and organisations getting involved and taking part in the future."
As part of the awards, groups were recognised with a range of spring and summer in-bloom medals ranging from gold, silver, bronze and highly commended. The winners of the awards are listed in the notes to editors section.
Notes to editors:
The winners are:
Business Name

Category

SPRING AWARD 2015

SUMMER AWARD 2015

Anita Massarella Design Couture

Small Retail Premises

Gold

Gold

Beauty Within

Small Retail Premises

Bronze

Bronze

Graveley W R Fish and Chips Restaurant

Small Retail

Not entered

Gold

Hillycroft Fisheries

Small Retail

Silver

Gold

Park Fisheries

Small Retail

Not entered

Gold

PJ's Fish and Chip Shop

Small Retail

Not entered

Gold

The Regent Fish Shop

Small Retail

Cert of Entry

Bronze

Sochall Smith Ltd

Small Offices/Business

Not entered

Silver

Bonhams 1793 Ltd

Small Offices/Business

Bronze

H/C

Country Style Foods

Small Offices/Business

Gold

Gold

G Beverley and Son Ltd

Small Offices/Business

Gold

Gold

Horsforth Golf Club

Small offices/Business

Commended

Bronze

Inigo Business Centre

Small Offices/Business

cert of entry

Silver

Intercity Accommodation

Small Offices/Business

H/C

Bronze

Iveridge Hall

Small Offices/Business

Bronze

Silver

Lester Morrill Solicitors

Small Offices/Business

Gold

Gold

Moor Valley Leisure Park

Small Offices/Business

Silver

Silver

Moorleigh Nursing Home

Small Offices/

Gold

Rebian Solicitors

Small Offices/Business

Silver

Gold

Renew Holdings

Small Offices/Business

Silver

Silver

Seacroft Dental Practice

Small Offices/Business

Gold

Gold

Ducklings at St Margaret's Cof E Pre-School

Schools

Silver

Silver

Pudsey Lowtown Primary School

School

Not entered

Gold

Rothwell Haigh Road Infant School

School

Not entered

Gold

Seacroft Grange Primary School

School

Silver

Silver

St Anthony's Catholic Primary School

School

Bronze

Silver

Corn Mill Lodge Hotel

Restaurant Café or Licensed Premises

Not entered

Silver

Gusto Restaurant & Bar

Restaurant Café or Licensed Premises

H/C

Gold

The Fisherman's Wife

Restaurant Café or Licensed Premises

H/C

Gold

Maltings Court

Residential Complexes

Not entered

Gold

Fewston Court Leeds Federated Housing

Residential complex

Not entered

Silver

Oaktree Court Leeds Frederated Housing

Residential complex

Not entered

Silver

Sunnyview House

Residential complex

Silver

Silver

New Inn Public House

Public Houses

Not entered

Bronze

Stick or Twist

Public House

Not entered

Gold

Templar Hotel

Public House

Silver

Gold

The Bridge

Public House

Silver

Gold

The Clothiers Arms

Public House

Not entered

Gold

The Crossed Shuttle

Public House

Not entered

Gold

The Junction Inn

Public House

Bronze

Silver

The Ings

Public House

Gold

Gold

The Old Ball

Public House

H/C

Silver

The Queens Arms

Public House

Not entered

Gold

The Windmill Inn

Public House

Not entered

Gold

Three Horse Shoes

Public House

Gold

Gold

Evans Property Group

Large office/ business

Gold

Gold

M.J. Mapp

Large office/ business

Silver

Gold

Prospect Business Centres

Large office/ business

Gold

Gold

The Bartlett Group

Large office/ business

Gold

Gold

Turner & Townsend

Large office/Business

H/C

Gold

Crowne Plaza Leeds

Hotels

Gold

Silver

Four Gables

Hotel

Silver

Gold

Haley's Hotel

Hotel

Not entered

Silver

Thorpe Park Hotel & Spa

Hotel

Gold

Gold

Brookleigh

Community Groups

Gold

Gold

Champion House

Community group

H / C

Bronze

Cross Flatts Millennium Garden

Community group

Silver

Gold

Glendower Park Community Gardens

Community group

Gold

Gold

Goldsborough Estates

Community group

Gold

Gold

Headingley Hall Residential Care Home

Community group

Gold

Gold

Lidgett Park Court

Community group

Not entered

Silver

Parkside Allotments

Community group

Not entered

Gold

Saxton Gardens Tenants Group

Community group

H/C

Bronze

Siegen Close Community Group

Community group

Bronze

Silver

Simon Marks Court Care Home

Community group

Not entered

Gold

St Gemma's Hospice

Community group

Gold

Gold

St George's Crypt

Community group

Silver

Gold

The Growing Zone

Community group

Not entered

Gold

Woodlands Court (Far Headingley)

Community group

Not entered

Gold

Yorkshire Centre For Psychological Medicine

Community group

Not entered

Bronze

Otley Golf Club

Clubs

H/C

Gold

Rothwell WMC

Club

Not entered

Silver

Calverley Methodist Church

Churches

Silver

Gold

Horsforth Central Methodist Church

Church

Silver

Gold

Rothwell Baptist Church

Church

Silver

Gold

St David's Church Garden

Church

Silver

Silver

St Mary's Church Garden

Church

Gold

Gold

St. Wilfrid's Church, Calverley

Church

Gold

Gold

Woodside Methodist Church

Church

Bronze

Bronze
For media enquiries, please contact;
Colin Dickinson,
Leeds City Council press office (0113) 39 51578
Email: colin.dickinson@leeds.gov.uk
For media enquiries contact: