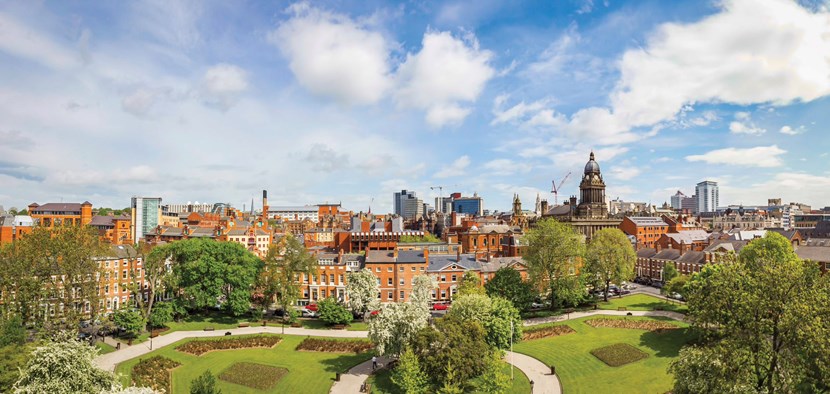 29 Jun 2023
'Get involved' call as Innovation Arc vision continues to take shape
People across Leeds are being encouraged to help shape the future of the city's Innovation Arc and the vital part it has to play in boosting inclusive economic growth.
Covering an area on the western side of the city centre equivalent to 185 football pitches, the Innovation Arc is home to many renowned and long-established educational, health and cultural institutions as well as a variety of start-ups, scale-ups and major businesses.
Leeds City Council is working closely with partners on a Supplementary Planning Document (SPD) that will help provide a 20-year vision for the further development of the Innovation Arc in a way that delivers jobs and opportunities for all.
A first round of public consultation on the SPD took place late last year, with the responses received being carefully analysed and used to fine-tune its draft contents.
Now a second round of SPD consultation is getting under way, giving local residents and stakeholders another chance to have their say on the vision for the area and its exciting blend of cutting-edge academic research and entrepreneurial business activity.
Councillor Helen Hayden, Leeds City Council's executive member for sustainable development and infrastructure, said:
"Our city has a well-deserved reputation for pioneering and progressive thinking, and that in no small part is down to the kind of expertise we see concentrated in the Innovation Arc.
"We're determined to do everything we can to ensure that this dynamic area keeps developing, keeps creating economic opportunities and keeps attracting investment that benefits everyone in Leeds.
"The Supplementary Planning Document will have an important role to play in helping us achieve our aims, and I would encourage all interested parties to get involved and share their thoughts."
Once completed, the SPD will guide future planning applications, underpin the delivery of improved infrastructure and support relevant funding bids.
The second round of consultation on the SPD is open now and runs until July 26. Click here for further information on how to get involved.
The University of Leeds, Leeds Beckett University, Leeds Arts University and Leeds Teaching Hospitals are among the prestigious institutions operating in the Innovation Arc, alongside some of the region's largest public and private sector employers and mainstays of civic and cultural life like Leeds Town Hall, Leeds Art Gallery, Leeds City Museum and Leeds Central Library.
Bordered by Woodhouse, Hyde Park, Burley and New Wortley, the area already has the highest concentration of employment in the region – but, crucially, also offers huge potential for further sustainable investment in buildings, public spaces and connectivity.
Key elements of the Innovation Arc vision currently include:
Unlocking a further one million square feet of innovation space to provide new research facilities and hubs for start-ups, co-working and other business activity;
Delivering enhanced public transport routes together with new walking and cycling links that lessen the socially-restrictive impact of physical barriers such as the Inner Ring Road;
Ensuring that these travel improvements include accessible and welcoming connections to surrounding neighbourhoods such as Little London, Woodhouse, Hyde Park, Burley and New Wortley;
Creating two new city centre parks and other pockets of green space;
Supporting major mixed-use regeneration opportunities, including new cultural spaces and the development of affordable housing.
ENDS
For media enquiries contact: