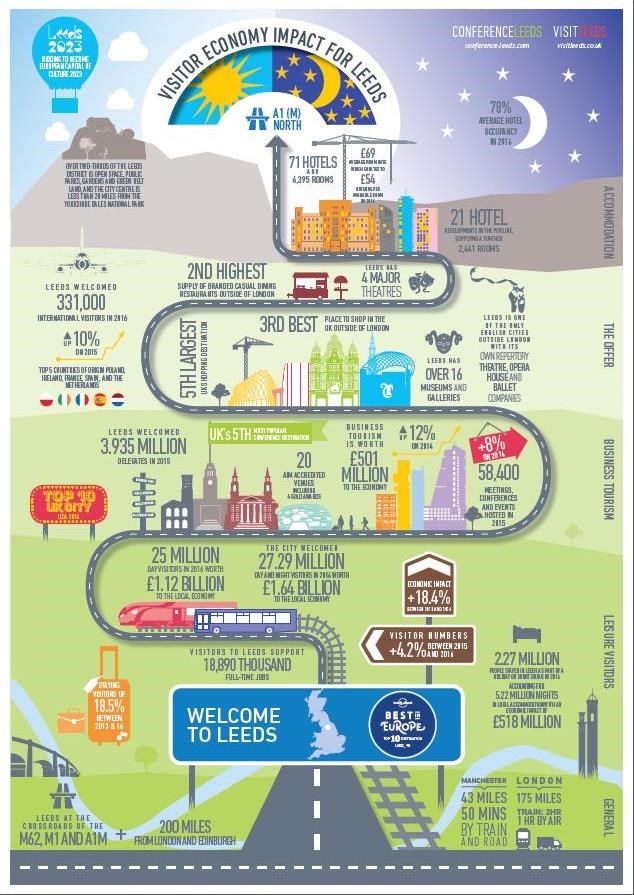 06 Jul 2017
Full steam ahead for Leeds visitor economy
ISSUED ON BEHALF OF VISITLEEDS
VisitLeeds have announced that data from the recent STEAM survey, which measures the economic impact of the tourism industry in the UK, recorded that Leeds welcomed 27.29 million tourism visits in 2016, a 4.2% increase from 2015. These figures support the overall upward trend for visitor numbers which has shown a notable 9.7% increase between 2013 and 2016.
As the city approaches the landmark of 100 days to go before the European Capital of Culture 2023 bid is submitted, the visitor economy sector is growing at an impressive rate with day visitors up by 4 % and overnight stays increasing by 5.4 %.
And it's easy to see why Leeds is such a popular destination. The current report measures data from 2015 to 2016. And during that period the city hosted major world class events such as the Columbia Threadneedle World Triathlon Series in June where the Brownlee Brothers took Gold and Silver in front of their home crowd and Light Night a two evening arts and light festival in October which attracted record numbers.
Leeds has also enjoyed and shared the success of the opening of Victoria Gate, which holds the accolade of Best Shopping Centre in the World in October 2016 the newest premium shopping destination, home to 17 new brands to Leeds and for many this is their first time out of London. The opening of Victoria Gate means that Leeds currently ranks as the 3rd best place to shop in the UK.
Whilst also being home to a wealth of Museums and Galleries, an inspiring and vibrant cultural scene, sitting alongside strong heritage and history Leeds continues to flourish and has one of the fastest growing independent food and drink scenes in the UK.
The city also host a diverse programme of events celebrating communities diversity including Leeds Pride, Leeds West Indian Carnival and the annual St Patrick's Day parade.
VisitLeeds, working alongside other regional tourism partners, continues to deliver leisure campaigns both nationally and internationally including Christmas, food and drink, spring and summer campaigns, all aimed at attracting new visitors to the city to stay at least one night including a Friday or Saturday. It is the success of these campaigns together with an impressive programme of events that makes Leeds a destination of choice when planning a city break.
Leisure tourism visits were estimated to have generated £1.64 billion in 2016, a change of +15.9% compared to 2015. And this means that the tourism industry plays a vital role in supporting more than 19,000 full time equivalent jobs which is an increase of 3.3% from 2015.
Business tourism also continues to thrive. Leeds climbed to be the 5th most popular conferencing destination in the UK and has recently celebrated success by improving its position in the International Convention and Congress Association (ICCA) rankings by 149 places, and is now in the top 10 cities in the UK, which sees Paris as the top destination in the world.
Councillor Judith Blake, Leader of Leeds City Council said:
"We know Leeds is a welcoming city but these figures show the wider appeal to visitors coming for a leisure break or staying here on business. We have built up a fantastic reputation for hosting world class events that people come from far and wide to enjoy. Tourism like this has a significant impact on the Leeds economy, helping to create and sustain jobs for people who live here. And on the back of the recent Lonely Planet accolade which names Leeds as one of the top 10 cities to visit in 2017, we hope to build on this with the bid for the European Capital of Culture in 2023, to ensure the city remains one of the most sought after visitor destinations in the UK."
ENDS
For media enquiries, please contact
Hilary Farmery
Marketing and communications manager
VisitLeeds
Phone: 07891 270460
Email: Hilary.Farmery@visitleeds.gov.uk
Notes to editors
STEAM is a tourism economic impact modelling process, commissioned by core cities which quantifies the local economic impact of tourism, from both staying and day visitors, through analysis and use of a variety of inputs including visitor attraction numbers, tourist accommodation bed stock, events attendance, occupancy levels, accommodation tariffs, macro-economic factors, visitor expenditure levels, transport use levels and tourism-specific economic multipliers.
VisitLeeds is an organisation run by Leeds City Council that aims to promote and showcase the variety of attractions on offer in Leeds and the surrounding area. Their vision is for Leeds to be a world-class, modern and historic European destination with a reputation for a vibrant and creative cultural scene set against the backdrop of rich heritage and outstanding architecture
Leeds is the third largest and one of the fastest growing cities in the UK, attracting over 27 million visitors annually from both the UK and abroad.
One of the greenest cities in Europe, Leeds is the third best shopping destination in the UK outside of London, and has a unique array of independent and well -known retail firms gracing the city centre and beyond.
Leeds boasts four major theatres, over 16 museums and galleries and is currently bidding for the title to become European Capital of Culture 2023 - the competition can only be hosted by the UK five times per century and was last hosted in 2008 when Liverpool won the title.
A thriving economy boasts strengths in financial and professional services, manufacturing, health and digital, and with excellent road, rail and air links, it is a perfect gateway for tourist and business visitors to the Yorkshire region.
Leeds is also a world class sporting destination having hosted the greatest ever Grand Depart in 2014, Rugby World Cup 2015 and this year hosting the Columbia Threadneedle Triathlon for the second year running as well as being home to Yorkshire Cricket and Leeds Rhinos.
For media enquiries contact: