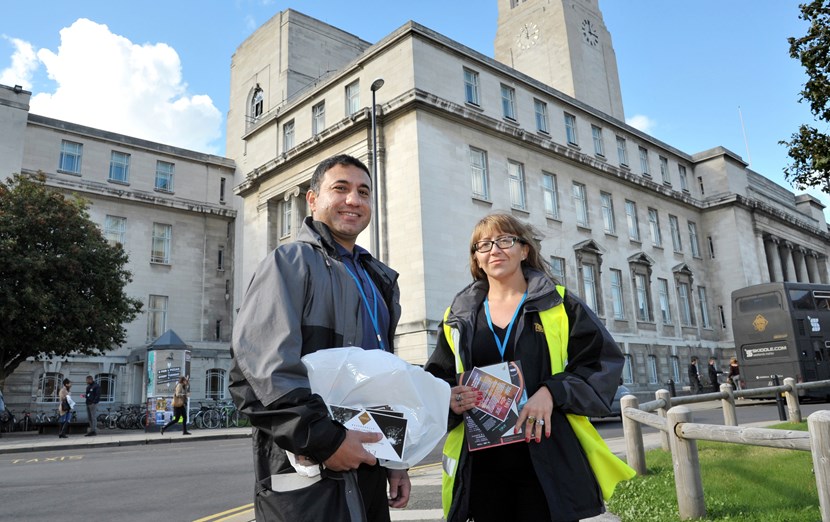 28 Sep 2015
Fresh approach to waste
Council staff joined new students during freshers to help them settle in to their new home city.
Environmental action officers have been out and about, bringing people up to speed with the council's recycling and waste services.
As students get ready to start their academic careers, the council is keen to help people get to grips with the more mundane aspects of living away from home for the first time.
The advice being offered covers everything to do with bin collections, making the most of reuse and recycling services on offer across the city and instilling a sense of civic pride.
Councillor Mark Dobson, executive member for environmental protection and community safety, said:
"We know that bins and recycling aren't the most exciting part about living away from home for the first time. However, there is always a great buzz around freshers'.
"So, if we can harness a small percentage of everyone's enthusiasm for enjoying their new found independence into making the most of and using recycling and waste services properly, as well as being a considerate neighbour, then we'll be on to a winner."
With an influx of people and activities in and around student areas throughout freshers', the council also put in extra resources to keep streets clear and tidy.
Extra litter bins were put in place and cleaning crews ran a rapid response service so litter didn't accumulate.
Environmental action officers also stepped up patrols to ensure that anyone tempting new students with offers had the correct consents to hand out flyers in dedicated areas and tackle any littering offences head on.
For media enquiries contact: