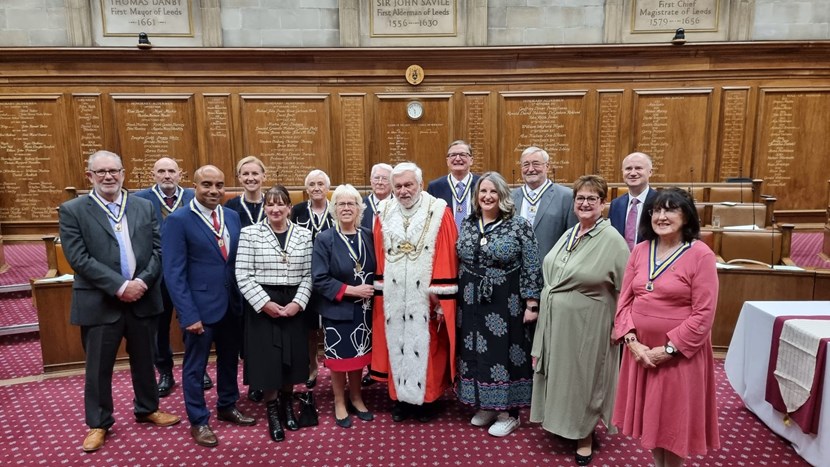 20 Oct 2022
Fourteen former Leeds councillors receive major civic honour
Fourteen former Leeds councillors received one of the highest civic honours the city can bestow yesterday, at a special session of full council, marking their exceptional contribution to Leeds and its council.
The group of former councillors, who have over 250 years of public service between them and include a former council leader, two former Lord Mayors of Leeds and multiple former executive members, were made honorary Aldermen/Alderwomen at a ceremony in Leeds Civic Hall last night.
The ceremonial position of Honorary Alderman can be conferred on past members of council who, in the eyes of the council, have given eminent service to Leeds in a public position. It does not entitle the holders to any special privileges but does enable them to attend ceremonial events as and when they are invited to and actively support the Lord Mayor's charity.
Of those nominated Judith Blake, Baroness Blake of Leeds CBE led the council between 2015 and 2021 and was the first women to hold the position. Judith Mary Elliott MBE and Graham Naylor Latty both held the title of Lord Mayor of Leeds between 2009-2010 and 2018 and 2019 respectively.
Speaking after the ceremony the Lord Mayor of Leeds, Councillor Robert W Gettings, said: "It's a pleasure to welcome back so many old faces to the Civic Hall and mark all the new Alderman/Alderwomen's fantastic life of public service.
"With over 250 years of public service between them, I am sure they will continue to support the City of Leeds at every available opportunity in their new roles.
"I look forward to working closely with them as they continue to support the civic and charitable work of the Lord Mayor."
The full list of new Alderman and Alderwoman is as follows:
| | | |
| --- | --- | --- |
| Name inc Hon Affixes | Title Bestowed | Political Group |
| Jonathan Bentley | Alderman | Liberal Democrat Group |
| Baroness Judith Blake of Leeds CBE | Alderwoman | Labour Group |
| Rebecca Charlwood | Alderman | Labour Group |
| Neil Dawson | Alderman | Labour Group |
| Judith Mary Elliott MBE | Alderman | Morley Borough Independents |
| Angela Gabriel | Alderwoman | Labour Group |
| Kim Susan Groves | Alderwoman | Labour Group |
| Peter John Gruen | Alderman | Labour Group |
| Graham Naylor Latty | Alderman | Conservative Group |
| Patricia Ann Latty | Alderman | Conservative Group |
| Elizabeth Nash | Alderwoman | Labour Group |
| Adam Patrick Ogilvie | Alderman | Labour Group |
| Steve Smith | Alderman | Liberal Democrat Group |
| Lucinda Yeadon | Alderwoman | Labour Group |
-ENDS-
For media enquiries contact: