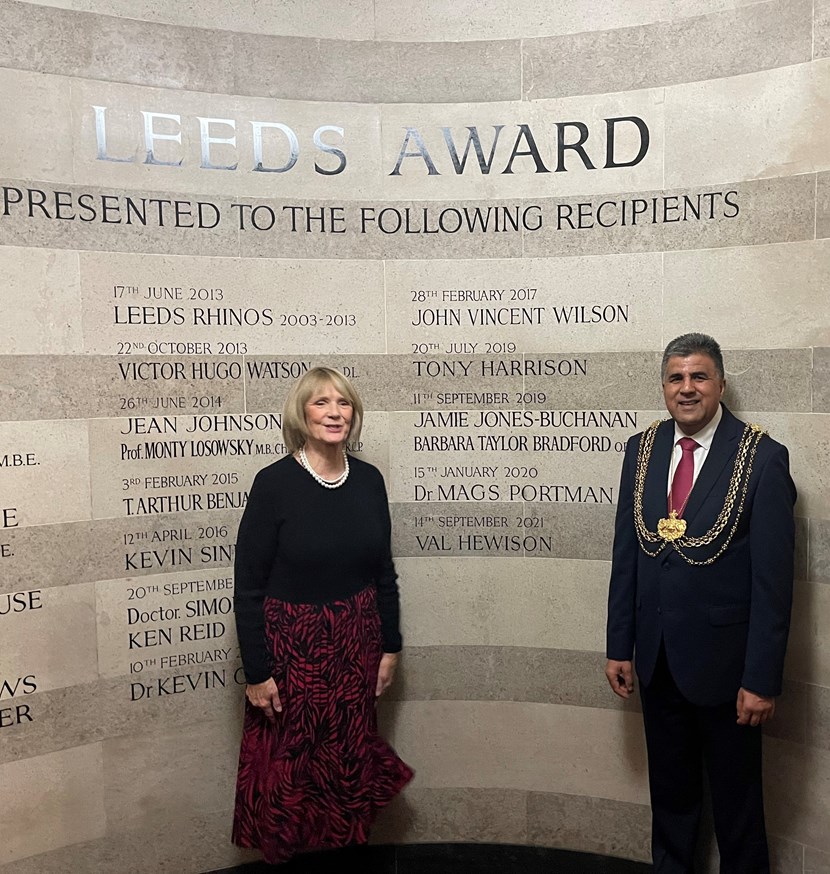 23 Nov 2021
Former CEO of Carers Leeds, Val Hewison receives prestigious Leeds Award
The long-time advocate for unpaid carers across Leeds, Val Hewison has received one of the city's highest civic honours.
In recognition of her dedication, in working with and supporting unpaid carers across Leeds, Val Hewison was presented with the prestigious Leeds Award by the Lord Mayor of Leeds, Councillor Asghar Khan this week.
Val has recently retired from her role as CEO of Carers Leeds, where she led the organisation to national and international acclaim as a beacon of best leadership and support to unpaid carers.
The Leeds Award formally recognises those who have made an enormous contribution to the city, with their names proudly displayed on the wall in the antechamber of Leeds Civic Hall.
The Lord Mayor of Leeds, Councillor Asghar Khan, speaking at the event said: "It is an absolute honour to be able to present the Leeds Award to Val. Her work championing unpaid carers across Leeds is a true inspiration for all those looking to do good across Leeds.
The Leeds Award was designed to honour those people that have made an enormous contribution and achieved so much in their respective fields, and there is no better recipient than Val, who has worked tirelessly to champion our city."
Val Hewison said: "I am incredibly honoured, very humbled all mixed in with amazement to receive the fantastic Leeds Award.
I never expected such an honour, and my enormous gratitude goes out to Leeds City Council along with all my colleagues especially across the third sector for their unstinting support and for being on the same page in believing in me and my work supporting unpaid carers across the city.
I wholeheartedly thank everyone on Team Leeds who have contributed to me receiving this Leeds Award. And those thanks go out to every unpaid carer who have really been my inspiration to keep doing the job.
I loved my work! I hope I've made a difference."
Notes to editors:
The Leeds Award is a prestigious honour that recognises that there are many people, groups, organisations and teams that bring great credit to the City through their exceptional hard work and dedication.
It has been established by Leeds City Council to formally recognise those whose outstanding contributions are a credit to the City and its people.
It is viewed as a lasting tribute to those contributions that make a real difference to the city.
Recipients of the Leeds Award will have their name inscribed on the 'wall of fame' located in the Ante Chamber of the Civic Hall.
A panel comprising of one Member from each Group is responsible for assessing nominations for the award and making recommendations to full council.
Criteria for granting the Award:
Awarded to those who change the life or lives of the people of Leeds.
For those who perform an exceptional service to their community
Normally precluded from the Leeds Award if previously recognised for the same service by a national award, within the last 15 years.
A person/team/group/organisation may not nominate themselves and, where appropriate, letters of support in addition to the nomination may be required
If an individual is nominated by a family member, another independent nomination or letter of support must be received
The Leeds Award is not for:
Councillors
Services that have their own recognition system
Person who is in a leadership/chairing role by deed of appointment or election, e.g. Chair of a local Leeds in Bloom group who also have to be able to demonstrate a significant environmental improvement.
Unsuccessful nominations may be re-submitted after a period of two years
For media enquiries contact: