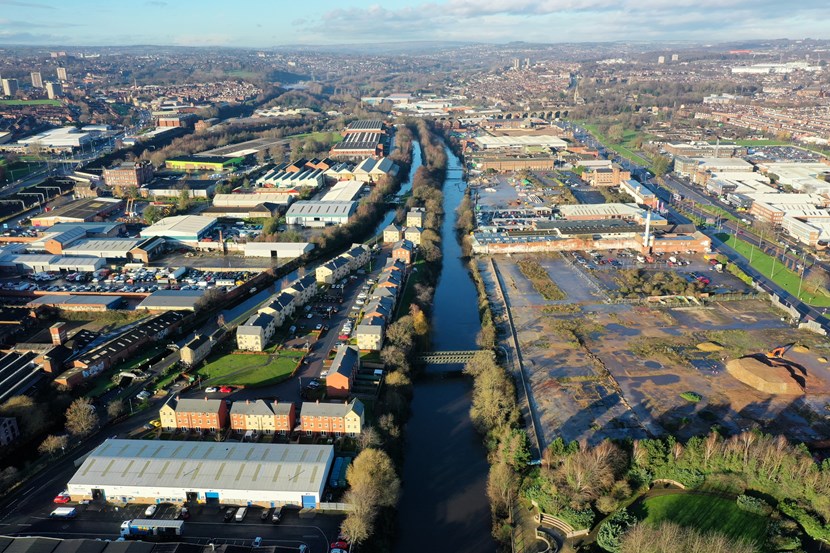 18 Dec 2020
Five years on from Storm Eva: flood defence schemes bring hope as part of city's response against climate emergency
It was a storm that devastated homes and businesses, costing Leeds an estimated £36.8million.
Five years on, a £112.1million scheme to better protect the A65 Kirkstall Road corridor and areas of Apperley Bridge is offering hope to 1,048 homes and 474 businesses, following a successful first year installing flood defences along the River Aire between Leeds Train Station and Kirkstall.
The Leeds Flood Alleviation Scheme Phase 2, being delivered by Leeds City Council in partnership with the Environment Agency, BMMjv and Aecom, is using a catchment wide approach to reducing flood risk, employing traditional engineering and natural flood management techniques to reduce risk in Leeds.
Delivered in two stages and working closely with many key organisations such as Bradford Council, Yorkshire Water and Network Rail, step one will see flood defence walls running along an 8km stretch upstream of Leeds Train Station and will reduce the risk of flooding to a 1% chance of occurring in any given year (1 in 100 probability), including an allowance for climate change.
Subject to a successful planning application and business case approval, step two will reduce the risk of flooding further to a 0.5% probability (1 in 200) and comprises of a flood storage area between Horsforth and Rawdon, alongside flood defence walls, embankments and a new pumping station at Apperley Bridge.
Together with ground investigations and detailed design, construction of flood walls as part of step one began in January 2020, starting near Wellington Bridge in the city centre.
Work to raise an 18 tonne footbridge at Milford Place also began this month (December 2020). Raising the bridge will reduce flood risk at this location by preventing obstructions in the river channel.
Leeds FAS2 is due to be complete in winter 2022/23 and once in place, will provide a consistent 1 in 200 year flood protection to the River Aire between Apperley Bridge and Knostrop.
Alongside this, a flagship Natural Flood Management (NFM) programme – the first of its kind in the UK to deliver to such a scale- will include the creation of new woodland, leaky dams, moorland restoration and a number of other interventions.
300,000 new trees are expected to be planted by the end of April next year which will help reduce the flow of rainwater into the river, as well as bring additional benefits such as increased biodiversity, additional carbon storage and new habitat creation. This will play a significant role in the city's response to tackling climate change.
Councillor Judith Blake, Leader of Leeds City Council, said:
"There is no doubt that together with our partners, we have made great strides in our efforts to protect this part of the city from flooding. Whilst it's been an incredibly challenging year for everyone, we have pushed ahead, adapting to new ways of working with a vigour that we can be truly proud of. We must not forget the devastation of Storm Eva. Instead, we must use this awful memory as a way to drive forward our ambitious plans to respond to the risks facing our city due to the climate emergency."
Adrian Gill, flood risk manager at the Environment Agency said:
"The fifth anniversary of the 2015 Boxing Day floods acts as a stark reminder of the devastation flooding can cause to people, property, infrastructure and the local economy. Since then, we have worked closely with Leeds City Council to develop the best possible flood alleviation scheme for Leeds.
"We continue to work at pace on this second phase of the scheme, which is combining hard flood defences with flood storage and ambitious natural flood management measures to slow the flow of water upstream on the Aire river catchment. As well as reducing flood risk, this catchment based approach will create new habitats, increase biodiversity, improve water quality and create climate resilient places."
Councillor Alex Ross-Shaw, Bradford Council's Executive Member for Regeneration, Planning and Transport said:
"We were pleased that Harden Moor was selected as one of the Leeds FAS2 Natural Flood Management Programme Pilot sites and it is hugely positive to see the amount of partnership working being undertaken to address flood risk on the River Aire on a catchment-wide scale.
"The scheme was developed with input from a number of organisations and designed to utilise footpath and earth works, leaky dams, tree planting and Sphagnum moss planting to Slow the Flow of water from the site. A similar Defra funded Natural Flood Management pilot scheme is being undertaken on Ilkley Moor on the River Wharfe catchment."
The work follows completion of the first phase of the Leeds Flood Alleviation Scheme in October 2017 where flood defences were installed along the River Aire in Leeds for the first time. The £50million project began with works completed downstream in Woodlesford which proved effective during the Christmas 2015 flooding, before moving into the city centre with measures featuring the introduction of state-of-the-art moveable weirs at Crown Point and Knostrop to control river levels.
Advanced works have also been completed to deliver parts of the Phase 2 scheme early on, including completion of a 730 metre length flood wall in September 2018, protecting 88 businesses in the area of Stourton, the removal of redundant structures at Milford Place and underneath Gotts Bridge along with a number of NFM pilot schemes at Harden Moor, Eshton Beck and Marlfield Farm.
The scheme, and the delivery of other flooding schemes across Leeds and the wider catchments, is part of the Council's plan to build the city's resilience to climate change and reduce flood risk to previously affected homes and businesses.
From this month (December 2020), residents in Mickletown, who were severely affected from property flooding following Storm Eva, are benefiting from a new £800,000 flood alleviation scheme. Comprising of a new flood defence embankment and enhanced drainage, the scheme delivered a range of environmental mitigations too, including an innovative solution to use a large amount of the existing clay and fill materials from within the site to build the new embankment. It is estimated that recycling materials in this way has saved carbon emissions from 300 vehicle journeys and also helped to avoid waste going to landfill.
Next year will see additional grass seeding and planting across the site including bogbean plants in wetland areas and Special Pollen mixtures. This will create new habitat, promote biodiversity and enhance the surrounding area, part of which is a Site of Scientific Interest (SSSI).
In spring next year, the Otley Flood Alleviation Scheme will also begin construction. The £3.3million scheme will reduce flood risk from the River Wharfe and includes a new flood embankment running parallel with Billams Hill, alongside vegetation management on the islands downstream.
Otley was one of the worst affected areas of Storm Eva in Leeds and has had several near misses since, most recently in November this year. Once completed in full, which is expected to be next autumn, the Otley FAS will reduce risk to previously affected residents near to Wharfemeadows Park.
The first virtual resident meeting was held last month to provide an update to residents about the planned programme of works, with further updates expected in the New Year.
Notes to editors
The Leeds FAS Phase 2 is supported by a range of partners including Network Rail, West Yorkshire Combined Authority, Yorkshire Wildlife Trust, Yorkshire Water, City of Bradford Metropolitan District Council, the European Structural Investment Fund (ESIF) and Aecom.
In July 2020, an additional £21 million was secured for the second phase of Leeds FAS which goes a considerable way to resolving the previous £23.7m shortfall in the programme to allow it to be completed in full. The West Yorkshire Combined Authority has contributed £3.9million towards the Leeds Flood Alleviation Scheme through the Leeds City Region Growth Deal – a £1billion plus deal with the government to transform the Leeds City Region economy.
A video of progress on Leeds FAS2 can be found here
For media enquiries contact: