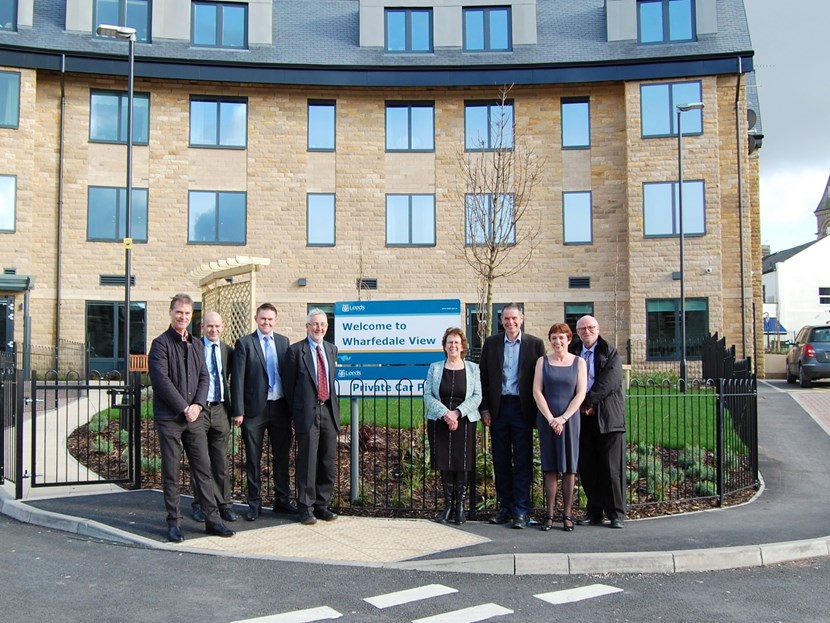 27 Feb 2017
First extra care housing of its kind officially opened in Leeds
The multi-million pound, extra care housing scheme, Wharfedale View, has been completed and was officially opened on Friday 24 February by Cllr Judith Blake, Leader of Leeds City Council.
The flagship scheme, owned and managed by Leeds City Council, saw its first tenants move in just before Christmas. 'Extra care housing' helps people stay independent in retirement by offering apartments with flexible 24/7 care as well as communal facilities.
Situated in Yeadon, Wharfedale View includes 45 self-contained apartments (18 one bedroom and 27 two bedroom apartments). Each apartment has its own front door and its own kitchen and bathroom so that residents can live independently but with access to an assessed level of care dependent on their individual need.
Available for rent or shared ownership, people will choose how they want to be supported as their care needs change in a safe environment.
As well as health and care needs being catered for by newly appointed Roche Healthcare Ltd, people will benefit from organised activities in the scheme's communal areas and a spot of pampering at a hair salon.
Facilities have also been provided so people can entertain family and friends at a restaurant run by the council's Civic Enterprise Leeds. As well as their own kitchens, people will be able to choose to eat and socialise at the restaurant.
Councillor Rebecca Charlwood, executive member for health, wellbeing and adults, said:
"We know that more and more people want the type of community based housing – with support – which this fantastic new facility can provide, as the desire to remain living independently continues to strengthen and people's aspirations regarding their care and support needs change over time. The Council has responded to this demand with flagship care facilities such as Wharfedale View, thus ensuring we can help local people live at home for longer with the right care and help they need at different times in their lives.
"This is about giving people the choice and control over their own care, as well as highlighting a real commitment from the council to investing and looking after older people in the city, providing them with the opportunity to live their lives independently and with the dignity they deserve".
Councillor Debra Coupar, executive member for communities, said:
"Ensuring we have purpose built, accessible accommodation that meets the needs of our older generation allows us to not only support individuals that choose to live in these fantastic places, but also potentially frees up much needed council homes for other families."Wharfedale View is a fantastic addition to the provision of housing for older people in the city, and a brilliant example of how the council is planning for future generations; delivering solutions for people with a diverse range of needs. The project demonstrates what the council can do, starting from scratch to produce an innovative scheme such as this."
Notes to editors:
In January 2013, Leeds City Council successfully applied for £1.57m of Department of Health Care and Specialist Supported Housing Funding to support the delivery of the 45 unit Extra Care Housing scheme.
Henry Boot Construction were awarded the contract in May 2015 and handed over the completed building to Leeds City Council on 1 December 2016.
35 of the apartments are for rent and have all been allocated with the first tenant moving in on 7 December 2016.
10 of the apartments are for Shared Ownership with 7 apartments currently at the conveyancing stage.
Following procurement Roche Healthcare Ltd (registered with the Care Quality Commission) was appointed to provide 24/7 care on site.
Anyone wanted to find out more can access details at http://www.leeds.gov.uk/residents/Pages/about-wharfedale-view.aspx
For media enquiries contact: