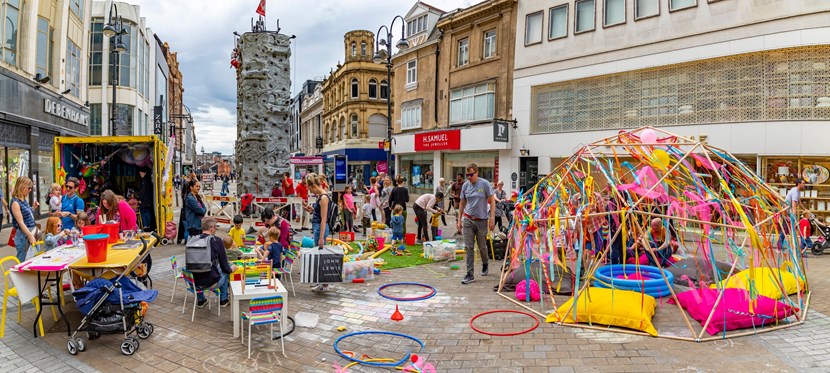 03 Aug 2021
Families in Leeds urged to #GoOrange for national play day tomorrow
Tomorrow (August 4) is Playday, the national day for play in the UK, and children and families in Leeds are invited to join in the fun and #GoOrange by wearing, finding, creating or even baking something orange.
The day is a chance to campaign about the importance of play and reflects Leeds City Council's ambition to make Leeds a child friendly city.
Play is fundamental to children's health, wellbeing and happiness, but months of being isolated at home has made it more difficult for kids to be playful.
Child Friendly Leeds events and activities are taking place around the city centre tomorrow to mark Playday. From pop-up climbing walls, city-wide trails to playful arts and craft sessions, there's something fun for everyone.
Prizes will be awarded to the best #GoOrange pictures shared on social media using the hashtag.
An online activity pack has been launched full of fun activities and recipes to help people with their #GoOrange celebrations, and to keep families entertained throughout the day.
If you're visiting one of the fabulous parks in Leeds on Playday, make your own adventure by downloading Love Exploring – the new, free and fun way to encourage families to be active together and inspire people of all ages to explore their local parks and discover some of the city's cultural treasures. Available to download to your smartphone, the app lets you join our Dinosaur Safari, through an augmented reality (AR) game.
LeedsBID have also been supporting all things child friendly and recently launched the Leeds Jurassic Trail 2, featuring 13 life-size moving dinosaurs across the city.
Councillor Fiona Venner, Leeds City Council's executive member for Adult and Children's Social Care and Health Partnerships, said:
"Child Friendly Leeds have hosted an event on National Play Day annually and this year we have been promoting the #Summer of Play, a campaign recently launched by Save the Children and Play England to highlight the importance of play.
"I'm thrilled to see so many of our partners and ambassadors across the city support our commitment to ensuring that every child has the right to play by organising events and activities for children and young people. On the day, activities will take place across the city as we ask everyone to #GoOrange, have fun and celebrate all of the amazing things that are making Leeds the best city for children and young people to grow up in."
To download the free digital event pack and see what's on during the day visit: https://childfriendlyleeds.wordpress.com/cfl-live-goorange-activity-pack/
Notes to editors:
Play Day UK: https://www.playday.org.uk/
Playday is the national day for play in the UK, traditionally held on the first Wednesday in August. Playday 2021 will be celebrated on Wednesday 4 August.
Playday is the annual national day for play in the UK, coordinated by Play England, Play Wales, Play Scotland and PlayBoard Northern Ireland. The 2021 theme, Summer of Play, recognises the challenges children and young people have faced over the past year and the need to enjoy time for play with their friends, having fun. Families and carers are being encouraged to celebrate children's right to play in their local communities.
Play Streets
Leeds has also been promoting Play Streets and the first ten applicants this summer received a #LeedsPlayStreets kit box. Play Street offers the chance for kids to enjoy themselves outdoors even if they can't get to a park or playground. It involves closing a road to traffic for a couple of hours, often once a month, so neighbours can connect, and children play together in a traffic-free space. Organised by residents, Play Streets are free as well as fun, and have been found to increase children's levels of physical activity.
Leeds is taking an innovative approach to this by inviting residents across the city to take up the opportunity to host a Play Street.
#SummerOfPlay: https://www.summerofplay.co.uk/
Hundreds of businesses, charities and councils from all over the UK have come together this summer to enable all children, in all our communities, to have space and time for play this summer. We want this summer to be a time when children can enjoy:
Fun - We will support children to have fun and express themselves through play.
Friends - We will support children to have opportunities to play with friends and peers.
Freedom - We will support children to have space, time, and opportunities for free play.
We want a #SummerOfPlay for all children, making sure that this includes children who are disadvantaged or who have been adversely affected by Covid-19.
For media enquiries contact: