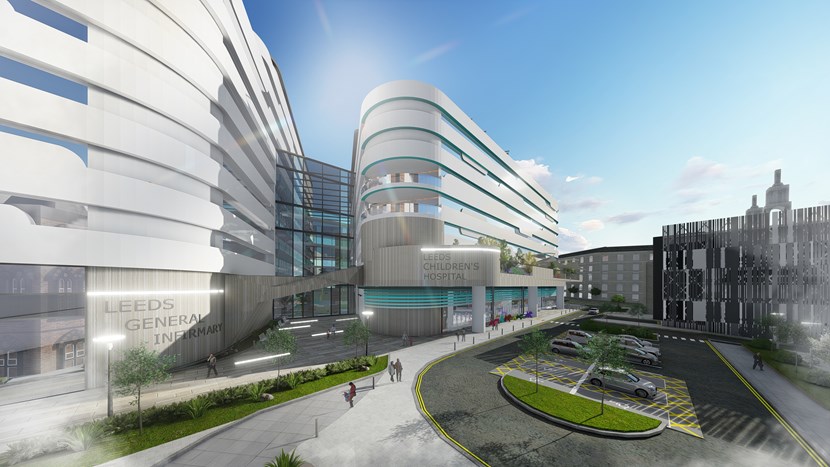 17 Oct 2018
Exciting plans revealed at Leeds General Infirmary for adult health services and brand new children's hospital
PRESS RELEASE ISSUED BY LEEDS TEACHING HOSPITALS NHS TRUST
Exciting proposals for a brand-new hospital development to transform Leeds General Infirmary (LGI) were revealed today (Wed 17 October) by Leeds Teaching Hospitals NHS Trust.
Plans for two state-of-the-art hospital buildings, including a dedicated Children's Hospital on the Leeds General Infirmary site have been submitted to Leeds City Council for discussion at a pre-planning application presentation next week.
They are part of an ambitious, long-term vision for the LGI called Hospitals of the Future, which aims to revolutionise health services for patients in Leeds and the wider region.
The first hospital building, joined to the LGI's Jubilee Wing, will extend health services for adults. Among its facilities will be a new theatre suite dedicated to day case procedures, endoscopy and radiology services and a central Outpatients department supported by key services like pharmacy.
It will also have more critical care capacity, allowing the LGI to expand its highly specialist services - like major trauma or cardiac care, for example - and to develop further specialist healthcare in the future. These services benefit patients from Leeds, the wider region and in some cases the rest of the UK.
The second hospital building will be a fantastic, new Leeds Children's Hospital. For the first time in Leeds, this will bring together staff and services from the current Children's Hospital in the LGI's Clarendon and Martin wings to deliver health services for children and young people in purpose-built facilities dedicated solely to their needs.
The new hospital buildings will be designed to support advanced treatment and care based on the latest technologies and innovation. For patients, this will mean more efficient, individual healthcare in modern comfortable surroundings.
One exciting feature of the hospitals' design will be the use of flexible spaces so that they can be adapted to respond to patients' changing needs over time.
Julian Hartley, Chief Executive, Leeds Teaching Hospitals said: "This is a really exciting development for our hospitals that will be a huge step forward in the way we provide healthcare for patients in Leeds and the wider region.
"By designing hospital buildings from the ground up, we'll be able to embrace new technologies and innovation to deliver modern, efficient health services that are tailored to our patients' needs, not just now but in the future."
The landmark development will see Leeds General Infirmary become the cornerstone of Leeds' new Innovation District and strengthen the links between the hospital, the University of Leeds, Leeds Beckett University and Leeds City Council.
Plans for the area around the new hospital include hubs for research, innovation and technologies, office accommodation, retail, residential developments, green spaces and landscaped pedestrian walkways.
As part of the vision for the area, the Trust will be working with agencies like Historic England to bring listed buildings like the Gilbert Scott building on Great George St back to life. Although they can't be used for modern healthcare today, they are landmarks in Leeds and with sympathetic development will be preserved for future generations.
Linda Pollard CBE DL Hon.DLL, Chair of Leeds Teaching Hospitals NHS Trust said: "This ambitious, long-term programme will cement Leeds Teaching Hospitals' reputation as a leading health service provider and innovator, not just in Leeds but across the UK."
"This is a not only a significant investment in the future of health services for patients in Leeds, West Yorkshire and beyond but also a major boost to the health economy in Leeds."
Leader of Leeds City Council Councillor Judith Blake said:
"It is fantastic for everyone in Leeds and the wider region to see these exciting plans to transform the Leeds General Infirmary site with state-of-the-art hospital buildings coming forward for consideration. Not only will they support enhanced specialist services, the new purpose-built children's hospital will offer the highest levels of care and support for patients and their families from Leeds, Yorkshire and beyond and will further our ambition to be a world-leading child friendly city.
"With the aim of developing new ideas and pioneering technology being at the heart of the proposals, this plan has a key role to play in our Innovation District which has already generated more than £140million of investment. Leeds is already at the forefront of health innovation, research and learning, and this proposal will strengthen that position further. We look forward to following these plans with keen interest."
Leeds Teaching Hospitals' plans have now been made public and for the next two months, patients and members of the public are invited to view them and share their feedback. This is the first stage in the process to gain planning approval and realise the vision. Details of the proposals and two public drop-in events in November are available on www.futurehospitalsleeds.co.uk.
To see the pre-presentation report to be considered by Leeds City Council's city plans panel next week go to http://democracy.leeds.gov.uk/documents/s181470/PREAPP1700700.pdf
Ends.
Notes to editors:
For further information, contact Helen Matson, Leeds Teaching Hospitals on 07503 187559 or 0113 2064625.
The full planning application will be submitted to Leeds City Council formally in December 2018 and is subject to approval.
We can offer a media package to include:
Filming of the current site and areas for development
Interviews with hospital representatives
Artists' impressions
A fly-through of the proposed development
Panorama view via headset
Leeds Teaching Hospitals NHS Trust is one of the largest and busiest hospital trusts in the UK. Every year, we provide healthcare and specialist services for people from the city of Leeds, the Yorkshire and Humber region and beyond. We play an important role in the training and education of medical, nursing and dental students and are a centre for world-class research and pioneering new treatments.
Leeds Children's Hospital provides one of the widest ranges of specialist children's hospital services in the UK, offering the highest quality treatment and care to children and young people living in Leeds, across Yorkshire and beyond. The hospital has access to state-of-the-art treatments and facilities, providing major services to children and young people in specialties such as cancer and heart surgery.
For media enquiries contact: