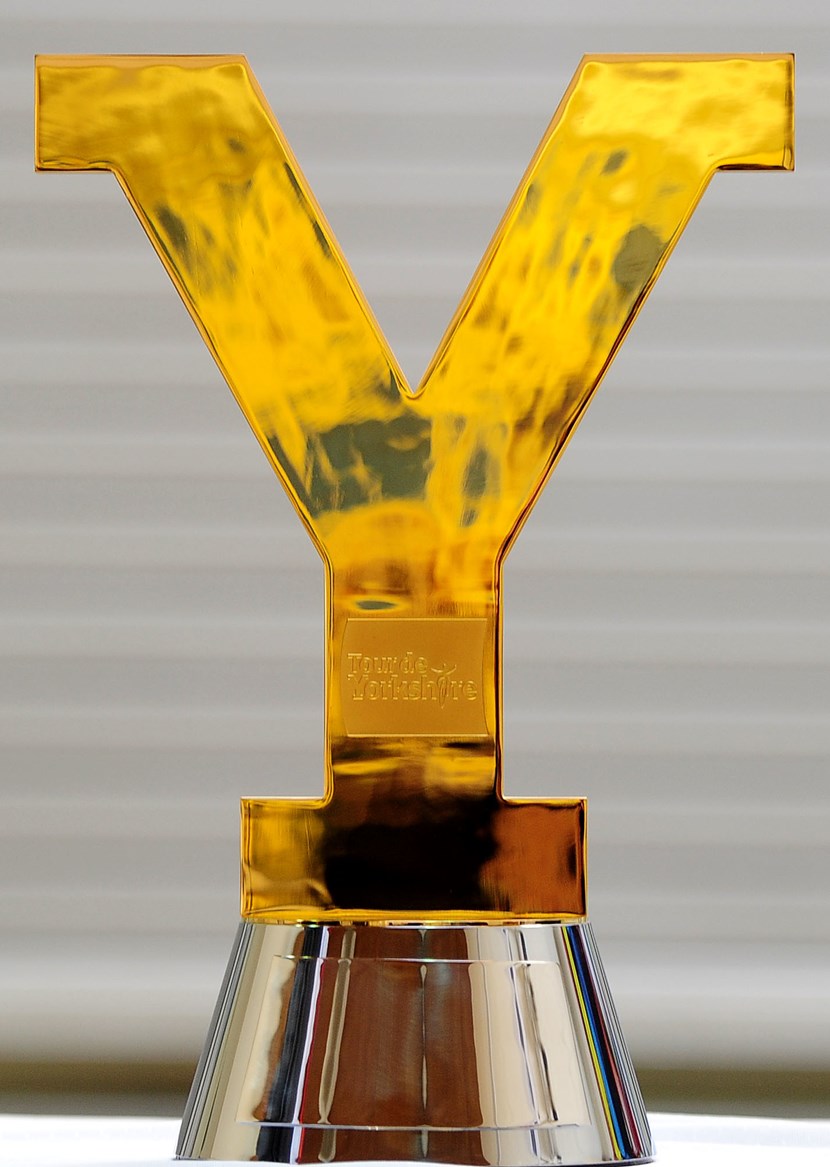 21 Apr 2016
Excitement building for Tour de Yorkshire
The hugely anticipated second edition of the Tour de Yorkshire international cycle race is now only a week away. Excitement is building in Otley which plays host to the start of Stage Two of the race on Saturday 30 April.
Stage Two is a particularly important milestone this year, following the recent announcement that the inaugural women's race will follow exactly the same route as the men's race and has record prize money on offer. Former Olympic silver medalist cyclist Emma Pooley has just been announced to compete alongside Otley's very own World Champion Lizzie Armitstead. Sir Bradley Wiggins along with Team Sky's Lars Petter Nordhaug and current British road champion, Pete Kennaugh, have already been announced by the race organisers as competing in the men's race.
Banners, flags and bunting have already been erected around the streets of Otley as the town prepares for final countdown to the event and the trophy will also be visiting on Friday 22 April as part of a whistle-stop tour of the route.
Both men's and women's races will start from a closed section of Boroughgate where the inflatable start arch will be situated before the riders follow a 'ceremonial' route around the town centre. Spectators will be able to spread out and get a close up view of the riders via; Westgate, Piper Lane, Bradford Road, West Chevin Road, Burras Lane, Station Road, Bondgate, Crossgate, Nelson Street, Walkergate and Cross Green before heading towards Pool on the A659 where the race will officially begin.
The women's race will start at 8.15am which means these will be affected between 7.45am and 8.45am. The men's race starts at 2.20pm meaning that the roads will be affected between 1.45pm and 2.45pm.
Otley Town Council, working with Leeds City Council, have organised a variety of activities all throughout the day to entertain the crowds between races. The activities include street entertainers, marching bands including the City of Leeds Pipe Band and the Paradise Steel Band, buskers and two children's cycling processions. Riders from the Otley cycle club mini-flyers will set off prior to the women's race and pupils from all five primary schools in Otley and Prince Henry's Grammar School will ride out before the men's race.
The market place will be used as the official sign-in position with riders parading along Market Street. A large screen showing live TV broadcast of both races will also act as a focal point in the market place for spectators throughout the day.
A free 'spectator hub' will also be located on Garnett's Field next to the river, showing full TV coverage of both races on the big screen. Food, refreshment and toilet facilities will be available throughout the day together with various family activities, fairground rides and entertainment. Various other events and activities have been organised by the local community providing indoor TV coverage and refreshments at Otley Rugby Club, Otley Courthouse, and local churches, as well as local shops, cafes and other businesses.
Councillor Judith Blake, leader of Leeds City Council said:
"We are delighted to welcome the tour to Leeds again this year. There is a huge passion for cycling across the city – evident for the whole world to see thanks to the incredible atmosphere at the Grand Départ in 2014 and last year's inaugural Tour de Yorkshire. I'm confident the people of Leeds will again turn out in their thousands and do the city proud at this great event.
"This is a great opportunity to put Otley on the map and as with the Tour de France, we know visitors will benefit from a fantastic Yorkshire welcome."
Councillor Ray Georgeson, chair of Otley Town Council said:
"After the huge success of the Tour de France, last year's Tour de Yorkshire and with our proud heritage of hosting the annual road races, Otley is proud to be the host start town for Stage Two of this year's Tour de Yorkshire. The excitement and buzz is building and we have been working hard to provide a full days entertainment for our residents and visitors alike to make this a memorable occasion for all.
"This will undoubtedly be a fantastic event for Otley especially given we are a cycling town and the proud home of World Road Racing Champion Lizzie Armitstead. We are particularly looking forward to supporting Lizzie through the streets of her home town and welcoming everyone to Otley for this fantastic event."
The team buses, which are accessible to the public as an integral part of the overall spectator experience, will be located in the North Parade car park and on the closed sections of Wesley Street, North Parade and on part of Boroughgate. Road closures and parking suspensions on these roads will be effective from 7.00pm on Friday 29 April until 7.00pm on Saturday 30 April.
Road closures along the route will generally be managed on a 'rolling road closure' basis under national police escort, so roads are not closed for a long period of time and any disruption kept to a minimum. Advance warning and road signs will be used in the lead up to the event to help inform residents and spectators of these restrictions. Orgainsers are encouraging anyone who lives on or close by to the route to plan prepare well in advance. There is also likely to be some disruption to public transport services on the day and details of any bus service interruptions and / or temporary diversions will be available at www.wymetro.com or by calling (0113) 2457676.
Public car parking for the event will be available at Station Top car park (access off East Chevin Road) and Wharfebank Business Centre car park (Ilkley Road). Facilities for disabled spectators in Otley will include an Accessible Viewing Area in close proximity to the start line, designated blue badge parking at Beech Hill car park on Westgate, disabled persons toilet provisions and a Changing Places toilet located at the spectator hub. For any access queries or for further information please contact Leeds city council's events team at events@leeds.gov.uk.
Residents who live on or nearby the route are also being advised that refuse collections will not be able to take place on Saturday 30 April, due to the road closures. Those households which will be affected will receive a letter this week. Replacement collections will take place on Sunday 1 April instead.
For further information including full race times and route details, interactive maps, images and information on how to get involved visit the official event website at www.letour.yorkshire.com
Notes to editors:
The Tour de Yorkshire is an annual international race with a new route through Yorkshire each year. It forms part of the legacy of the historic Yorkshire Grand Départ of the Tour de France 2014, along with the Yorkshire Bank Bike Libraries which aim to offer every child in Yorkshire access to a bike.
Stage Two of the race will pass through Pool, Harewood, East Keswick, Thorner, Scholes, Barwick-In-Elmet, Aberford and Lotherton on its way to the stage finish in Doncaster.
The 2016 race will also visit Leeds during Stage One on Friday 29 April as it passes through Boston Spa, Thorp Arch and Wetherby.
Tour de Yorkshire is a Welcome to Yorkshire (WTY) / Amaury Sport Organisation (A.S.O.) race in association with British Cycling which holds a 2.1 European Tour UCI Classification. The Asda Women's Tour de Yorkshire Race holds a 1.2 UCI Classification.
For media enquiries contact: