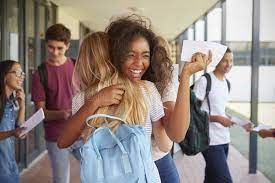 24 Aug 2023
Exam results celebrations for Leeds GCSE students
Young people across Leeds are celebrating their GCSE results today (Thursday 24 August).
This year is only the second time pupils across Leeds have sat summer exams since 2019.
Grades were generated by schools in 2020 and 2021 due to the pandemic, with results based on internal assessment and work produced over the course of pupils' studies.
Grades in 2020 and 2021 were generally higher than they were in 2019 due to the different assessment system used. Last year, exam boards set grades at a midpoint between summer 2019 and 2021.
This year results will be similar to those from 2019, with an allowance made for disruption faced by pupils in subjects where national performance was found to be lower than levels seen prior to the pandemic.
Pupils were also given additional support in some exams such as formulae tables in maths and physics rather than being expected to learn them off by heart.
Due to the ongoing changes with grading, it is not possible to make comparisons between results this year and previous years.
Councillor Jonathan Pryor, Leeds City Council's executive board member for economy, culture and education said:
"I'd like to congratulate everyone in Leeds receiving their results today. We all know that the last three years have been turbulent for them and they have shown determination and resilience to get to this point.
"Well done to the great staff in all our schools and colleges and to their families who have supported our young people on their learning journeys over the past years.
"Many of our young people have now got the qualifications they need to take their next steps and begin exciting careers at sixth forms, colleges, and apprenticeship providers in Leeds. I wish them all the very best for the future."
Information on Next Steps
There is support available for students who did not get the results they were hoping for and those who don't have plans for September.
Students can use Leeds City Council's Start in Leeds platform to access information and advice about post-16 learning opportunities and get in touch with local schools, colleges and apprenticeship providers.
The Next Steps page also signposts learners to the council's Employment Hub and the Leeds Pathways team, both of which can give information, advice and guidance to young people as they decide what to do next.
The Start in Leeds Next Steps page can be accessed here.
For media enquiries contact: