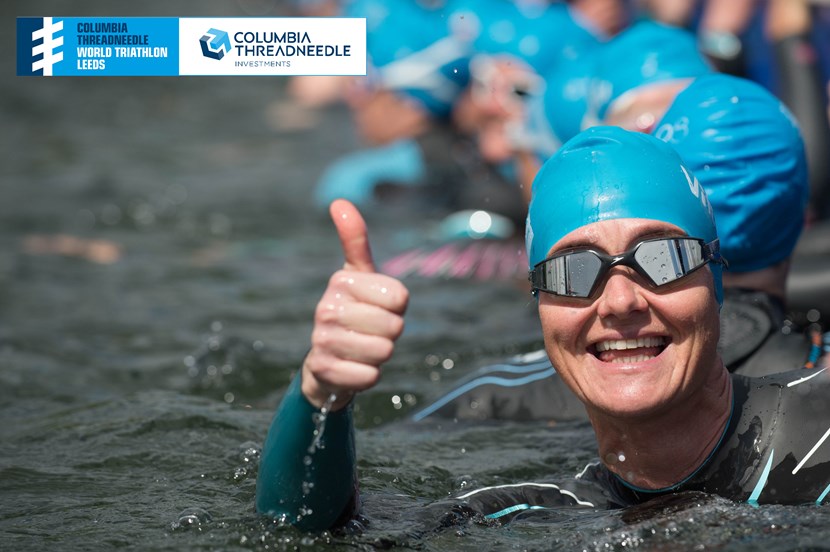 18 Aug 2015
Entries go on sale for Columbia Threadneedle World Triathlon Leeds
General entries for the Columbia Threadneedle World Triathlon Leeds are set to open at 9am today (18 August) – exactly one year to the start of the triathlon events at the Rio 2016 Olympic Games. The event offers amateur triathletes of all levels of ability the unique opportunity to compete on the same course as the world's best triathletes across a range of distances on 12 June 2016.
The Columbia Threadneedle World Triathlon Leeds, part of UK Sport's National Lottery funded #EveryRoadtoRio series, presents the final opportunity to see Britain's best triathletes compete against their international rivals on home soil before they head to the Rio 2016 Olympic Games. Taking part as an amateur offers an exclusive insight into competing at the highest level on a unique point-to-point course in the home city of the Brownlee brothers and training base of Non Stanford and Vicky Holland.
With over 1,500 entries having already been sold to Home Nation members during a priority entry window, over 3,500 places are now available to the general public across the beginner, sprint and Olympic distance events. With demand expected to be high, organisers are encouraging individuals to capitalise on the early bird pricing structure and secure their entry as soon as possible.
Entries can be made via the official event website http://leeds.triathlon.org. In line with the event's ambition to make the event accessible to first timers and novice triathletes, details of further novice and junior events will be announced in the coming months.
Olympic Champion, Alistair Brownlee, said: "Competing in my home city of Leeds is going to be one of the highlights of next year, not just for me, but for every elite athlete or amateur competitor who comes to Yorkshire next June."
Leader of Leeds City Council Councillor Judith Blake said: "This is an exciting day for the World Triathlon Leeds event as places for the mass-participation element go on sale and we know they are likely to be snapped up very quickly. So if you want to experience the thrill of being part of a historic event for our city taking on the same course as the very best in the world on the same day sign up to make sure of a place. With a range of distances and team events available as well as supporting activities and the chance to cheer on our home-grown heroes including Alistair and Jonathan Brownlee and our adopted stars Non Stanford and Vicky Holland, it promises to be an unmissable event in Leeds."
Leeds City Council executive member for health, wellbeing and adults Councillor Lisa Mulherin said: "Hosting the World Triathlon Leeds next year is the perfect inspiration to encourage people to give triathlon a go for the first time or to get a bit fitter through swimming, cycling or running. With the range of distances available being from beginner to serious triathlete, the event in Leeds next June could be the ideal target to start a training regime now with a realistic distance in mind. And a strength of the event is that you don't need to be a professional triathlete like the Brownlee brothers or Non Stanford to take part, this is something men and women, boys and girls can all have a go at, be a little healthier and have fun in the process."
Jack Buckner, CEO of British Triathlon, added: "It is part of the unique appeal of triathlon that amateur athletes, including novices, can compete on the same course on the same day as Olympic and world champions. Home Nation members have recognised this and been inspired to snap up 1500 race places during the priority entry period."
Rupert Pybus, Global Head of Brand and Marketing at Columbia Threadneedle Investments, said: "I hope that triathletes around the country will put the Columbia Threadneedle World Triathlon Leeds on their race schedule for 2016. It promises to be a race like no other and will provide a unique course and atmosphere during an important year for British sport."
ITU President and IOC Member Marisol Casado added: "Given the buzz around this race, I encourage all age groupers to sign up quickly for WTS Leeds, as I expect the entries will sell out quickly. It will be an unforgettable experience to race on the same course as Olympic athletes just before they head to the Rio de Janeiro Olympics to leave their mark on history. This race should not be missed."
Entries will go on sale on Tuesday 18th August at 9am via http://leeds.triathlon.org.
To find out more via the official event website: leeds.triathlon.org and follow Columbia Threadneedle World Triathlon Leeds on social media: Facebook & Twitter.
The Columbia Threadneedle World Triathlon Leeds is organised by Lagardere Events Unlimited and British Triathlon in partnership with Leeds City Council and UK Sport.
Ends
FOR FURTHER INFORMATION CONTACT: Helen Gorman on 07739 456644 or helengorman@britishtriathlon.org or Tom Goldspink on 07795415452 tomgoldspink@britishtriathlon.org
NOTES TO EDITORS:
About Columbia Threadneedle Investments
Columbia Threadneedle Investments is a leading global asset management group that provides a broad range of actively managed investment strategies and solutions for individual, institutional and corporate clients around the world. With more than 2000 people including over 450 investment professionals based in North America, Europe and Asia, we manage £323 billion1 of assets across developed and emerging market equities, fixed income, asset allocation solutions and alternatives.
Our priority is the investment success of our clients. We aim to deliver the investment outcomes our clients expect through an investment approach that is team-based, performance-driven and risk-aware.
Columbia Threadneedle Investments started its successful relationship with the ITU World Series in 2013 and has since become global financial services sponsor.
The Columbia Threadneedle Rankings
As a global asset manager Columbia Threadneedle Investments recognises the importance of being the best in the field, not just at home, but on a global basis. The Columbia Threadneedle Rankings are used to determine the best performing triathletes across the ITU World Triathlon Series.
The Columbia Threadneedle Rankings Leader Trophy is presented to the top male and female elite athlete at each ITU World Triathlon Series event. In 2015 the Columbia Threadneedle Rankings Leader will continue to wear the bespoke race markings and carry the colours of the new Rankings logo on their bike rack in transition.
Launched in 2015, the Columbia Threadneedle Rankings Report identifies the trends and interesting statistics after each event throughout the season.
The official Columbia Threadneedle Rankings can be accessed at www.wts.triathlon.org/ColumbiaThreadneedleRankings. Engage with the conversation on social media using the hashtag #CT_Rankings, or follow @CTinvest_Tri
For media enquiries please contact:
Laura Cook, 020 7464 5650, laura.cook@columbiathreadneedle.com
Ella Tekdag, 020 7464 5082, ella.tekdag@columbiathreadneedle.com
All figures as at 30 June 2015. 1 Source: Ameriprise Financial Q2 2015 earnings release. Past performance is not a guide to future performance. The value of investments and any income is not guaranteed and can go down as well as up and may be affected by exchange rate fluctuations. This means that an investor may not get back the amount invested. This material is for information only and does not constitute an offer or solicitation of an order to buy or sell any securities or other financial instruments, or to provide investment advice or services. Columbia Threadneedle Investments is the global brand name of the Columbia and Threadneedle group of companies.
About British Triathlon
British Triathlon is the Governing Body for the sport in Great Britain. It is responsible for raising the profile and delivering elite performance for Triathlon, Paratriathlon, Duathlon and Aquathlon in Great Britain. Triathlon is a fast growing, dynamic and modern Olympic sport with talented world class athletes, coaches and support staff, focused around delivering world-class events and medal winning performances. Visit www.britishtriathlon.org for more information.
Visit www.britishtriathlonmedia.org for downloadable image galleries, detailed athlete profiles, results, stats and information.
About Leeds City Council
Leeds City Council is the second-largest local authority in England with a population of around 776,000. Leeds has a very proud sporting heritage and we are committed to encouraging sport as a way of promoting the city and healthy lifestyles, as well as bringing world-class events. This can be seen in the success of the 2014 Tour de France Grand Départ and the forthcoming Rugby World Cup 2015, building towards our ambition to become European Capital of Culture 2023. The council works in partnership with the city's three universities, national governing bodies and key stakeholders to develop sport from grassroots to elite level. Visit www.leeds.gov.uk for more information.
About Lagardere Unlimited Events
Lagardère Unlimited is one of the world's leading sports and entertainment agencies and forms part of the Lagardère Group. The events division of Lagardère Unlimited specialises in the promotion, marketing, organisation and delivery of televised events. Its business in the UK focusses on the delivery of mass participation endurance sports (triathlon and cycling) for elite and lifestyle participants. Events in the Lagardere Unlimited Events UK portfolio include the Columbia Threadneedle World Triathlon Leeds and Velothon Wales.
About the International Triathlon Union (ITU)
The International Triathlon Union is the world governing body for the Olympic sport of Triathlon and all related MultiSport disciplines including Duathlon, Aquathlon, CrossTriathlon and Winter Triathlon.
ITU was founded in 1989 at the first ITU Congress in Avignon, France. It has maintained its headquarters in Vancouver, Canada since then and also has offices in Lausanne, Switzerland and Madrid,Spain. It now has over 167 affiliated National Federations on five continents and is the youngest International Federation in the Olympic Games. Triathlon was awarded Olympic Games status in 1994 and made its Olympic debut in Sydney 2000.
Triathlon is also featured in the Asian Games, Pan American Games and Commonwealth Games. Paratriathlon was accepted into the Paralympic Games in2010 and will make its Paralympic debut in Rio 2016. ITU is proudly committed to supporting the development of the sport worldwide through strong relationships with continental and national federations, working with its partners to offer a balanced sport development programme from grassroots to a high-performance level.
For more information, visit:
www.triathlon.org
About UK Sport
UK Sport is the nation's high performance sports agency responsible for the strategic investment of National Lottery and Exchequer funding into Olympic and Paralympic sports and bringing major sporting events to the UK.
Columbia Threadneedle World Triathlon Leeds is part of UK Sport's #EveryRoadtoRio events series, which will feature over 30 world class sports events the length and breadth of the UK, with over 900,000 tickets available to the British public to support their athletes.
This ambitious National Lottery funded programme will support British athletes' preparation and qualification for Rio 2016, with up to 95 direct and over 300 indirect qualification spots available, while generating economic impact for host cities and regions of over £37 million. Upcoming events include the European Wheelchair Basketball Championships in Worcester in August and the Taekwondo Grand Prix in Manchester in October.
Throughout the #EveryRoadtoRio series UK Sport will be promoting exclusive ticket offers, opportunities to meet the athletes and get privileged behind the scenes access to events. Sign up now at www.uksport.gov.uk/events
For media enquiries contact: