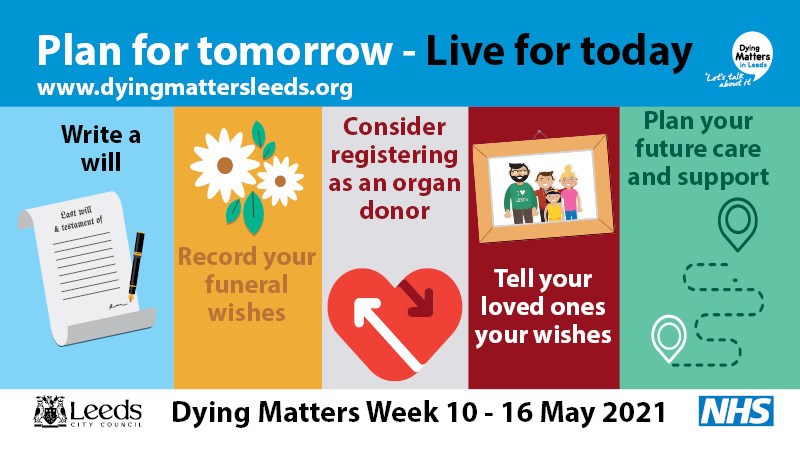 10 May 2021
Dying Matters week returns to break death and dying taboos
This year the Dying Matters Awareness Week theme is focusing on the importance of being 'in a good place to die'.
Where people die is changing. More people than ever are dying at home, and the pandemic has accelerated this trend. In 2020, 28% of people in the UK died at home.
With gaps in support structures for people when they die, and for those that are left behind, people are dying without being in the right place. Often, people don't feel prepared and they haven't fulfilled their wishes or communicated them to loved ones.
We want people of all ages to be in a good place when they die – physically, emotionally and with the right care in place.
We want to raise the profile of the care that does exist and the benefit that it gives to dying people and their families. And we want to raise our voices to highlight what needs to change for people at the end of life.
There is no right or wrong place to die; it will be different for everyone. But it is important for families to think about it, to talk about it and to plan for it. Planning for death is more important than ever in a time when the COVID-19 pandemic has taken so many lives at such short notice, and in circumstances that are beyond our control.
In Leeds, the popular annual Dying Matters event at Kirkgate Market has unfortunately had to be cancelled this year due to COVID-19.
Our many partnership members who would have had stalls and been available to talk, provide advice and answer your questions on the day are disappointed to miss this valuable opportunity. However, a number of organisations across the city are holding virtual events.
Councillor Salma Arif, Leeds City Council's Executive Member for Health and Wellbeing said:
"It's a subject most people don't want to talk about until it is too late or forced upon them by circumstances. But Dying Matters week is a great chance to realise that by sharing important information and planning earlier you and your loved ones are going to be much more likely to get the end of your life dealt with in accordance with you want, not what others might think you want.
"If you all do that, you can ensure your final wishes are carried out, and your death is made that little bit easier for those you leave behind who are not left with as much organisation to do on top of grieving."
Find out more about Dying Matters Awareness Week, which runs from 10-16th May, by visiting the Dying Matters Leeds website at http://dyingmattersleeds.org/.
ENDS
Notes to editors:
Dying Matters Awareness Week will be promoted across social media with relevant messages and information links; and we ask that you follow us on @BetterLivesLDS and retweet using hashtags #DyingMattersLDS21 and #InAGoodPlace.
For media enquiries please contact:
Leeds City Council communications and marketing
Tel: 0113 378 6007
For media enquiries contact: