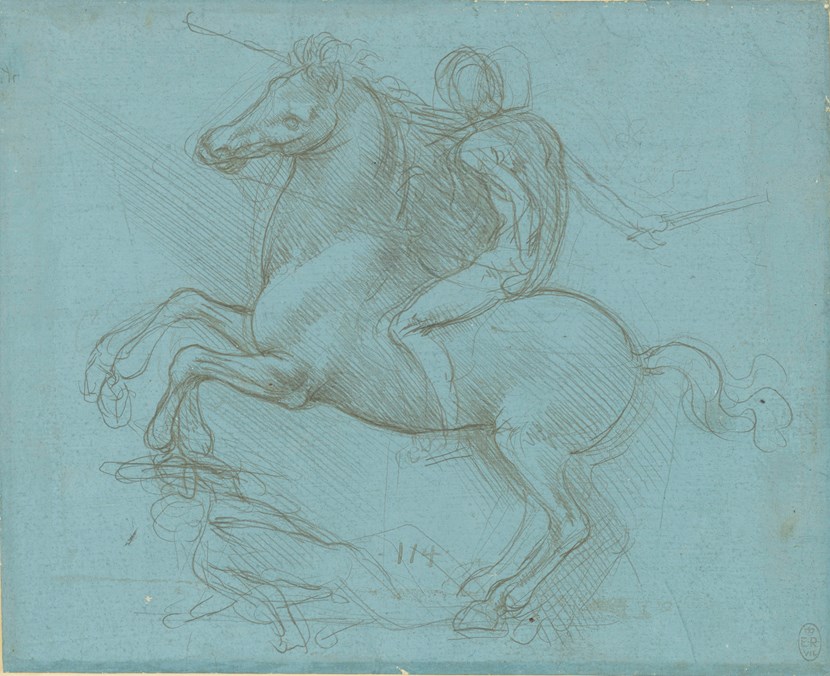 07 Feb 2018
Drawings by Leonardo da Vinci from the Royal Collection to come to Leeds in 2019
In February 2019, to mark the 500th anniversary of the death of Leonardo da Vinci, 144 of the Renaissance master's greatest drawings in the Royal Collection will go on display in12 simultaneous exhibitions across the UK, including Leeds Art Gallery.
Leonardo da Vinci: A Life in Drawing, a nationwide event, will give the widest-ever UK audience the opportunity to see the work of this extraordinary artist. Twelve drawings, selected to reflect the full range of Leonardo's interests – painting, sculpture, architecture, music, anatomy, engineering, cartography, geology and botany – will be shown at Leeds Art Gallery and venues in Belfast, Birmingham, Bristol, Cardiff, Glasgow, Liverpool, Manchester, Sheffield, Southampton, Sunderland, with one further venue to be announced, from 1 February to 6 May 2019.
The exhibition at Leeds Art Gallery, which has been a beneficiary of a previous exhibition of Leonardo drawings from the Royal Collection before, in 2006, will this time focus on Leonardo da Vinci's activity as a pioneering sculptor. The Gallery is uniquely placed to do this with its special partnership with the Henry Moore Institute, the leading organisation in Europe for the research and display of sculpture. Although no actual sculptures survive by Leonardo, his ability to think through his drawings and bring to bear his scientific and engineering knowledge on the making of sculpture, including his proposal for the towering Sforza equestrian monument in Milan which he worked on for several years from 1485, put him at the leading edge of this art in his day,
The Leeds showing of Leonardo da Vinci: A Life in Drawing, will be a fitting prelude to the Yorkshire Sculpture International from June 2019. The Gallery is one of four organisations with the Henry Moore Institute, the Yorkshire Sculpture Park, and The Hepworth Wakefield that will come together to realise this region-wide exhibition, which will be one of the most ambitious ever seen in the North.
Councillor Judith Blake, leader of Leeds City Council, said: "In Leeds we're thrilled to be working with Royal Collection Trust for the second time to host a selection of these stupendous drawings that demonstrate the genius that was Leonardo, and on this occasion, focusing on his sculptural thinking, providing a unique prelude to this region's Yorkshire Sculpture International which is funded through Arts Council England's Ambitions for Excellence scheme. This is a great opportunity for people across Leeds to access such a fantastic collection."
Following the exhibitions at Royal Collection Trust's partner venues, in May 2019 the drawings will be brought together to form part of an exhibition of over 200 sheets at The Queen's Gallery, Buckingham Palace, the largest exhibition of Leonardo's work in over 65 years. A selection of 80 drawings will then travel to The Queen's Gallery, Palace of Holyrood House in November 2019, the largest group of Leonardo's works ever shown in Scotland.
The drawings in the Royal Collection have been together as a group since the artist's death, and provide an unparalleled insight into Leonardo's investigations and the workings of his mind. Leonardo firmly believed that visual evidence was more persuasive than academic argument, for an image conveyed knowledge more accurately and concisely than any words. Few of his surviving drawings were intended for others to see: drawing served as his laboratory, allowing him to work out his ideas on paper and search for the universal laws that he believed underpinned all of creation. As so much of his life's work was unrealised or destroyed, Leonardo's greatest achievements are to be found on sheets of paper.
All the drawings by Leonardo in the Royal Collection were bound into a single album by the Spanish sculptor Pompeo Leoni in Milan around 1590 and entered the Collection during the reign of Charles II. The exhibitions Leonardo da Vinci: A Life in Drawing will include examples of all the drawing materials employed by the artist, including pen and ink, red and black chalks, watercolour and metalpoint.
They will also present new information about Leonardo's working practices and creative process, gathered through scientific research using a range of non-invasive techniques, including ultraviolet imaging, infrared reflectography and X-ray fluorescence. For example, what appear to be two completely blank sheets of paper will be on public display for the first time at The Queen's Gallery, Buckingham Palace. Examination in ultraviolet light has revealed these sheets to be Studies of hands, c.1481, among Leonardo's most beautiful drawings and executed in metalpoint, which involves drawing with a metal stylus on prepared paper. Through the use of high-energy X-ray fluorescence at the UK's national synchrotron, a huge facility at Harwell, Oxfordshire that accelerates electrons to nearly the speed of light, it is now known that these studies are invisible to the naked eye because of the high copper content in the stylus that Leonardo used – the metallic copper has reacted over time to a become a transparent copper salt. By contrast, A design for the Sforza monument, c.1485-8 (to be shown at Leeds Art Gallery), which is drawn with a silver stylus, is still fully visible.
The findings will be brought together in a ground-breaking new book, Leonardo: A Closer Look, published by Royal Collection Trust in February 2019.
Martin Clayton, Head of Prints and Drawings, Royal Collection Trust, said, "The drawings of Leonardo da Vinci are a national treasure, both incredibly beautiful and the main source of our knowledge of the artist. We hope that as many people as possible across the UK will take this unique opportunity to see these extraordinary works, which allow us to enter one of the greatest minds in history, and to understand the man and his achievements."
ENDS
Leonardo da Vinci: A Life in Drawing
Exhibitions of 12 drawings at the following locations
Ulster Museum, BelfastBirmingham Museum and Art Gallery
Bristol Museum and Art Gallery
National Museum Cardiff
Kelvingrove Art Gallery and Museum, Glasgow
Leeds Art Gallery (1 February – 6 May 2019)
Walker Art Gallery, Liverpool
Manchester Art Gallery
Millennium Gallery, Sheffield
Southampton City Art Gallery
Sunderland Museums and Winter Gardens
Leonardo da Vinci: A Life in Drawing (24 May – 13 October 2019)
Exhibition of over 200 drawings
The Queen's Gallery, Buckingham Palace, London
Leonardo da Vinci: A Life in Drawing (22 November 2019 – 15 March 2020)
Exhibition of 80 drawings
The Queen's Gallery, Palace of Holyroodhouse, Edinburgh
For more information please visit www.royalcollection.org.uk/Leonardo500
The accompanying publication Leonardo da Vinci: A Life in Drawing by Martin Clayton will be published by Royal Collection Trust in October 2018, £9.95 from Royal Collection Trust shops, partner venues and www.royalcollection.org.uk/shop
The publication Leonardo da Vinci: A Closer Look by Alan Donnithorne, former Head of Paper Conservation, Royal Collection Trust, will be published by Royal Collection Trust in February 2019, £35.00 from Royal Collection Trust shops and www.royalcollection.org.uk/shop.
Notes to Editors
Royal Collection Trust, a department of the Royal Household, is responsible for the care of the Royal Collection and manages the public opening of the official residences ofThe Queen. Income generated from admissions and from associated commercial activities contributes directly to The Royal Collection Trust, a registered charity. The aims ofThe Trust are the care and conservation of the Royal Collection, and the promotion of access and enjoyment through exhibitions, publications, loans and educational programmes. Royal Collection Trust's work is undertaken without public funding of any kind.
The Royal Collection is among the largest and most important art collections in the world, and one of the last great European royal collections to remain intact. It comprises almost all aspects of the fine and decorative arts, and is spread among some 15 royal residences and former residences across the UK, most of which are regularly open to the public. The Royal Collection is held in trust by the Sovereign for her successors and the nation, and is not owned by The Queen as a private individual.
The Royal Collection contains by far the greatest collection of drawings by Leonardo da Vinci. The group of more than 500 sheets have remained together since Leonardo's death in 1519. Because of the potential for damage from exposure to light, these very delicate works on paper can never be on permanent display and are kept in carefully controlled conditions in the Print Room at Windsor Castle. All the drawings can be viewed online on the Royal Collection Trust website.
For further information and photographs, please contact the Royal Collection Trust Press Office, +44 (0)20 7839 1377, press@royalcollection.org.uk.
For media enquiries contact: