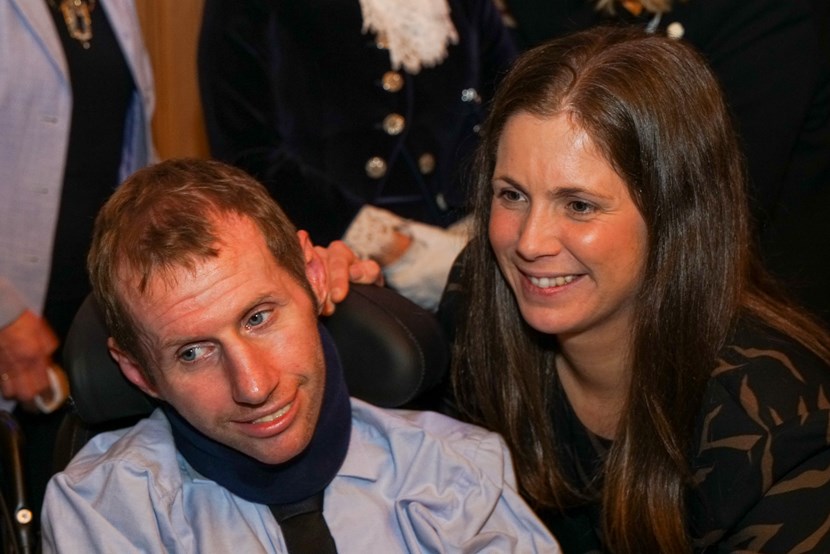 11 Jan 2023
Day of pride as Rob Burrow and Kevin Sinfield are made freemen of Leeds
Leeds today added a new chapter to a remarkable story of courage and comradeship as the city awarded its highest civic honour to Rob Burrow and Kevin Sinfield.
Rugby league legends Rob and Kevin have both been given the freedom of Leeds in recognition of their heroic campaigning and fundraising for all those affected by motor neurone disease (MND).
Rob, who was diagnosed with MND in late 2019, was at Leeds Civic Hall this evening (Wednesday, January 11) to receive the honour at a special full meeting of Leeds City Council.
Kevin's commitments in his new coaching role with the England rugby union team meant he was unable to attend the event in person, but Bob Bowman, chief executive of the Leeds Rhinos Foundation, was present to accept the award on his behalf.
The assembled guests heard warm tributes from councillors to Rob and Kevin, whose achievements over the last three years have surpassed even their previous all-conquering exploits on the field for Leeds Rhinos.
Since his diagnosis, Rob has worked selflessly to bring the issue of MND – and the search for a cure – to the forefront of public attention, and he is currently spearheading a Leeds Hospitals Charity appeal to build a Rob Burrow Centre for Motor Neurone Disease.
His example has in turn spurred on friend and former team-mate Kevin to raise millions of pounds for MND-related causes by completing a series of incredible endurance challenges.
The conferring of the honorary freemen titles was resolved unanimously by this evening's meeting, with the leader of the council, Councillor James Lewis, moving a motion for Rob and Kevin to be recognised for the "honour and distinction brought to the city by their outstanding sporting achievements, their charitable work with the Motor Neurone Disease Association and support to the wider MND community".
The motion was seconded by Councillor Dan Cohen on behalf of the council's Conservative group, with supporting statements following from Councillor Chris Howley (Liberal Democrats), Councillor Robert Finnigan (Morley Borough Independents), Councillor David Blackburn (Green Party) and Councillor Mark Dobson (Garforth & Swillington Independents).
The Lord Mayor of Leeds, Councillor Robert W Gettings MBE JP, then invited council chief executive Tom Riordan to read a 'scroll of admission' – a formal piece of text confirming Rob and Kevin as honorary freemen.
The title's previous recipients include Sir Winston Churchill, Nelson Mandela, Alan Bennett and members of the famed Leeds United side of the 1960s and 1970s.
Rob, who was joined by wife Lindsey and their family at the ceremony, said:
"It feels amazing to get the freedom of Leeds – I am honoured to get this award. I am blown away by the support of Leeds, both as a Rhino and since I got news of my diagnosis.
"Leeds as a city shows it cares just by people stopping to ask how I feel. To the guys who fundraise, to the guys shoving money in my pocket towards the centre in Leeds, they all mean the same – people of Leeds take a bow."
Speaking ahead of the ceremony, Kevin said:
"I would like to thank Leeds City Council for this fantastic honour. Whilst Oldham has always been my home town, I am proud to call Leeds my home city and to receive the freedom of the city is a truly humbling honour.
"During my playing career, I was always proud to represent Leeds and I was fortunate to be part of a team that brought so much pride and joy to Leeds.
"Since my retirement, it has been wonderful to see the support that the city has given to my team-mate Rob Burrow through his journey with MND, and the overwhelming support, both emotionally and financially, the people of Leeds have given to the MND community.
"Thank you to every single citizen of Leeds for all the support you have given me personally, I hope I have done you proud."
Councillor James Lewis, leader of Leeds City Council, said:
"Rob and Kevin embody the very best of Leeds, so it is our pleasure and our privilege to have been able to recognise their achievements with the freedom of the city.
"They have made an incredible difference to many, many lives over the last few years and together provide an inspirational example of how friendship and generosity can endure during even the toughest of times.
"The presentation ceremony will live long in the memory, with the tributes we heard underlining the special place that Rob and Kevin occupy in the affections of the Leeds public. Congratulations to them both."
Guests at the event included Ed Anderson CBE (HM Lord-Lieutenant of West Yorkshire) and Susan Baker MBE JP DL (High Sheriff of West Yorkshire), together with Tracy Brabin, Mayor of West Yorkshire.
Also in attendance were Leeds Rhinos chief executive Gary Hetherington and Rob and Kevin's former Rhinos team-mate Jamie Jones-Buchanan.
Other guests included representatives of the Leeds Hospitals Charity and the MND Association as well as Dr Agam Jung, consultant neurologist and MND specialist at Leeds Teaching Hospitals, where Rob receives his care.
The Lord Mayor of Leeds, Councillor Robert W Gettings MBE JP, said:
"Rob and Kevin have twice written their names into Leeds folklore, first during their many years of success on the rugby pitch and, second, with their work on behalf of all those living with the effects of motor neurone disease.
"They have also, in both triumph and tribulation, stayed true to themselves as modest, likeable characters. It is hard, therefore, to think of two more deserving recipients of an honour such as the freedom of the city.
"I was extremely proud to play a part in the presentation ceremony in my capacity as Lord Mayor and to hear first-hand how much the award means."
Rob made nearly 500 appearances for the Rhinos between 2001 and 2017, winning eight Super League titles, two Challenge Cups and three World Club Challenge trophies.
Kevin's similarly trophy-laden Rhinos career ran from 1997 through to 2015, with him serving as the side's captain for much of that time.
His most recent charity challenge saw him raising more than £2m by tackling seven ultra marathons in one week in November last year.
Rob and Kevin were committed ambassadors for club and city during their playing days, giving enthusiastic backing to the community-based work of the Leeds Rhinos Foundation – the official Leeds Rhinos charity – and initiatives such as the council's Child Friendly Leeds programme.
Their names have now been added to an engraved 'roll of honour' that can be found in Leeds Civic Hall's banqueting suite, the venue for this evening's meeting and presentation ceremony.
ENDS
For media enquiries contact: