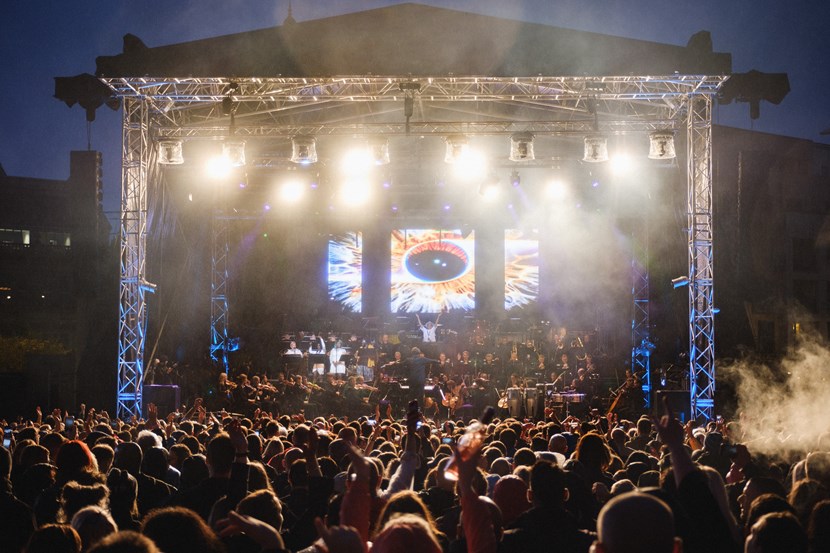 27 Jul 2018
Dance stars fly into Leeds for ground breaking orchestral club extravaganza
Stars from the worlds of dance and classic music have been arriving in Leeds as they prepare to come together for a unique performance on Millennium, Square tonight.
The ground-breaking Symphonic Sounds of Back to Basics will take over the square this evening in a collaboration between the trailblazing Leeds club Back to Basics and Yorkshire's resident symphony orchestra, The Orchestra of Opera North.
Dance music legends including Robin S, Utah Saints and Alison Limerick will be joined by US megastar Robin S, who has flown in especially to perform her worldwide chart-topping smash and dance music classic Show Me Love with a full symphonic makeover – the first time it has been performed live in the UK.
Homegrown DJ and sampling pioneers Utah Saints will also be performing their well-known hits What Can You Do For Me and Something Good in completely new way as part of a special summer reunion with the Back to Basics team.
House diva Alison Limerick' will be performing her highly influential and much loved club anthem Where Love Live. Also joining the bill are rave favourites, Shades of Rhythm; lead singer/songwriter for N-Joi and multimillion selling band Republica, Saffron; Chicago house royalty Robert Owens; British gospel and house singer, Rachel McFarlane; and jazz and broken beat vocalist Sara Garvey, best known for her work with Nightmares on Wax. The evening will once again be presented by Back to Basics founder and head honcho Dave Beer.
Councillor Judith Blake, leader of Leeds City Council, said: "Music has always been part of the heartbeat of Leeds and the city has a very proud track record of supporting and encouraging both emerging talent and established artists.
"Bringing together Opera North and Back to Basics, two very different Leeds cultural institutions, for such a unique show on Millennium Square has been a bold and innovative step which has paid off in spectacular fashion.
"We're very excited to be able to bring the concert back to the square again this summer as part of the annual Summer Series programme and to be working with the city's incredibly diverse music scene to give it such a prominent spotlight."
Gates for the event open at 6pm with live warm-up DJ sets from Basics residents Ralph Lawson and James Holroyd with the main orchestral and special guest performances starting at around 8pm.
A fully licensed bar operation working in partnership with brewing giant HEINEKEN showcasing some of their premium product range including Amstel lager, Strongbow and Dark Fruit Cider plus a selection of wines and spirits will be available together with a range of street food style catering concessions. Onsite toilet facilities, an accessible viewing platform, disabled persons toilets and and a 'changing places' high dependency unit will also be provided within the event arena.
To help ensure that everyone attending have a safe and enjoyable experience, organisers are reminding all ticket holders to familiarise themselves with the venue terms and conditions before arriving with particular reference that; the show is suitable for persons 14 years and over and all children aged 16 years and under must be accompanied by an adult (18 year or over), security searches of all clothing, bags and persons attending will be conducted on entry, the organisers reserve the right to refuse admission or eject any persons for anti-social or threatening behaviour, actions likely to cause damage or injury, or those that are intoxicated through alcohol or illegal substances.
Remaining tickets for The Symphonic Sounds of Back to Basics are individually priced at £32.50 or 4 for £100 as a special group promotion and are available to purchase from the City Centre Box Office in Leeds Town Hall (0113 3760318), at www.millsqleeds.com or on the day from 5pm at the event box office at the Carriageworks Theatre
The Symphonic Sounds of Back to Basics event is organised in partnership between Leeds City Council and Opera North and is the first in a trio of summer collaborations over the course of the same weekend as part of the Opera North in the City Festival also featuring; A Classic Summers Evening on Saturday 28 July and a special screening of the film Brassed Off with a live Orchestra and the Grimethorpe Colliery Band on Sunday 29 July. For further information visit www.www.millsqleeds.com or www.operanorth.co.uk
ENDS
For media enquiries contact: