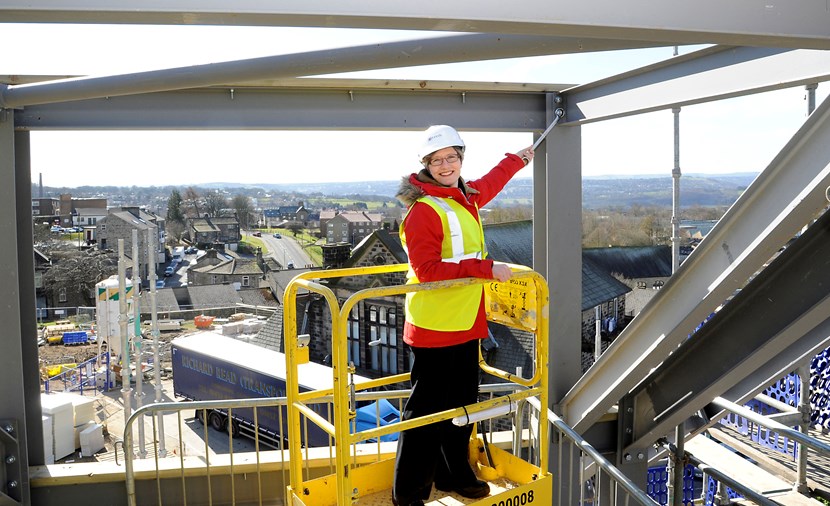 17 Mar 2016
Council marks progress on flagship extra care scheme
Construction on the council's flagship extra care scheme in Yeadon reaches a crucial point this week.
The new Wharfedale View extra care scheme, the first to be built and run by Leeds City Council, is taking shape with the steel frame nearing completion and central lift shaft installed.
Contractor Henry Boot Construction also has stonework well underway and rooms are beginning to appear with internal walls on the ground and first floor half way to completion.
The 45 apartments are designed for older people.
Available for rent or shared ownership, people will be able to retain their independence in a safe environment. People will be able to choose how they want to be supported as their care needs change.
As well as the 18 one-bedroom and 27 two-bedroom apartments with modern kitchens and bathrooms, people will be able to join in activities and meet friends and family in their own home or communal areas.
Wharfedale View will also have a hair salon and restaurant run by the council's Civic Enterprise Leeds.
People living at or visiting Wharfedale View will be able to enjoy landscaped gardens and convenient, dedicated parking.
The scheme is part of the authority's ambitious council house growth programme which will see around 1,000 new homes built over the next three years.
Councillor Lisa Mulherin, executive member for health, wellbeing and adults was on site earlier this week to help the construction team finalise the steel roof structure.
Councillor Mulherin said:
"As the first council owned and managed extra care scheme in Leeds, it's hugely exciting to see the building coming together.
"Wharfedale View is a flagship development that will enable us to provide accommodation that lets older people live independently for longer, safe in the knowledge that support is on hand if they need it."
Councillor Debra Coupar, executive member for communities, said:
"With such great demand for council homes we've made a significant commitment to build nearly 1,000 new homes.
"These homes need to be warm, spacious and meet a variety of needs so Wharfedale View will provide quality accommodation for our older generation."
Councillor Richard Lewis, executive member for regeneration, transport and planning, said:
"The site has been a real hive of activity as construction progresses. We're looking forward to welcoming people to their new homes that will showcase the best of design."
Tony Shaw, Henry Boot Construction operations director, said:
"This is a significant project for Leeds City Council and the local community. Through collaboration with the design team we are pleased to be progressing Wharfedale View to the very highest quality standard."
Wharfedale View will conform to the new Leeds Standard, embodying the best in design.
The council will demonstrate through its own homes that quality design with set standards for space, heating, ventilation, flexibility, character and green space can leave a positive legacy for communities.
Work started on-site in September 2015 and is expected to be completed by autumn 2016.
For media enquiries contact: