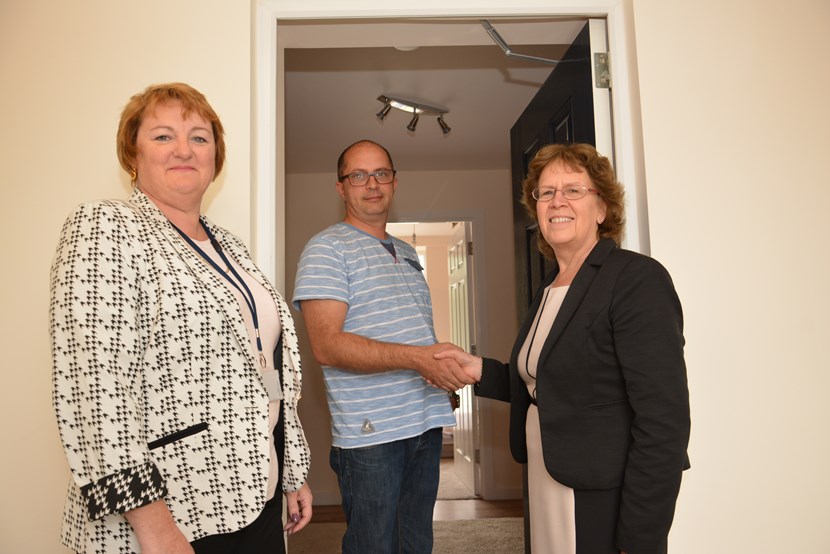 23 Jun 2015
Council completes 100th new home
Witold Haligowski is looking forward to his first summer in his new home, the 100th to be completed on the council's housing regeneration project.
Witold's apartment is one of 113 new properties at Carlton Gate in Little London.
Overall, the council is building 388 new homes and refurbishing 1,245 properties across Little London, Beeston Hill and Holbeck.
Work is being carried out by the council's partner sc4L, who completed the first new home in October 2014 and 50th new home and 500th refurbishment in March 2015.
Councillor Judith Blake and Councillor Debra Coupar welcomed Witold to his new home this week.
Councillor Judith Blake, leader of Leeds City Council, said:
"It's a real privilege to be able to wish people all the best in their new home.
"We're immensely proud that we can provide new council housing on such a scale. However, we shouldn't forget that this project isn't about buildings, it's about people; the people moving in and putting down roots, the people gaining skills and employment working on the project and the team in the background making it all happen."
Councillor Debra Coupar, executive member for communities, said:
"We know there is really high demand for both apartments and family sized homes in Little London, so it's great to see these properties being completed.
"Work to finish the remaining new builds and refurbished properties is continuing at a fast pace so I'm looking forward to being able to welcome many more tenants to their new homes as we continue to deliver on our ambitions."
Witold Haligowski, tenant, said:
"My new home is such a nice place to live. The council and Keepmoat have made my life so much better."
Jon Hinchliff, sc4L general manager, said:
"It gives everyone involved, after all their hard work and effort, a great sense of achievement to get to this stage and deliver the 100th completed new home."
Sean Corcoran, Keepmoat regional director, said:
"All of the new homes are built to Sustainable Homes Code Level 4. They include solar panels, a high level of insulation coupled with efficient heating systems which ensures an increased level of comfort and energy efficiency for the new tenants."
For media enquiries contact: