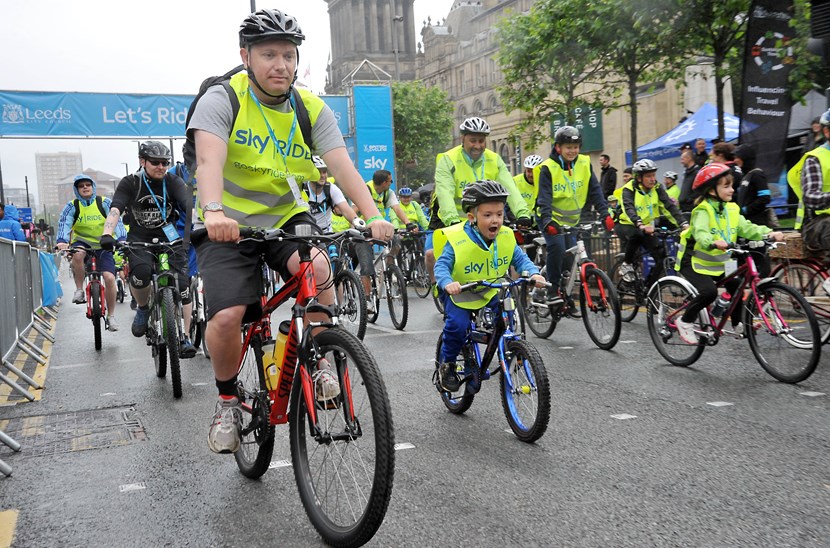 13 Nov 2015
Council chiefs to discuss cycling developments in Leeds
Senior councillors in Leeds will discuss a report on cycling development in the city next week as part of the continuing legacy of last summer's historic Tour de France Grand Départ.
The meeting of Leeds City Council's executive board at Civic Hall on Wednesday 18 November will consider a report giving an update on projects underway as well as future plans to improve cycling infrastructure in the city to encourage greater cycling participation.
Following on from the unforgettable success of the Grand Départ, Leeds City Council has continued to develop relationships with key stakeholders including national governing body British Cycling and Sport Leeds.
The work established a programme board for the 'Cycling Starts Here' brand created in Leeds around hosting the Tour de France start, which is currently overseeing the coordinated development of a long-term cycling strategy and plan for the city.
Projects already underway to improve cycling provision and participation in the city include:
Continuing development of the Core Cycle network, as well as the 14-mile long City Connect 'cycling superway' from Leeds to Bradford, which is due to be completed in 2016
Resurfacing of the towpath on the Leeds and Liverpool Canal between Armley and Shipley, which is almost complete and is proving popular with cyclists
Introducing 20mph speed limits in zones adjacent to the City Connect route as well as in communities around Leeds to improve road safety and encourage cycling participation
Development of a cycling hub at Fearnville, supported by go:cycling and offering bike lending through the Yorkshire Bike Library Scheme
More than 350 cycle parking spaces have been created in the city centre
Hosting the Tour de Yorkshire in 2015 and 2016 to showcase cycling in Leeds
In 2015 more than 7,000 people took part in Sky Ride through the city centre, supported by Sky Ride local rides and the 'Breeze' programme aimed at encouraging participation among female cyclists
Providing training for British Cycling-recognised ride leaders, young people through Bikeability and adult cycle training through go:cycling
Discussions with British Cycling over ways to improve cycling infrastructure in Leeds has led to priorities being identified of a need to provide local cycling hubs targeted at a range of cycle sports and a dedicated closed circuit cycle track.
These talks have led to plans to develop the former golf course at Middleton Park into a hub for mountain biking, BMX and cyclo-cross, while the University of Leeds is proposing to create a 1.5kilometre closed circuit cycle track for use by students, cycling clubs, local schools and the community as well as by triathletes to improve their cycling techniques.
These plans have been prioritised over building a purpose-built indoor velodrome, which would be likely to cost more than £30million to build, as they would offer facilities for a broader range of cycling and could be used by riders of all abilities. The report calls for consideration to be given to construction of an outdoor velodrome in the longer term as a way of complementing facilities in the city.
The report also explains how Leeds City Council is working with partners to develop pathways from grassroots to performance and recreation cycling, with the Sportivate Lottery funded project offering access to free coaching and skills training for 14-25 year olds who do not currently access sport.
There are also plans to expand adaptive cycling in the city to promote cycling for the disabled, with popular sessions currently being held at the John Charles Centre for Sport, Herd Farm, Lineham Farm and Yeadon Tarn.
And in terms of broader promotion of cycling as a form of sustainable travel, the Access to Education project works with schools and the three universities in the city to encourage pupils and students to ride to school or to their studies every day.
Leeds City Council executive member for health, wellbeing and adults Councillor Lisa Mulherin said:
"A lot of work has been carried out in Leeds to promote and encourage cycling participation as a legacy to the amazing Tour de France Grand Départ and there are many more exciting developments in the pipeline as part of a coordinated cycling strategy for the city.
"Discussions with partners like British Cycling have led to a clear preference to improve cycling infrastructure at a local level for as many people as possible to use."
Leeds City Council cycling champion Councillor Roger Harington said:
"Cycling offers huge benefits in terms of health, encouraging greater independence and as a sustainable form of transport, so we are determined to keep doing everything we can to get as many people cycling in Leeds as possible."
Notes to editors:
The go:cycling initiative offers a range of free cycling services for adults who live, work or study in West Yorkshire. It is coordinated by the West Yorkshire Combined Authority in partnership with West Yorkshire's five local authorities and CTC (the national cycling charity). It is supported by the Department for Transport through the Local Sustainable Transport Fund. For further information go to www.wygocycling.com/
ENDS
For media enquiries please contact:
Leeds City Council press office,
Tel: 0113 395 0244
For media enquiries contact: