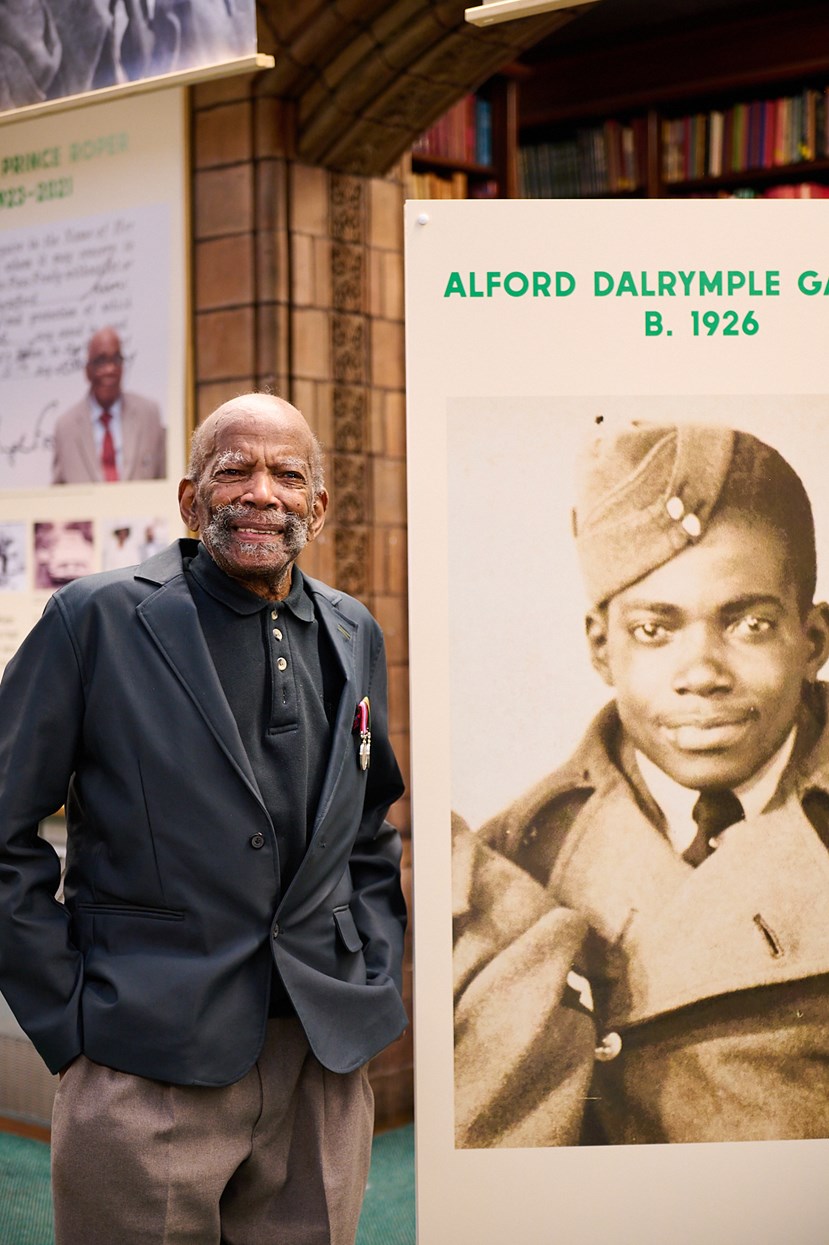 15 Nov 2023
City salutes trailblazing Windrush pioneer with prestigious award
One of the nation's last surviving HMT Empire Windrush passengers and the city's only remaining Caribbean Second World War serviceman will receive a prestigious civic honour, it was confirmed today.
At a meeting of Leeds City Council's full council today, (Nov 15) members approved the nomination for Alford Gardner to be a recipient of The Leeds Award, which recognises those who have made a special and lasting contribution to the city.
Now aged 97, Alford was born in Jamaica in 1926, and volunteered for the Royal Air Force as a teenager.
Travelling to the UK, he served as an engineer and mechanic during WW2, one of thousands of Caribbean RAF ground crew who were based at RAF Hunmanby Moor, near Filey.
Once the conflict came to an end, while taking a pre-mob engineering course in Leeds, Alford met his future wife, Norma McKenna, before he sailed back to Jamaica in 1947 along with his brother Gladstone, who was also in the RAF.
However, with limited job opportunities in Jamaica, Alford returned along with his brother aboard the Empire Windrush, landing at Tilbury Docks in June 1948 before making his way back to Leeds.
Initially met with discrimination when searching for a place to live, Alford persevered, settling in Hyde Park and finding work in engineering until his retirement. Alford and Norma also married and had nine children together.
His legacy in the city was cemented when, in 1948, he became one of the founding members of the city's famed Caribbean Cricket Club, a focal point for the city's West Indian community in the 50s and 60s.
Today, the club is the longest running black led organisation in Leeds and the oldest of its type in the UK.
At today's meeting, councillors voted to approve Alford's nomination, which will see his name inscribed on the wall of Leeds Civic Hall in honour of his contribution to Leeds.
The Lord Mayor of Leeds, Councillor Al Garthwaite, said: "Alford Gardner is a true inspiration and a pioneer who has made a lasting impact on his adopted home while blazing a trail for so many members of the city's Caribbean community.
"We are proud to honour him for the contribution he has made to Leeds and to ensure that his remarkable story continues to be told for many generations to come."
Alford has also delivered numerous talks for children, students, community groups, national bodies and events as well as playing a key role in the recent Jamaica Society Leeds For King, Country and Home exhibition exploring the lives of the city's Caribbean WW2 veterans, which was held at Leeds Central Library.
He was one of the recipients of the 2023 Pride of Britain Outstanding Contribution Award, receiving a surprise visit from HRH Prince William. To commemorate the 75th anniversary of the Empire Windrush arrival, King Charles III also commissioned ten portraits of Windrush Generation pioneers, including Alford, which were unveiled at a special reception at Buckingham Palace.
Commenting on his Leeds Award, Alford said: "I am very honoured to receive this award, it really is a big surprise.
"Leeds has been my home for the last 75 years. I came back to the city for love, and it has been a huge part of my life. So for the people of Leeds to feel that I deserve such a prestigious award makes me feel happy and also very humble."
More details about Alford's story can be found at: Alford Gardner - Windrush Foundation
Information about the Jamaica Society Leeds can be found at Home - Jamaica Society Leeds
ENDS
For media enquiries contact: