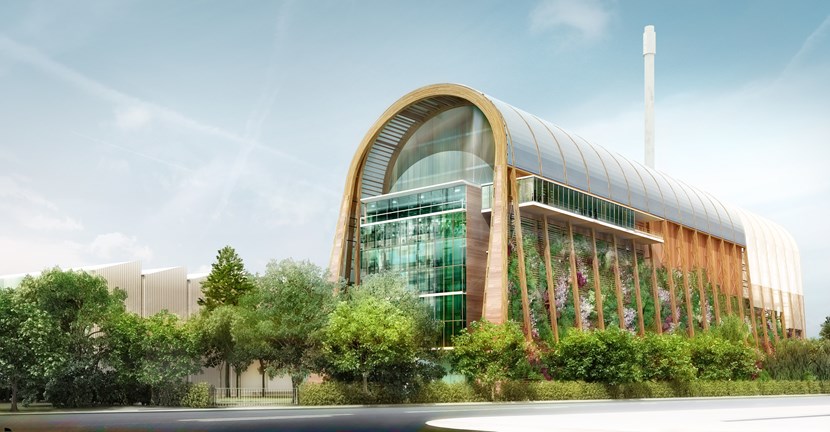 18 Apr 2016
City's new recycling and energy facility up and running
Leeds' new recycling and energy recovery facility has been completed and handed over to the council.
With building work completed by contractors and after a thorough testing phase the facility has been officially signed off three months earlier than previously reported.
Deliveries of household waste to the facility started last year and all of Leeds' black bin waste is now being treated at the Cross Green building, operated by Veolia.
Councillor Mark Dobson, Leeds City Council's executive member for environmental protection and community safety, said:
"It's testament to the sheer hard graft of everyone involved that the new facility is not only up and running, but operational changes for bin collections have been seamless with limited impact on residents.
"We wanted to ensure that we had a sustainable solution for Leeds' waste that would limit our impact on the environment while offering us financial savings. The recycling and energy recovery facility gives us just that."
Paul Fowler, general manager, Veolia Environmental Services, said:
"The RERF is a major change, allowing the council to move away from a reliance on landfill. As well as working in partnership with the council and managing the facility throughout its operational life, Veolia look forward both to the continued liaison with the local community and any future opportunities to contribute to further environmental improvements."
Current estimates show that the facility will process around four million tonnes of waste over the life of the 25 year contract.
It's anticipated that every year around 16,000 tonnes of recyclable material from Leeds household black bin waste will be removed by specialist machinery for recycling.
Only the remaining waste, which would cost the council millions in landfill taxes, is being burned to generate and recover energy, enough to power 20,000 homes through the National Grid.
Additional equipment has been installed so hot water created as part of the process can be piped to a future district heating network.
Ash from the incineration process is being turned into aggregate to be used in roads and with plans to recycle other outputs from the facility, nearly everything the facility makes or generates will be used as a resource.
Contractual changes and a capital investment from the council also mean additional savings will be made, totalling £7million a year.
For media enquiries contact: